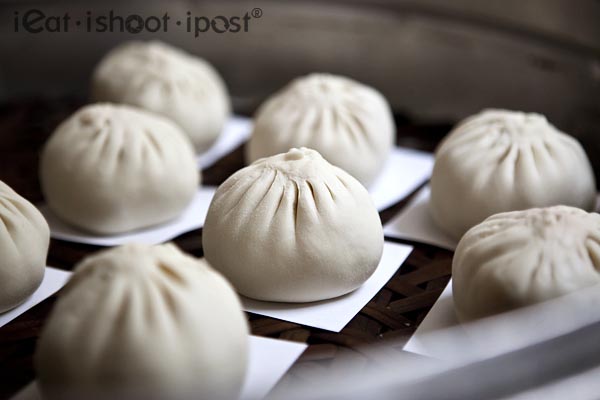 I have been on a bit of a pau craze lately. It all started with me trying to make the perfect pau skin at home. I had tried it a few times before, but without much success. Those of you who have tried it before at home might empathize with me. My pau skin always comes out a bit yellowish and doesn't have that soft, billowy, cottony texture that our local pau possesses. They are, in fact, more like the ones that Din Tai Feng makes which I never liked.

Our local Tua Bak Pau (large pork steamed buns) is one of those things that I really missed when I was living in Australia. You can find excellent Hong Kong Char Siew Pau there, the type with the puffed up, "open flower" tops and over in the Vietnamese part of Sydney, you can buy a style of pau that is more like what we get here. But somehow, they never really match up with our Tua Pau. (That was quite a few years ago, so I am not sure if they have it now).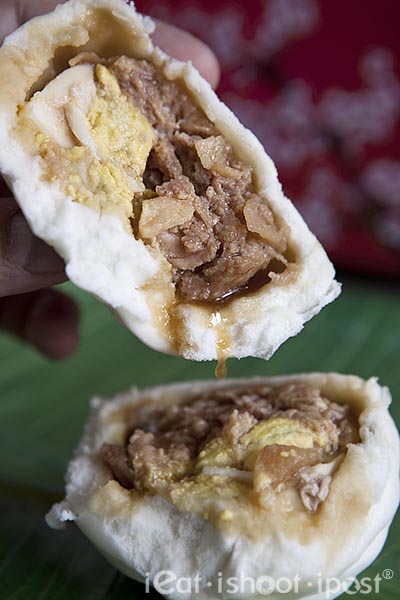 The beauty of the Tua Pau is that wonderfully tender skin that is able to encase and contain the wonderful meat juices which you never get with the Hong Kong style pau. And the Pau is at is juiciest when it is just freshly made and steamed. But the problem nowadays is that a lot of Paus are made in a central kitchen, pre-steamed and then delivered to the outlets where they are steamed a second time to heat it up for serving. So one of the secrets of getting the juiciest Pau is to know your Pau shop!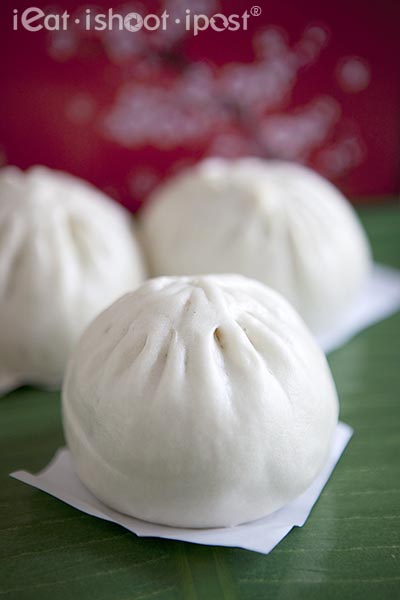 Over at D'bun, my friend Mimi, tells me that their Paus are made on site and they come out fresh at 10am every morning. That means that if you go just after 10 am, eat your Pau straight out of the steamer, you will be rewarded with that explosion of Pau juices running down your fingers! Of course, the Paus are still very juicy if you bring them home, but nothing beats eating a Pau when it is just steamed.
D'bun before a few years back. But at that time, I focused on their Char Siew Sio Bak Pau. Since then, Mimi tells me that they have made significant improvements to their Tua Pau. One of the things that I am quite impressed with is the fact that they keep a mother dough (pre-fermented dough) which is needs to be "fed" every day. In case you are not familiar with the mother dough, it is the more traditional way that breads are made. Instead of using instant yeast which only needs a few hours of raising time, the mother dough is a starter dough that has been kept for a few days in order to mature and develop flavour. Using a mother dough as opposed to instant yeast is always a good sign that the baker or in this case, the Pau maker is serious about making good Pau!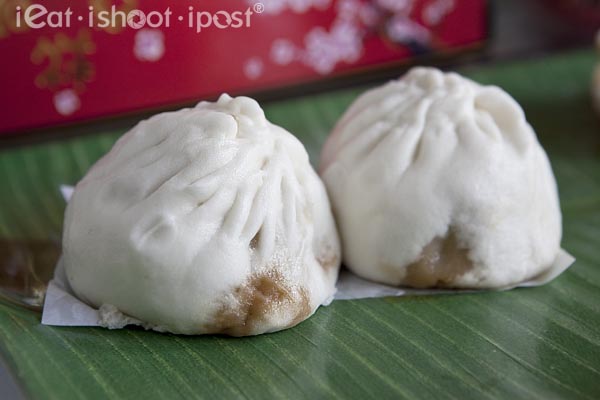 The other key to a great Pau is the thickness of the skin. Here is where the Pau maker needs to strike that delicate balance between making the Pau look pretty while keeping the skin as thin as possible. People nowadays like to buy Paus, keep them in the fridge and then reheat them when they want to eat it whereas in the past, people tend to just eat the Paus fresh at the kopitiam. So modern Pau makers have to make Paus which are resilient enough to take multiple steaming without bursting. Some Pau makers get around this problem just by simply making the skin thicker.
Most people like to buy Paus that look pretty, but at the same time they know that the best Paus are often the ugly ones. You know the ones where the skin is so thin that the juices have soaked through such that when you peel of the paper at the bottom, you are left with a bottomless pau? That bit of skin adhering to the paper is often the tastiest bit!
So what to do? Pau makers like D'bun try to strike a good balance by making the skin as thin as possible why they will sometimes have Paus like the ones shown in the photo which they have to discard. My solution? Buy the pretty ones home and eat the ugly ones there at the shop!
Anyway, the Tua Pau here are excellent. The meat is juicy and tender and the flavour is accented by the use of coriander. Those that do not like coriander might find the fragrance a bit overpowering, but I personally feel that it helps to cut through the oils. As I said, the best time to eat it is when it is fresh out of the steamer at around 10am where the juices simply burst out of the Pau! 4.5/5
Conclusion
The only places where you can get really nice and juicy paus are the boutique Pau stalls where the Paus are made on site. Next time you buy Pau, try to get one of the ugly ones to eat on the spot, they often taste the best!