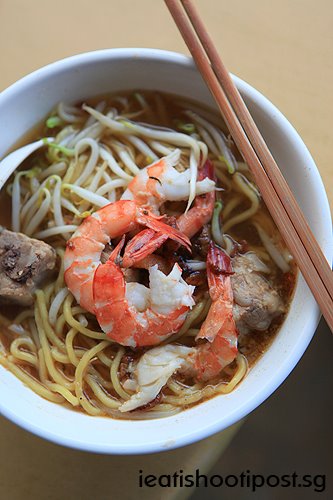 Are there any fans of this particular stall amongst our readers? According to the owner, they were quite famous back in the 90's but since then they have been moving from place to place. Last year, they managed to settle in this coffeeshop and have slowly been building up a following again.

This is a case of a bit of pride and over-confidence I guess. The owner shared with me that he regretted not allowing the media to interview him or do a write up in his hey days because he felt that he didn't need it and wouldn't be able to manage too big a crowd. After he moved, business had not been so good and soon his once famous stall started to fade into history.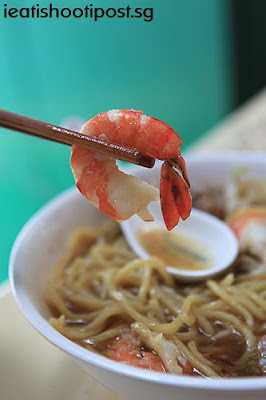 Well, it is hard to keep a good bowl of prawn noodles down. Over the last year, the stall has started to build up a regular following, including our very own SCS Butter who would eat there a couple of times a month. It was he who told me that the prawn noodle was as good, if not better than my current gold standard, Wah Kee over at Cambridge Road Food Centre.
With such a strong recommendation, I found myself at Rangoon Road one steaming hot afternoon, sipping on some delicious prawn noodle soup. Incidentally, this stall had taken over from Lam's Prawn Noodles whom I blogged about previously. Lam's have since moved down the road.
I thought that the soup was quite shiok and better than quite a lot of the other prawn noodles. It still has that robust prawn taste without being overly salty. The noodles were a bit of a dissappointment as they were almost pastey and translucent. I am not sure if it is just that day but surely it shouldn't be a big problem procuring some nice Hokkien Noodles. The prawns they use here are very succulent medium sized sea prawns which are peeled. The pork ribs have also been boiled till they are just nice and tender. 4.25/5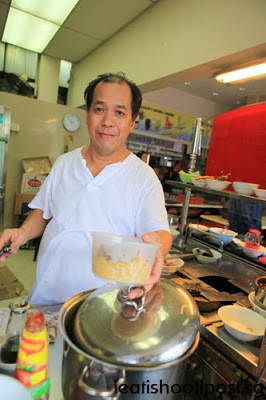 Conclusion
So any old fans of this stall who are happy to find out about their new location?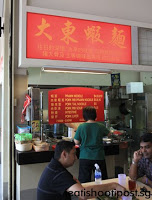 Update 19 Mar 2012
Their new address is
354 Joo Chiat Road,
Opening hours 9am to 3pm
Closed Tuesdays 94797181