Following the excitement over my last post on Cugini Italian restaurant, we wasted no time in organizing a menu tasting to see what else our two Italian guys can whip up in the kitchen. This time round, I am going to let our kakis do the review. So below is Sumosumo's review of the dishes.

The Cugini Menu Tasting Review – by Sumosumo

Starter: Carpaccio di pesce alla Sarda con Polvere di Bottarga + Gambero rosso Italiano con riduzione al campari (Sardinian style hand cured fish carpaccio dusted with mullet roe + Deep fried Italian red prawn with almond and bitter Campari sauce)
Generally forgettable i think, as most people didnt find it too exciting. The shrimp was a little dry after the frying, and the mullet roe failed to lift the dish. The cured fish was pretty ordinary.
3.75/5
(Note from ieat: We started 40 mins late that day, so the prawns had lying in the warmer for a long time. I am sure they would have been much better fresh)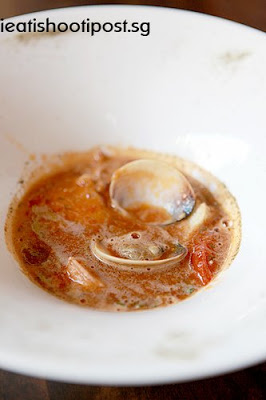 Soup: Zuppetta di pesce alla Siracusana (Sicilian style seafood soup)
Robust, hearty and rustic. The seafood bisque had a good strong crustacean, prawn taste without being too heavy as the tanginess of the tomatoes lent an appetising twist to the soup. One can imagine this being an everyday soup at home, as it had a very home cooked taste to it. For the asian palate, it was leaning on the salty side, but Gerardo said the olives and capers gave the soup its saltishness, and no salt was added – according to him, this is the way it's consumed in Sicily. Much effort was put into it, as its made from 20 different ingredients.
4.25/5.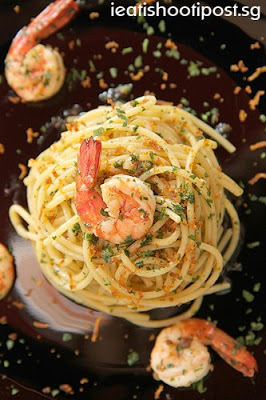 Pasta: Spaghetti alla Sarda con aglio, olio, peperoncino, bottarga e gamberetti (Sardinia spaghetti with garlic, olive oil, chilly, mullet roe and mediterranean prawns)
Consistently good, the pasta was dense, perfectly al dente, and absorbed the simple flavors of the garlic and chili. Every ingredient was mixed in the right proportions and hence complemented each other perfectly. The pasta was so good in itself with just that nice bite and slight chewiness in its texture, so good that the prawns became almost like an afterthought. Damien, the resident carbo man who loves his noodles and pastas, found it superb.
4.5/5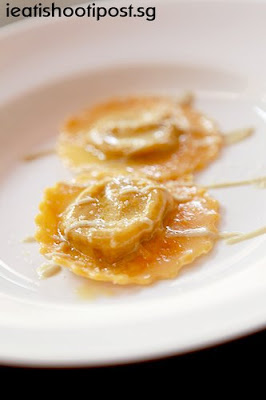 Ravioli di agnello alla Siciliana con crema di carciofi e burro
(Freshly made Sicilian style lamb ravioli with artichoke cream and butter)
I found this dish excellently executed, and I am not a big fan of ravioli. The ravioli was filled with tender shredded lamb and the pasta had a rich flavor from the egg yolk which was used to make the ravioli skin. Because the ravioli is very filling on its own, having it as a sharing dish is recommended, as there are 5 raviolis served as a main dish, and one cannot eat more than 2 without feeling "jer lak".
4.25/5.
MIlanese di vitella su mostarda di Cremona
(Milanese style veal cutlet served with home made Creomna mustard sauce)
Most people did not comment on this dish, but i thought it was a very competent veal dish. The meat was tender and flavorful. Perhaps, the sauce could have been poured on separately as i would have liked the crust to retain its crispiness.
4/5
.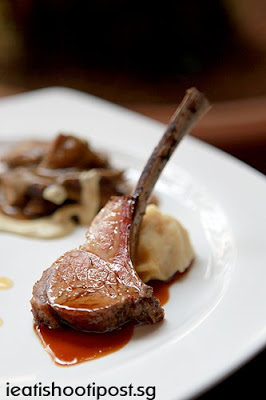 Carre d'agnello arrostito al pepe verde con pure' di patate all'olio
(roasted lamb chops with green pepper, served with mashed potato)
I think everyone liked this dish, except for fashionfoodie's table who got theirs undercooked. The lamb had a salty marinade crust to it which brought out the flavor of the lamb well. I would have preferred a slightly sweeter type of sauce to accompany the lamb.
4.25/5
Guancette di manzo Wagyu brasate con salsa di carciofi e cacao amaro
(Braised wagyu beef cheek with artichoke sauce and bitter cocoa)
The beef in itself was as succulent as when i first tried it, to the point of melt in your mouth. (In my mind, butter made of meat). Some of the ieaters similarly found the texture to be superb, but others thought that, given wagyu with extra fat is naturally more tender, a little less braising time would have given it a texture with more bite. However, it was generally agreed that the accompany sauce was too bland and the beef itself could have done with a more intense seasoning. Tenderness: 4.9 (if you like your meat tender) 4/5 for the artichoke and cocoa sauce. Generally the feeling was that either a stronger sauce or stronger seasoning would have given the dish a bigger lift. Overall
4.25/5
.
Dessert: (Tiramisu and Panna Cotta)
The tiramisu had not enough mascarpone cheese, too much cake and a little soggy. Very ordinary.
3.25/5
The white chocolate panna cotta, was light, not overly sweet and gelatanous. It was silky, smooth and light. Almost like tauhuay.
4.25/5
.
Reviewed by Sumosumo
Photos by ieat
Conclusion
My thoughts mirror Sumosumo's so I think that we both have similar taste when it comes to Italian food. Do read our other kakis comments on their own experience.
Acknowledgements
Thanks to Damien for organizing the session.
Big thanks to Gerri and Mauro who hosted us and donated a grand total of $1115 to charity.
Footnote:
We are sensitive to the fact that serving out 36 dishes at the same time may mean that quality might not be as great as if the chef only had to prepare the one dish. So this should be kept in mind when reading the review.
Update 5 August 2009
Cugini will be shifting to the new address on 8 August. The new menu will feature reduced prices and it is set in a home style setting.
The link to my previous post on Cugini is here.