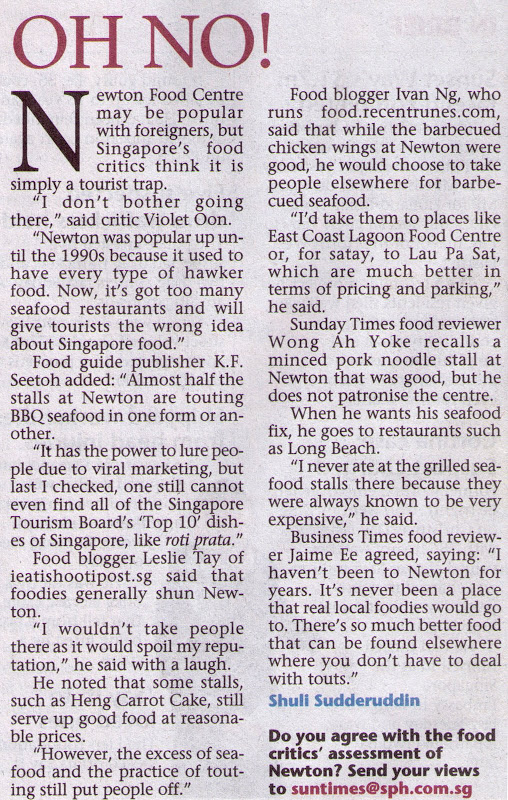 Sunday Times Mar 22 Page 11
Well, I had my say but out of my 20 min interview they only took one minute out of it. There were a few more points which I thought were interesting to discuss.
Concerning the incident where the Americans had to fork out $239 for 8 tiger prawns, I can only say that as a Singaporean foodie, I felt really embarassed that this sort of thing should happen to our visitors. But if you are a traveller, you would realise that this happens in other countries as well. If you visit Thailand, the food you pay at the tourist hotspots are easily many times more what the locals pay. Furthermore, there is a local price and a tourist price for entry to places of interest. Is it fair? Sometimes it is understandable when you realise that the average local monthly wage is 3000 baht vs the average Singaporean wage of $3000. Then again we too practise this sort of pricing strategy at our very own Night Safari. The last time I went there, POSB card holders get a discount of 30%. I wonder how many foreign visitors hold POSB cards?

But I think it is not so much the asking price of the prawns but the fact that they cheat by charging 1.5kg for 1kg of seafood. This is downright dishonest but it is nothing new. Stallholders have cheated on scales for as long as scales existed. The phenomenon is global and it is really up to consumers to be vigilant. When it comes to prices, is there really a difference between a well known restaurant charging $8 per 100g for tiger prawns as opposed to a hawker? The free market economy allows for suppliers to charge whatever amount they want as long as consumers are willing to pay for it. I am certainly angry at the fact that they are charging $8 per 100g for tiger prawns which is why I never eat BBQ seafood there. The only reason that they are still around is because people (tourists mostly) are still paying for it. (Willing or unwillingly)
You know where the real problem lies? It lies in the fact that this sort of thing is so contrary to how Singapore is perceived in the eyes of foreigners. To them, this is the clean and green city where "low crime doesn't mean no crime". They get the idea that the food here is cheap and good and that people are honest which to a large extent is true. But then they run into some dishonest hawker at Newton or electronics dealer in Sim Lim and suddenly there is a story for the newspapers. People get cheated in other countries around us but they don't feel so bad because they sort of expect it. But not here in Singapore.
So what is your say about the Newton Food Centre incident? Do you think it is fair for NEA to suspend the stall? And what is your suggestion on how the situation can be rectified?
The Sunday Times ran a poll among foreigners which showed that 143 out of 150 foodies still loved Newton Food Centre. Then they featured six local foodies who all shun Newton. So let's see how many of our readers here actually love Newton Food Centre.
The Polls are opened!