With ijeff, taukwa, holybro, holydrummer, Cactuskit, smart, sumosumo and PK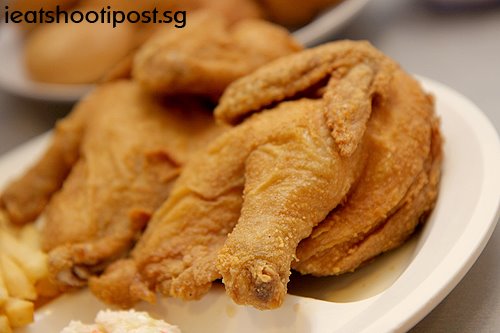 Do you remember the days when KFC was actually Kentucky Fried Chicken and that it was a sit down meal served on plates with proper knives and forks? Those were the days when KFC was first introduced to Singapore. In fact, KFC started in Malaysia first and for a time, Singaporean pride took a beating because we always felt that we are supposed to be ahead of our Northern neighbours when it came to adopting the latest western fads, be it food, movies or TV programs.

Back then, KFC was the rage and everyone wanted to copy its 11 secret herbs and spices. People started to sell Kentucky flour which you can used to coat your chicken so that you can do your own KFC style fried chicken at home. But alas, what we all lacked at home is the pressurized deep fryer which KFC uses. KFC's success meant that local players got into the game as well and thus was born Marry Brown in Malaysia. Singapore also had its share of restaurants competing for the tasty Fried Chicken market. Most of them were foreign. I still remembered <a href="http://www.churchs.com/index.html">Texas Fried Chicken (known as Churches in the US), which made their brief appearance at Terminal One at Changi Airport. It was followed by a list of other fried chicken franchises, but none could come close to the popularity of KFC.
I stopped eating KFC after I came back from Thailand. Compared to Thailand, KFC Singapore is dismal. The chicken here is usually tiny and instead of being crispy, it is often damp and soft, unless you go for the crispy and spicy which for me is no longer the original 11 herbs and spices. In Thailand, when you order the original and if you fortunate to get the thigh piece (not drumstick, but the part above it), it is just juicy on the inside and crispy on the outside and it's a real treat that makes you want to scream Shiok! (or since you are in Thailand, Aroy Mak!)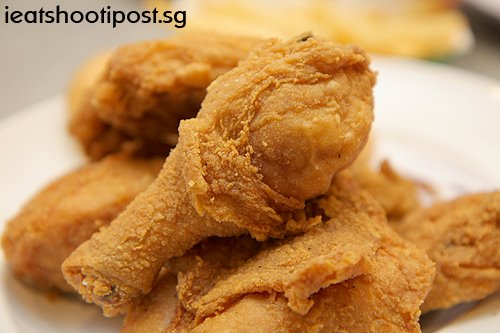 I didn't realise that we have our own fast food fried chicken restaurant until my friend, Boss Ming of Nuffnang told me about this restaurant in City Plaza. I didn't even realize City Plaza existed for that matter. Honestly, this is the first time I stepped into this shopping mall which is still stuck in the 70's. It was great!
Tucked in the corner on the 2nd floor is this Fried Chicken Restaurant which also looks like it's stuck in the 70's, in the era when having a meal at KFC was a special treat which you needed to score well in your exams to eat.
Now, I am going to put Boss Ming's neck on the chopping block by telling you that he convinced me to blog this place because, in his words, "This place sells the best freak'n Fried Chicken in the world!". He went on to spell out his credentials of having eaten Fried Chicken from all over the world, blah blah blah. Now I know Boss Ming is quite a foodie, so I decided to check it out.
They serve both chicken pieces and spring chicken here and the best thing about the chicken is that it is served piping hot and it is fresh. It's crisp on the outside and juicy on the inside and the pieces are not emaciated like KFC's. However, I felt that the seasoning still could not match up to the 11 herbs and spices and that KFC Thailand still serves a meaner fried chicken.
Notwithstanding, if you are after a good fried chicken in Singapore, this might be the place to go and at the same time you can take the opportunity to educate your children about what it was like growing up in the 70's. 4.25/5
Conclusion
Crispy on the outside, juicy on the inside, the fried chicken was well executed but the taste just lacks that ooomph to give it top marks. If they had the 11 herbs and spices, then it would have been a truly great fried chicken treat.