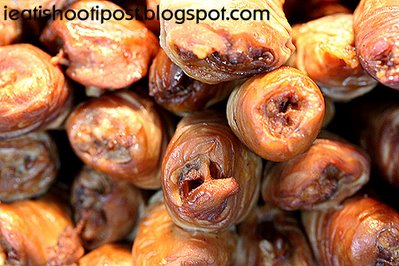 This blog is dedicated to all the Surgeons that I have worked with. I know how you all yearn for Kway Chap after a long hard day at the operating theatres!
If I asked you to guess what the first picture showed, only those who are Kway Chap Afficianados and those who have done a course in Anatomy will be able to identify that these are the terminal end of a tube that started from the pig's mouth. Oh yes, the Chinese call it the first part of the large intestine. Westerners call it the last part. See where the priorities of the 2 cultures lie?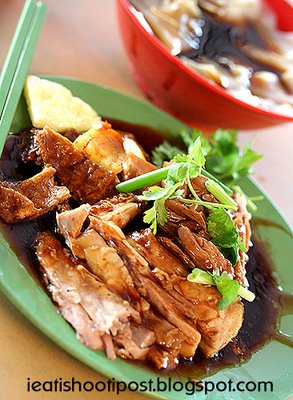 I was never a big fan of innards, so I only took the picture of the Rectums to make you go EEEEEeeeyuuuuuck! (or Yum Yum whichever is your fancy)
I had the duck, belly pork and Tau Pok (deep fried bean curd) instead. The Lor (soy sauce) was thick and gooey and it was very herbal in taste, not really my kind of Lor 3/5. The duck was tender and one of the better ones I tasted. 3.75/5 But the belly pork that day was really bad. It had a smelly pork taste that I could not stand. 2/5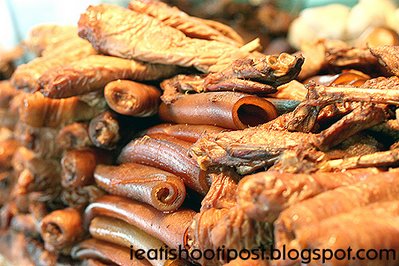 This did not make any sense to me because there was a lot of people eating there and the shop has all kinds of newspaper write ups. Even after the lunch peak hour, there were still quite a lot of people eating there and the amount of food prepared was very impressive. I keep wondering if it was just my own tastebuds and that maybe the smelly pork was a one off.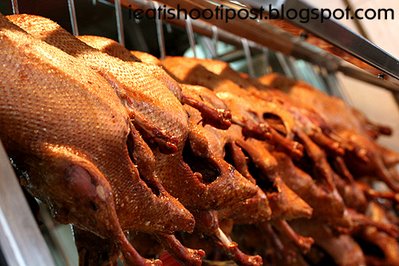 I was told that before the lunch crowd there was double the number of ducks shown in the picture! Such is the popularity of the stall. If there are readers who are fans of this stall, I hope you will write your comments and tell us why you love it so much!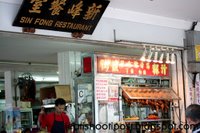 Addendum: Fried Da Chang Tou as recommended by one of our readers!