With our new makanbro, Liverpool1965!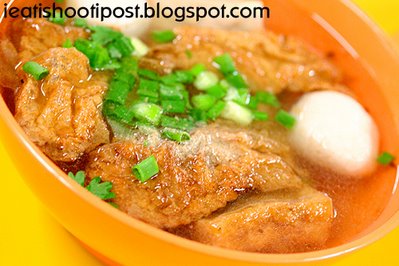 Tucked in the People's Park Complex Food Centre is this stall with the longest queue I have ever seen!! And for something as unexciting (for me) as Yong Tau Foo! How can people get excited over Yong Tau Foo?
Everyone gets a standard bowl of Yong Tau Foo with no options for noodles or beehoon and no questions asked. Each bowl is $3 and the items are all standard. It's beginning to sound like the Food Nazi from that Seinfeld episode!
OK the verdict: The fried beancurd roll with fish paste was the star of the bowl. You can taste that it is really freshly fried and I have never tasted anything so good from any other YTF stalls. The fish balls were also very good as they make their own. The rest of the tofu were good but nothing to rave about.
The reason the stall only opens for business from 1pm is because all the preparation is done in the morning. From the beating of the fishballs, to the wrapping of the ngor hiang, to the frying, everything is done in the stall. I guess that's why it's so popular.
Conclusion
As good as YTF can get, I guess. I am not a big YTF fan, so if you ask me to line up behind 20 people, I'd give it a miss. 4.25/5 (I am sure YTF fans would give it close to a 5)