With ieatMaMa, iwatch_ueat, genetronic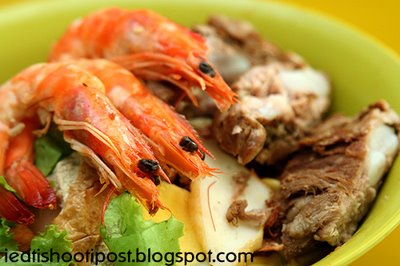 Every heard of chilli mee? Well, I haven't until now. Not being a big chilli enthusiast, I was reluctant to try at first but the people in the know keep telling me this is really good.
There is an interesting history behind Chong Cheng Chilli Mee. If the name reminds you of a certain chinese school in Singapore, then you would be pleased to know that this Chilli Mee IS actually named after the school. So how did this come about? Well it turns out that the original Mr Yeo fled from Sarawak to Singapore after the war and started selling his Mee from a pushcart in Tampines just outside the old ChongZheng Primary School.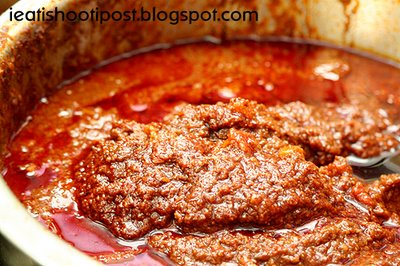 Chilli lovers will rejoice when they see this big pot of chilli sitting on the counter. They don't call it chilli mee for nothing you know. Unlike other Prawn Noodles store whose chilli are in a small bowl, these people have a baby bathtub sized cauldron of flam'n chilli right there in front of you! It like staring into the entrace of Hades! And, you can have as much as you want! The chilli is made from belachan, dried shrimps, garlic, onions and other secret spices. It tastes quite shiok but I had to have a big cup of sugar cane drink to put out the fire.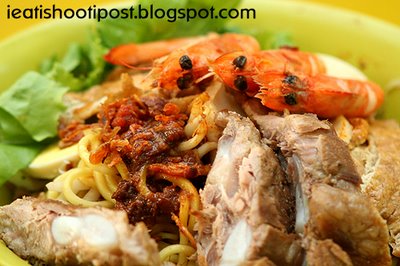 The chilli sauce is more then just heat, you can taste the savoury combo of the belachan and dried shrimps plus bit of sweetness which agrees very well with me. I really like the pork ribs which are really soft, tender, sweet and tasty. Its made from quality pork soft bones and marinated with 13 special spices and slow cooked for 4 hours.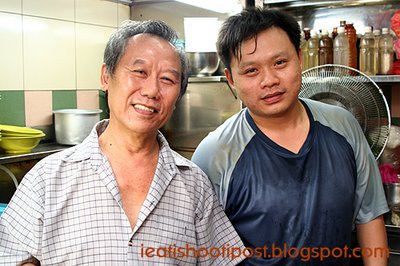 Here are the 2nd and 3rd generation of Yeo's who will keep this dish alive in Singapore for the next 40 years at least. Nothing like a 3 generation receipe. The stall moved over to Golden Mile Food Centre since the 70's and has been faithfully serving Singapore's only Sarawak Chilli Mee ever since.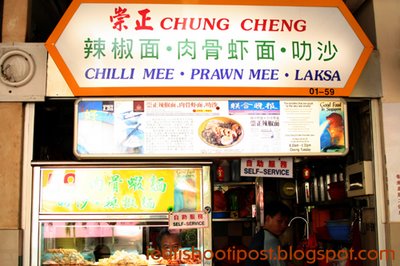 Conclusion
If you love chilli and/or are a self professed foodie, then do yourself a favour and go try this. I like it, but probably not as much as those with leather tongues. 4/5