With: ieatMaMa (Mom) & iwatch_ueat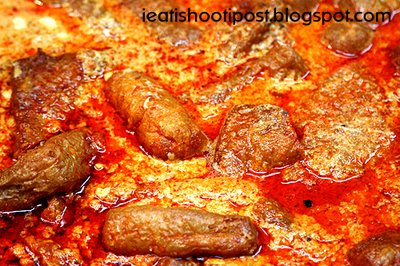 Golden Mile Food Centre is an amazing Foodie's Paradise! I had initially set out to try 5 makan places but ended up with 8. This time however, I have a bit of help from my fellow conspirators, so I did not end up having to take Eno when I got home. So get ready, there are a few MUST TRYs at this Food Centre.
First up is the popular Hainanese Curry Chicken noodles at the basement. I always liked to buy white chicken and put it into my favorite laksa at 328 Katong Laksa. Little did I know thatwhat I was trying to make was actually Hainanese Curry Chicken Noodles! Well, not exactly the same, but very close and definitely very shiok!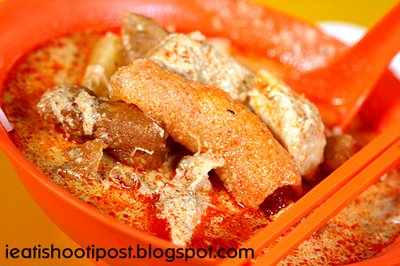 Every bowl comes with chunky white chicken, fried pork skin, tau pok and plenty of the absolutely savoury, sedap, shiok, lemak curry gravy. Aiyah! My only regret is that this is the first store and I have to conserve my calories for the rest of the food! Must come back another day just for this!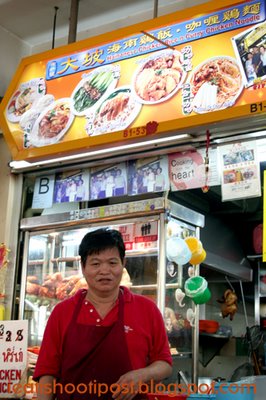 You'd think that the stallowner must be very Hainanese, but it turns out that he is actually Teochew! Well, that's Singapore for you. River Valley Sec School in Teban Gardens, Hainanese chicken rice made by Teochew, Private Institutions run by Government. Only in Singapore man, only in Singapore!
Conclusion:
Not just I say, everyone also say, not Shiok, VERY Shiok. If you never had this before, you must come and try. 4.5/5