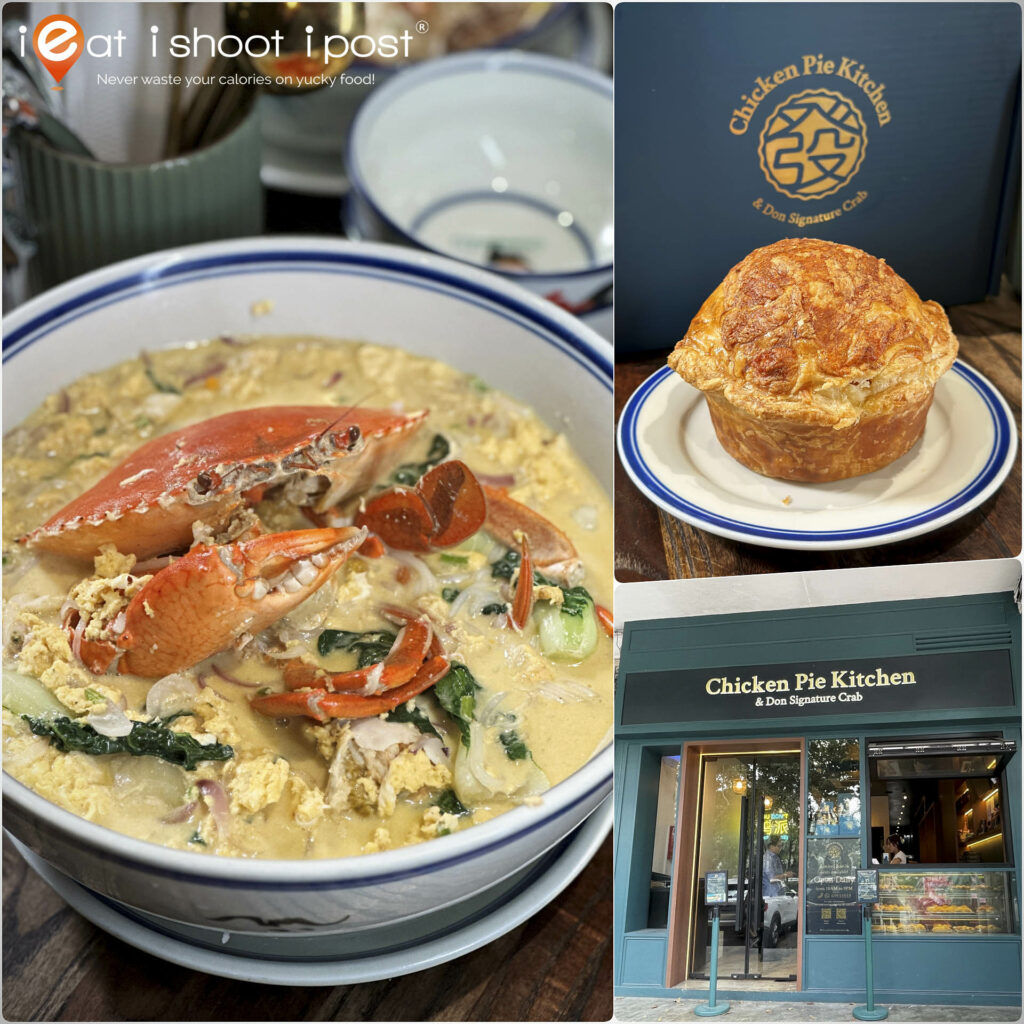 Here is a restaurant where you can enjoy a Crab bee hoon with chicken pie!
Wait a minute….
Crab Bee hoon and Chicken pies are unlikely bedfellows, not like Prawn Mee and Ngoh Hiang, Fishhead beehoon and har cheong gai, or Mac and Cheese. Come to think of it, I can't even think of a dish with crab and chicken together!
So, how did this eccentric little restaurant in Jalan Besar come about?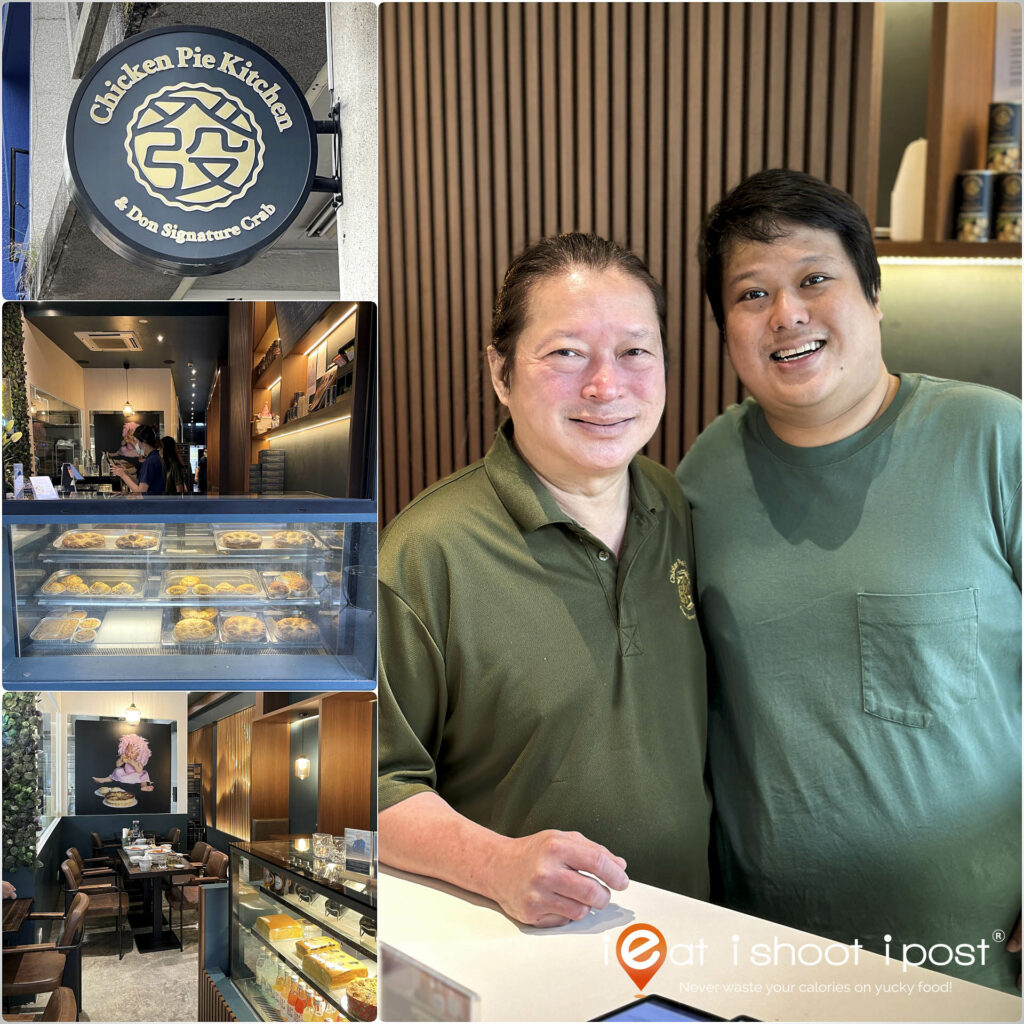 The story goes back to the 80's when a young chef at Hewlett Packard (HP) was tasked to make Hainanese-style chicken pie as an afternoon tea break treat for the staff. It was so good that soon, people outside of HP were ordering pies through HP staff! After 18 years making the pies at HP, Chef Don Lim left to open Don Pie at Far East Square. His pies soon became so popular that they even got mentioned by then-DPM Lee Hsien Loong during the 10th Ministerial Forum in April 2004!
When a shop space opposite his first store became available, he decided to expand his business to become the anchor tenant restaurant at China Square Central. He also ventured into selling Crab Bee Hoon at the urging of his customers who managed to try some of it when he cooked for his family at his shop. Don sold the pie business in 2014 due to financial issues and wasn't contractually allowed to sell pastries. As such, he continued selling Crab Bee Hoon under the Don Signature Crab brand at a coffee shop in Toa Payoh, in partnership with an old friend.
In 2021, he approached his nephew, Kelvin Leong (who grew up eating his pies) to be a co-owner in a new venture so that all his dishes are back within family control; as he wound down his partnership in Toa Payoh.
Now both concepts are merged into one restaurant at Tyrwhitt Road. And Kelvin's wife, Vanessa, runs the day-to-day operations of the restaurant.
We still think Chicken Pie and Crab Bee Hoon are strange bedfellows. But, there is no denying that both items are very good in their own right. What most people do is eat Crab Bee Hoon there and then buy the Chicken Pies home!
Chicken Pies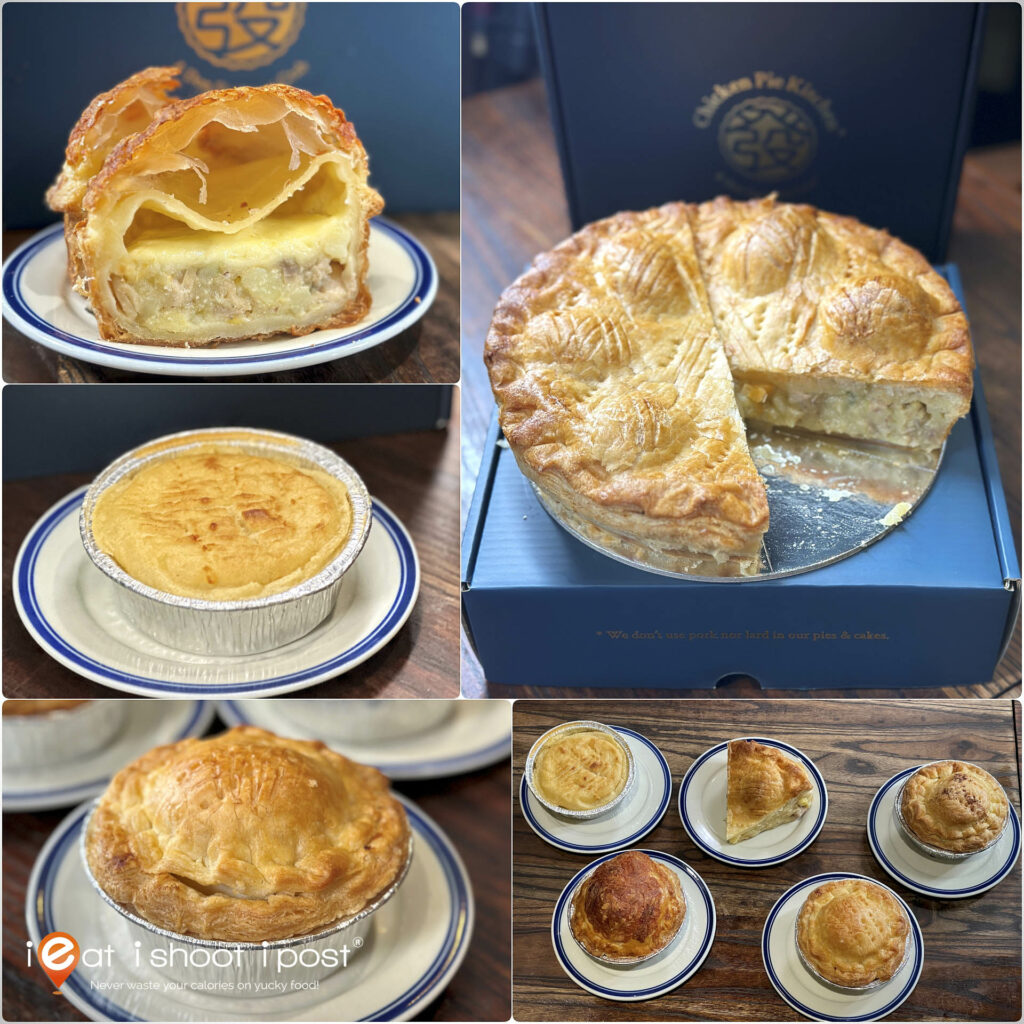 They make a variety of pies there. There is, of course, the original Chicken Pie which is reminiscent of the old-school chicken pies sold at neighborhood confectionaries in the 80's and 90's. We felt the Black Pepper version had a little more kick. What we like is the newly created Golden Cheese Pie which was introduced as an April Fool's joke. The extra layer of cheese gave the chicken pie an extra buttery flavour which really brings it to another level!
Their Shephard's Pie may not look like anything, but we like the fact that they use real potatoes which they mash themselves for the topping. Many commercial shepherd pies are made using reconstituted mash potato powder which is not has good.
The pies still retain their Hainanese character with half a hard-boiled egg in each pie and the filling has potatoes, peas, carrots and chunks of chicken. The margarine/butter pastry is very old school. It isn't as buttery as we'd like, but it's nice and puffy and goes well with the fillings.
To ensure that customers get the best pie experience, Don has a policy of not selling overnight pies, so you can be assured that your pies are always baked fresh that day. They can be kept in the fridge for 3-5 days, but they are best eaten fresh. Their personal sized pies, priced from $6.80 a pie, are pretty good value as they are quite substantial! Pies of this size would usually cost around $10 nowadays! Whole size chicken pie is $33.80.
Don's Signature Crab Bee Hoon & Laksa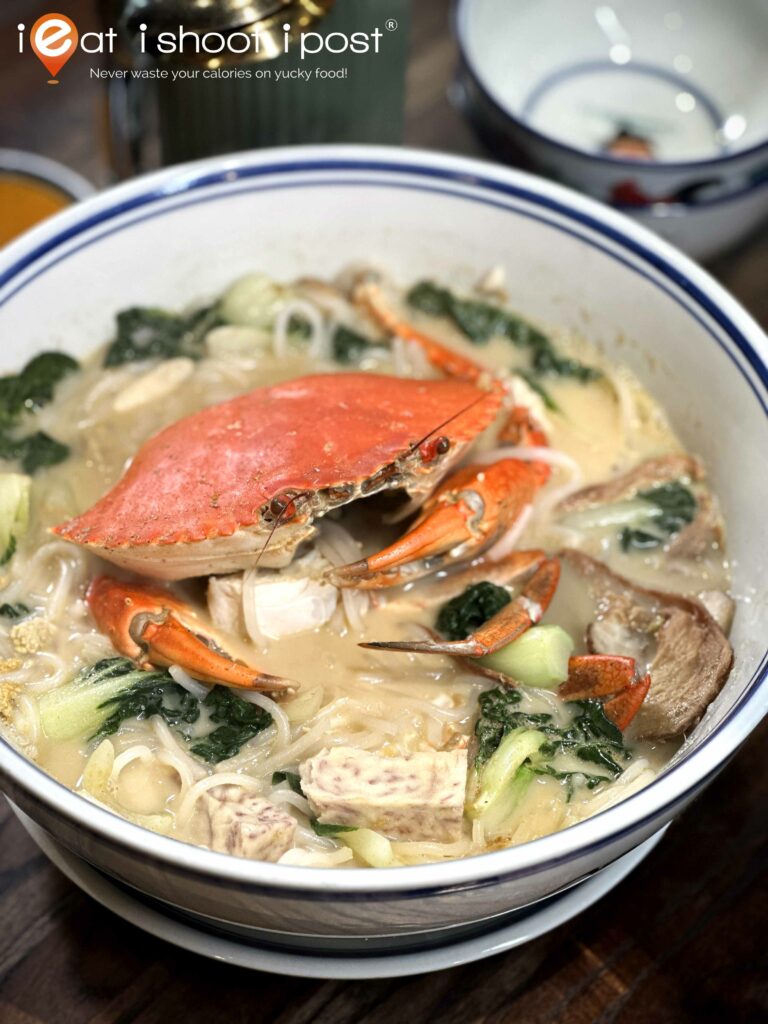 Don's Crab Bee Hoon is very good. He has a special blend of umami powder which he makes using a variety of dried seafood which is roasted and ground into powder. As a result, the soup has a depth of natural umami which is quite delicious. He also uses dang gui and ginger in the soup not only for flavour but to balance out the yin and yang as crabs are considered a "cooling" ingredient.
If you are looking for something with even more ooomph, go for their Cheesy Crab Bee Hoon. The sauce is creamy and rich and reminiscent of tom kha gai with the addition of lemongrass and blue ginger. Peel the crab meat and eat it together with the beehoon for the best experience. A warning though, it is very rich, so its best to share!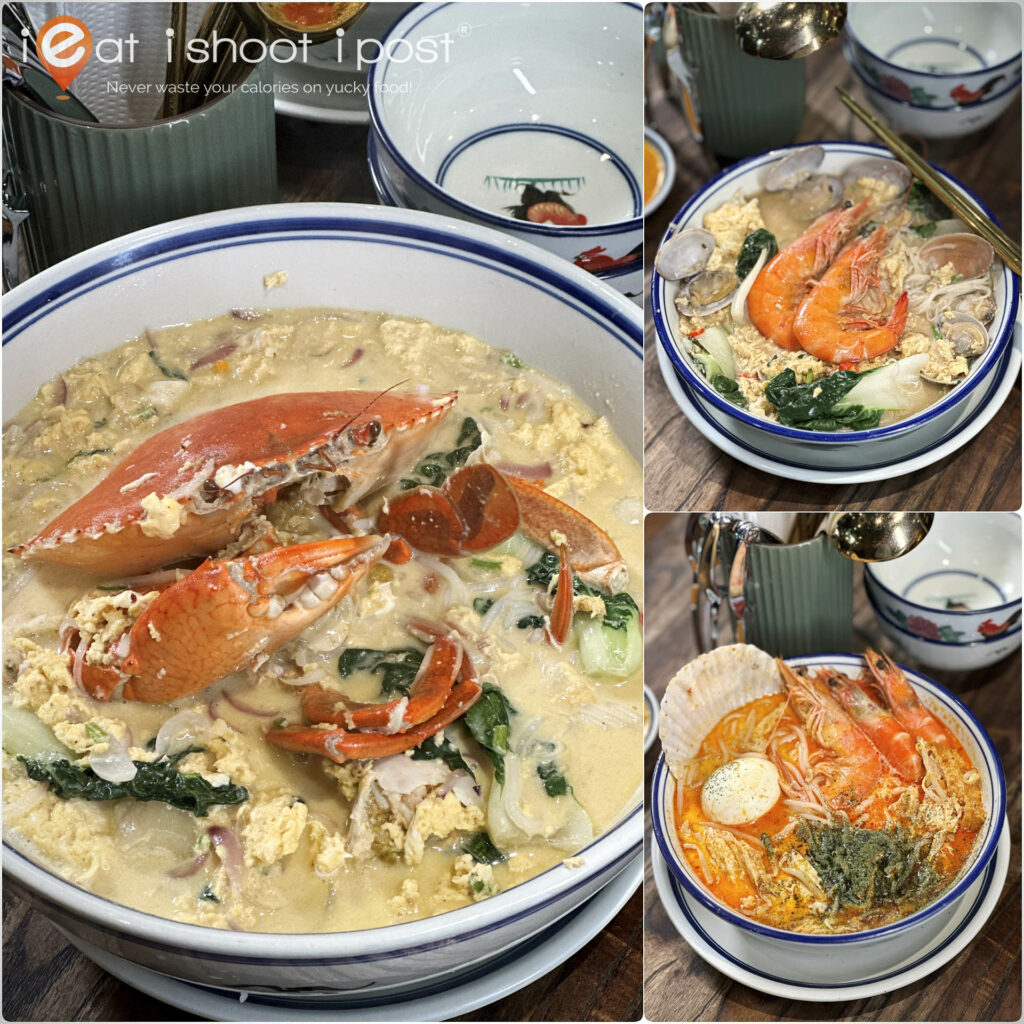 Cakes & Desserts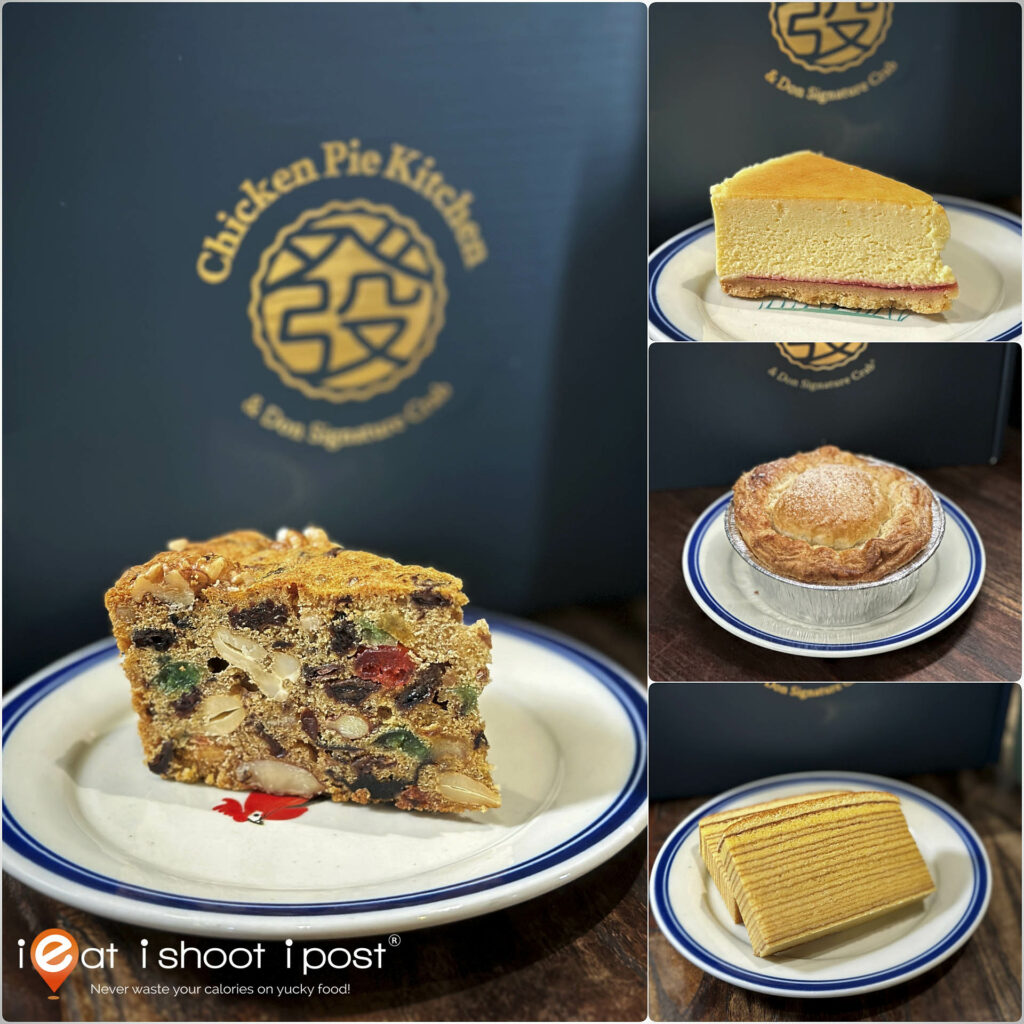 Aside from pies, they also have sweet pastries. Their Rich Cake may appear a little dry, but it's perfect to soak up a shot of brandy or rum. Its full of dried fruits and nuts and not too sweet. Very old-school and very good! They also have a Baked Cheese Cake which we also enjoyed. Their Kueh Lapis is good but we are missing the Indonesian spices. Nonetheless the texture is soft and light.
Freshly prepared on premises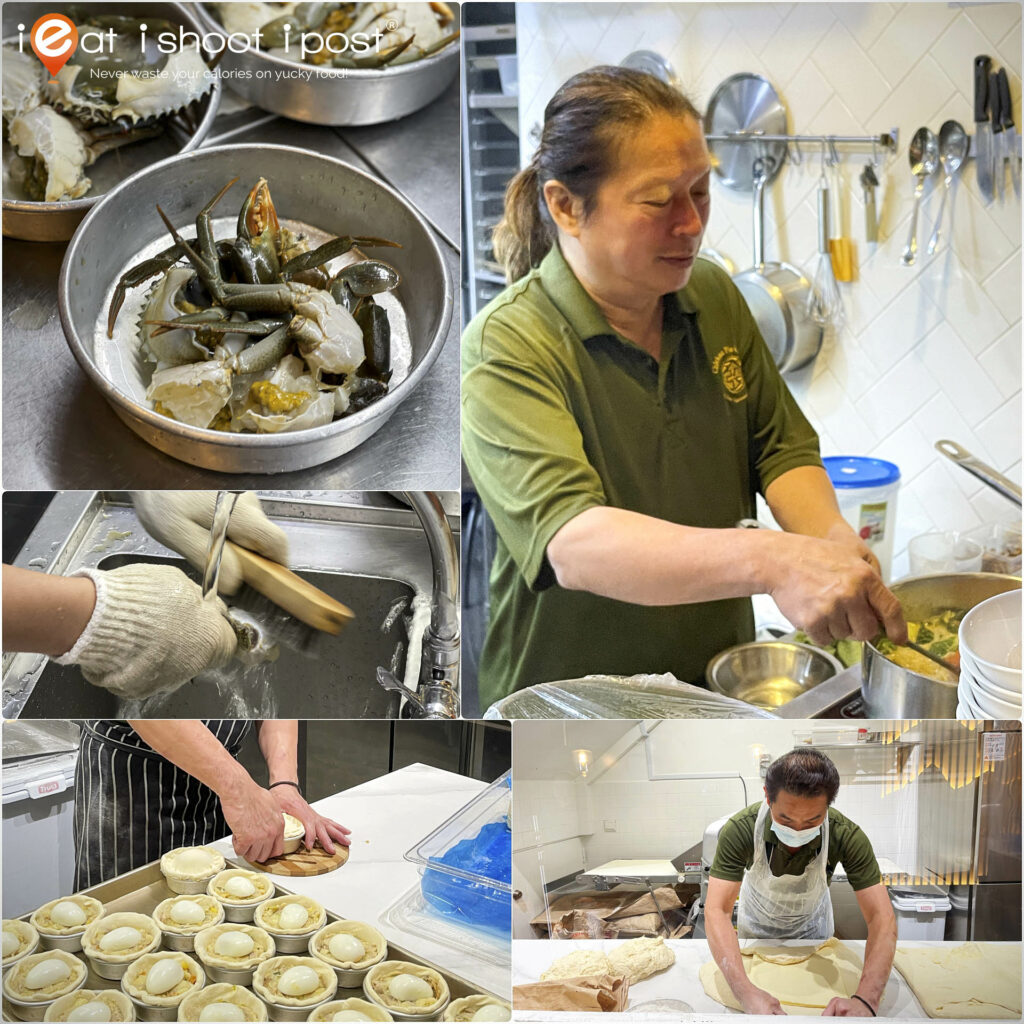 While most restaurants will want to maximize the seating area of the restaurant, Chicken Pie Kitchen has dedicated half its space to the kitchen as Chef Don likes to personally oversee the entire operations. Although there is limited seating, the place is cozy with its warm teal and dark brown hues finishing. As such, table reservations are recommended. There is a row of car park lots conveniently located just outside the restaurant and opposite Jalan Besar Stadium. They also have a counter that opens out to the walkway, so picking up your pies could not be more convenient!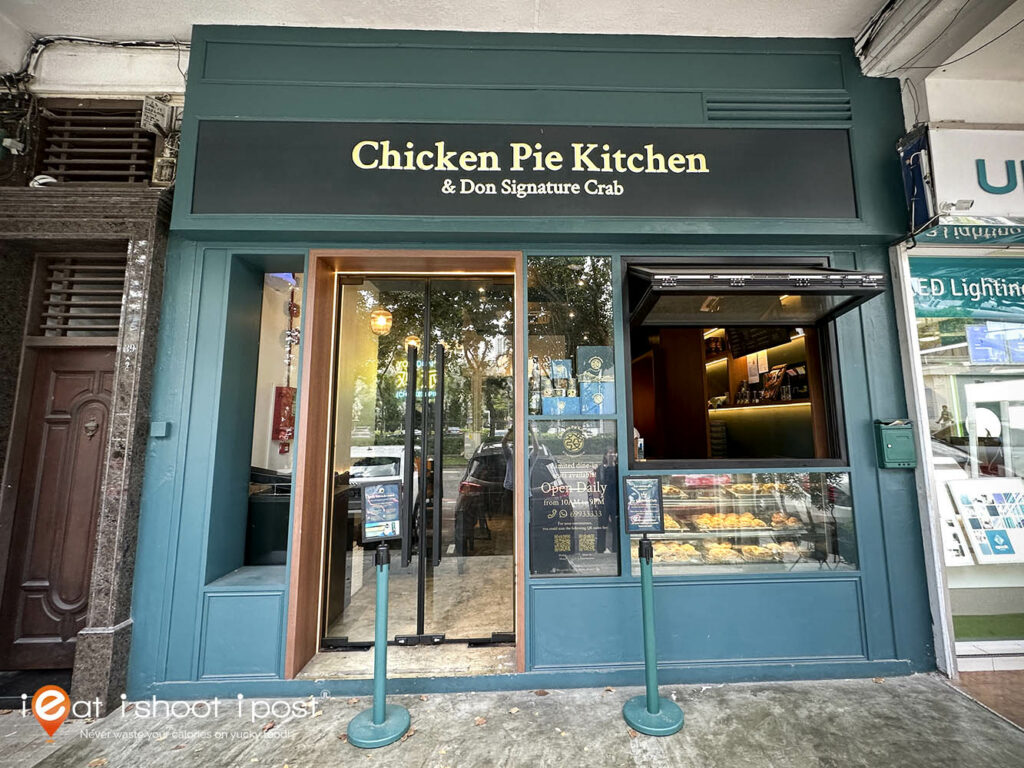 Conclusion
Good place to pick up some old-school Hainanese chicken pies and cakes! They also have large sized pies that are good for the whole family. Crab bee hoon is very good, although there aren't other zi char type dishes to order, so you are there just to eat that one dish. They do have laksa and seafood beehoon dishes which are available in various sizes. So fans of Chef Don Lim, remember that he's now settled in this new place.
Disclosure: This post is written in partnership with Chicken Pie Kitchen. Opinions expressed are our own.