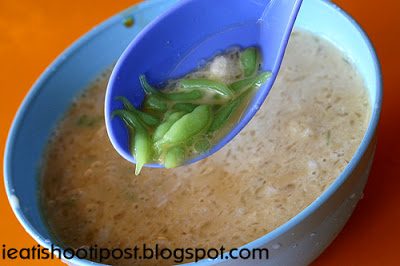 Cendol Geylang Serai: Real Chendol! Geylang Serai Temp Mkt Part 4 of 5
If you have read my previous post, you would get the sense that I am quite out of touch with some Malay/Indian food and will need to rely on our readers to give their opinions on the food. I am just trying to be as honest as I can. When it comes to food that I have not had enough experience in, it would be very foolish if I were to rave about mediocre stuff.
I have not had Cendol for quite a few years already because I always end up opting for something without coconut milk in it. But I have tasted great Cendol when I was younger and I can say that the Gula Melaka and Coconut Milk in this one is quite good. What sets it apart is the use of only homemade Cendol (That is the pale green stuff). Yes, the original Cendol does not have Red Beans, Chin Chow and Agar Agar. It is just the Cendol. I remember eating Cendol in Malaysia and that was it as well. So if you want to try an authentic Cendol, this is certainly a place for it! 4/5
Conclusion
This stall is quite well known and a good place to sample authentic Cendol.
Updated 18 Dec 2009
Their new address at Geylang Serai Mkt has been updated.