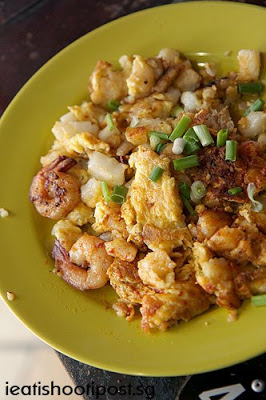 With sumosumo, jems, carnineviand, ping, pong, champagne, Mr YaKwang, Holybro, Holydrummer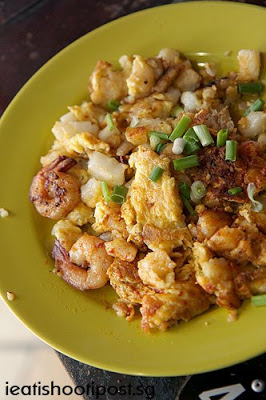 You would think that any stall that can do a white carrot cake will be able to do a black one as well right? Afterall, it is a matter of adding black sauce and how hard can that be? But the fact is that most Carrot Cake stalls I know of are either good for the white or the black but not both. Will that be your observation as well?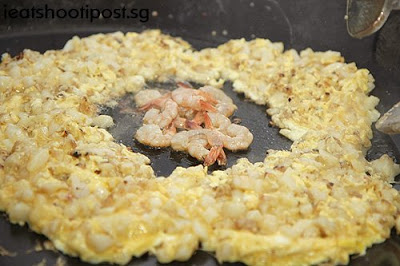 For this particular stall, it is the white version that is the best version. The carrot cake fried till it is nice and crispy and the nice savoury flavour comes from the secret recipe fish sauce which has gone through some tweaking, plus the addition of prawns when they fry the carrot cake. The outsourced carrot cake is not bad, quite soft, according to Jems who likes it this way. Sumosumo also gave his approval for the white without chilli. 4.25/5<br />
This particular stall has been around for quite a while. It is one of these Heritage Hawker stalls where the business has been passed down from father to son. The old man used to peddle his carrot cake around the Philip St area in Serangoon and settled at Chomp Chomp since 1976. The old man is still around, but his son has well and truly taken over and Dad refused to have his picture taken and insist that the limelight be shone upon his son instead. But after much coaxing he finally relented. I just wanted to post his picture so that those of you who have been eating at this stall for eons will perk up and say, "Hey, I have been buying from this man since his son was still waist high!" Hands up anyone?
Conclusion
Very good white Carrot Cake and worth having a plate on your table as part of your hawker feast.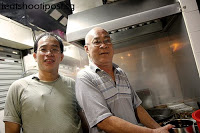 What to do next?
Check out other famous Carrot Cake places.
Try the two famous Hokkien Mee there Che Jian and Ah Hock!
Make sure you also get a plate of BBQ Stingray from Boon Tat Street BBQ.
RK House Prata from a across the road is also quite good.