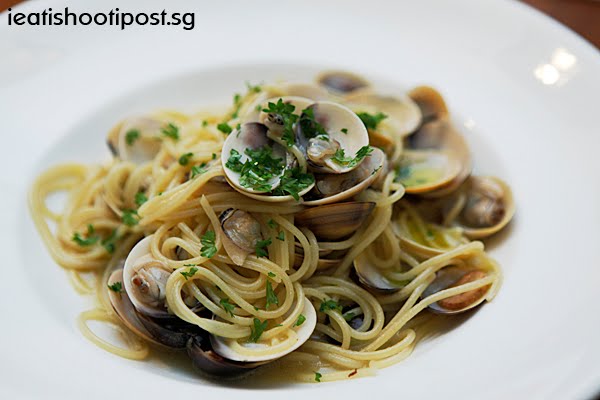 Spaghetti Alle Vongole $18
A few months ago I noticed this simple black and white banner along the side of the road in my neighbourhood while driving to work. It had the words "Cacio e Pepe" on it and it was obviously a new Italian restaurant that has just opened up. I didn't really pay much notice to it since I lived in an area where there were no cafes, no nightlife and certainly no half decent restaurants. No one would ever expect a respectable restaurant to open up here. Heck, we don't even have a quarter decent coffeeshop where the people number more than the empty bottles of Tiger on the tables.
So I imagined Cacio e Pepe to be one of these food court Italian places where a pasta simply meant two vats of tomato and cream sauce with a selection of different processed proteins that you can mix and match to get a full pasta menu. Not wasting my calories on that!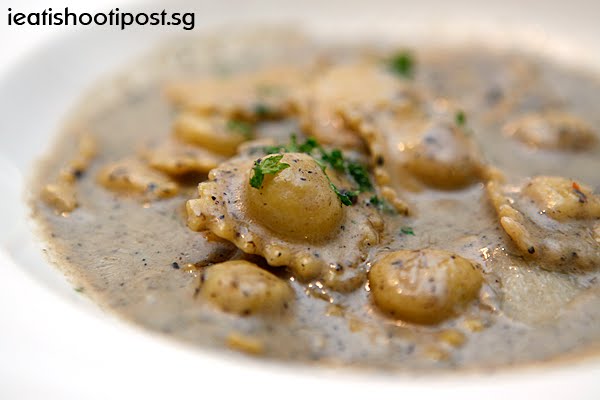 Ravioli with Truffle Sauce $22 (not on menu)

However, I heard over the grapevine that the chef helming the restaurant was the one who had left Buono recently. Buono had already built up quite a reputation for Italian food around the Serangoon Gardens area and so I thought it was worth checking out. The final push came about when SCS Butter, my long time trusted makan kaki revealed to me that one of the owners is none other than his sister, Flora Margarine. Coming from the same family, I thought the food must be of a certain standard.
So, since we were looking for a venue to hold our ieat AGM committee meeting, we thought we might drop in for some pasta and pizza. (Yes, our meetings are always held at a restaurant, where else?).
I speak for the rest of our committee members that the place and the food did take us by surprise. Situated beside one of those quarter decent coffeeshops I mentioned before, Cacio e Pepe really looked like the phone booth in the Dr Who series. I seriously respect the courage of the owners to actually open a restaurant here.
One of the things I immediately spotted on the way in was the wood fired oven. Or so I thought. I turns out that it wasn't a wood fired oven, but a gas-brick oven. Whatever the case, a purpose built pizza oven is a strong visual cue that these guys are serious about making a good pizza.
By the time the pasta came, we have already passed from being quite skeptical to being quite impatient to find out how good the food was going to be. According to our Holybrothers (Holydrummer and Holybro), the Vongole was in their opinion, one of the best they have ever tasted. The pasta was cooked Al Dente and it was sauced perfectly. The secret to a good Vongole, according the Chef Peter Neo, was a two pan cooking method which enables him to form an emulsion from the olive oil and the stock, thus giving the Vongole sauce a creamy texture without the addition of cream. The sauce was also full of that clam shell flavour with a good tinge of bitterness. 4.5/5
The Ravioli in Truffle sauce is highly recommended by myself and especially Cactuskit, who like a pig in heat has a very strong penchant for truffles. (truffles has the scent of pheromones which is what female pigs exude to attract the males) This particular dish is not on the menu because it is seasonal. The sauce is very good and you will smell it before it actually hits the table. It is the kind of sauce that would make you lick your plate clean. However, it would have scored better if the ravioli were homemade. 4.25/5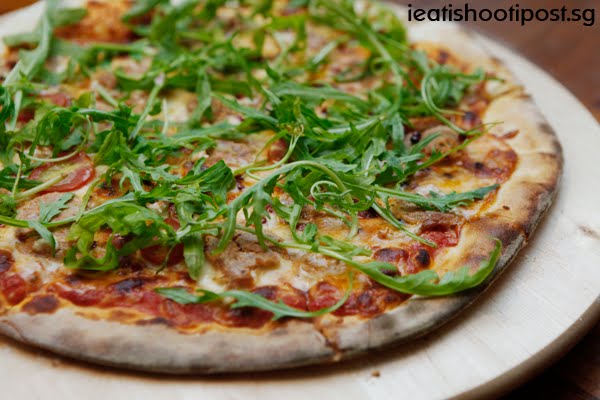 Pietro Pizza $22
The pizzas were pretty decent. I mean if you are going to invest money to building a gas brick oven, you should think that you would put in effort to make a good pizza right? The one I would recommend is the Pietro Pizza which simply means Peter's Pizza which is topped with Chef Peter's homemade spicy pork sausage and rockett salad. 4/5. The toppings are good but the base still lacks a certain oomph factor that I am looking for. I like my base thin and chewy in the middle with a light and crispy crust with a nice airy crumb (big air bubbles in the crust) that is topped with a cheese that requires a fair bit of chewing.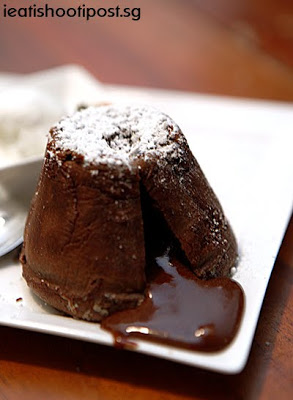 Lava Cake

The final surprise came in the form of a lava cake. Cut open the cake and the air is suddenly filled with a bouquet of chocolate and rum. The molten "lava" is delightful and is well worth a few calories. 4.5/5
Conclusion
Cacio e Pepe is quite an unexpected find. The food is very good overall and there are some that are real hits. If you are after a decent Italian meal, this is one place you might want to visit. I felt that the prices could be more competitive in view of the remoteness of the place. $22 for a pizza isn't all that expensive, but if it were in the sub $20 range, I think word will get around even faster. They do have a $12.80 set lunch which comes with a soup, a pasta and coffee which is quite good value.
So what do you all think about restaurants located in Ulu (remote) places?
Special for ieatishootipost readers
Mention ieatishootipost when you order and get 10% off the ala carte menu. Offer valid till the end of the December.