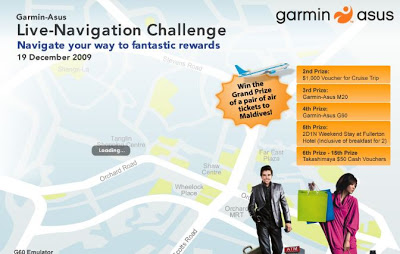 Do you like Treasure Hunts? I do. I love orienteering and used to do it a lot when I was in the NCC. Nowadays, the only times that I have to do orienteering is with a Map, in a car, hopelessly lost in Malaysia.
Map reading and finding directions can be downright frustrating if you are in a rush to get somewhere urgently and are hopelessly lost and your vehicle commander is holding the map upside down. However, it can be very fun if you are playing "Amazing Race" where you go around looking for clues and doing the challenges.
Anyway, if you enjoy treasure hunts, there is one happening on the 19th of December organized by Garmin Asus. They call it the Live Navigation Challenge and there are attractive prizes to be won including a pair of air tickets to the Maldives, cruises, hotel stays and Garmin Asus G60 and M20, GPS enable smartphones.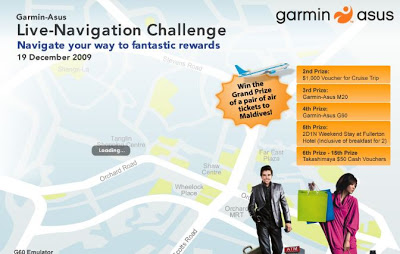 All you have to do is to register at
www.livenavigation.com.sg
and the first clue will be sent to you on 19th December at 1pm. You will of course have to do some sort of challenge at each pit stop to get clues for your next pit stop (just like Amazing Race). First one home wins!
Now here's a little tip. You don't need to have a Garmin Asus handphone to join the competition, but you will need to familiarize yourself with the functions of the handphone by watching the demo on their
website
.
See you at the finishing line!
Join the Garmin-Asus facebook community here.