Mutton Dum Biryani $6
I think one of the most gratifying aspects of being a foodie is when you discover something tasty which your kakis have not tried before and when you bring them to try it, they congratulate you for having discovered "the find of the century". OK, they did not actually say "the find of the century", but maybe something close like "find of the year". Granted, Bismillah Biryani might already have been quite well known, but at least amongst our group of seasoned Kakis, they sure haven't heard about it until now.

It all happened one afternoon when I was due to meet some friends at a cafe around the Dunlop St area. I got there early so I decided to sniff out the place to see if there is anything good to eat. Then I spotted a big banner in front of Bismillah Biryani with the self proclaimation that they have the best Dum Biryani in Singapore. Now, I have heard it all before and self aggrandizement is seldom reliable. But somehow I was drawn to the stall like a sotong (squid) to a flourescent lamp.
There in the stall, another poster on the wall unabashedly proclaiming that the stall does not exist to make money but to make tasty and healthy food. Yep, sure.
Wouldn't you be skeptical? I sure was until I started speaking to restaurant owner Arif. Within the first few minutes, I was convinced that I am dealing with something special. He had me at "Our Basmati rice is half an inch long".
Arif has been running the restaurant for five years and he is the best kind of chef owner you can get. Having retired early, he claims that he really is running the business to show Singaporeans what a "Real" Biryani is all about rather than to make money. I will leave it to you to judge whether that is true, but one thing that I am convinced about is that this is one man who is rather obsessed about this one dish.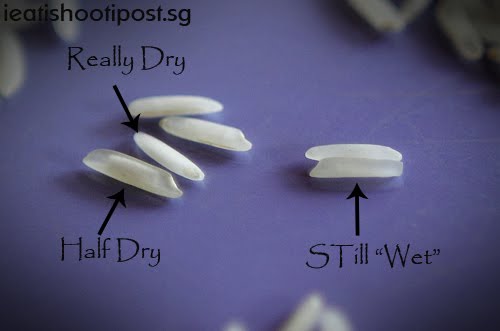 The key to a great Biryani is Basmati Rice which is arguably one of the world's most expensive rice. As such there are many attempts to use other types of rice to pass off as Basmati. You can't really blame the hawkers if they are to sell a plate of Biryani for $3. The most obvious characteristic of Basmati is its ability to elongate to at least twice its length when cooked. However, it is not just the lengthening of the rice during cooking that makes a Basmati a Basmati. The other key characteristic is an alluring fragrance when cooked. In fact, the Hindi word "Basmati" means "The fragrant one" and the rice owes its fragrance to an aromatic compound which is also found in Pandan leaves (Screwpine). There are many fake "Basmati" out there which really is a cheap long grain rice which lacks the fragrance of real Basmati. It is hard to tell unless you ar familiar with Basmati rice. Even if the sack is labelled "Basmati", it could still be fake as the following video shows.
Because Basmati is low in starch, it is light, fluffy but not sticky when cooked. So you are never going to be able to make sushi with this rice. One of the tests of a true Basmati is to drop a handful of cooked rice on the floor and it is supposed to separate like grains of sand. The low starch also means that Basmati has a low glycaemic index making it more suitable for diabetics than normal rice.
A good Basmati rice needs to be aged for 2 years in order for the rice to dry properly. When the rice is dry, it should be opaque whilest a translucent grain just means that the rice is still quite young (and still "wet"). The reason you need to age the rice properly is because a dry grain is the key to a great Dum Biryani as it would readily absorb all the flavours of the spices.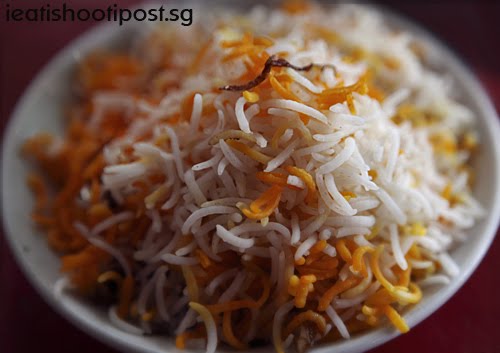 Now, in Singapore, Biryani is often call Nasi Briyani (Bri instead of Bir). Being an Indian dish, the Malay word, Nasi shouldn't even be there. But this shows how Biryani has evolved to become a Singaporean variation which incorporates the local Malay influence. So in recent years, some people have tried to differentiate their Biryani by calling it "Dum" Biryani. The word "Dum" means that the Biryani is cooked by baking the rice with the meat and spices in a large pot. According to Arif, the word "Dum" is redundant since all Biryani is supposed to be "Dum" Biryani.
The real Dum Biryani takes a lot of skill in order to get the temperature and cooking time right so that the meat is tender and the rice is not overcooked. A lot of "Dum" Biryanis actually take short cuts by cooking the rice and the curry separately and combining them together in a big pot to finish off the cooking process. Arif claims that he is the only person he knows who actually cooks the rice and the marinated meat in the pot over a charcoal fire with charcoal on top of the pot as well. This, according to him is what Dum Biryani is all about.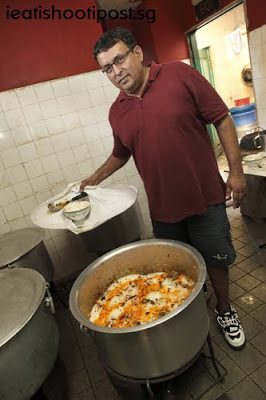 Our Dum Briyani Expert
I have always said that there is only one ingredient needed for a great dish and that is "passion". It is passion that drives a man like Arif to purchase a professional spice grinder to grind his own spices and procure a whole sheep so that every pot of Biryani that he cooks contains meat from the same animal. It also takes a lot of confidence not to use any butter or ghee to flavour the rice but to depend solely on good quality spices.
I am not a Biryani expert, but I am happy to report that both Liverpool and Cactuskit who are Biryani afficianados both agree that this is the best Dum Biryani they have eaten so far. The Biryani rice has so absorbed the fragrant spices that it lingers in the mouth for quite a while. I found the mutton to be excellent. It's tender and fragrant and does not have that gamey flavour because the meat has been blanched in hot water before marination. Amazingly the rice is quite light since they don't use a lot of oil or ghee in the cooking, so you can eat a whole portion without feeling too guilty. 4.75/5
Do note that they do not douse your rice with curry here. To do that would be to do injustice to an already aromatic and flavourful rice. So if you are expecting to eat your Biryani that way, you might be dissappointed.
Conclusion
There are many more things I can tell you about Biryani, not because I am an expert, but because each time I sit down with Arif, he has so much more to tell me. So I commend this Biryani to all Biryani Buffs out there. This is one Biryani that is made with much passion and attention to detail and the only decent thing to do is to at least give it a try and tell us know what you think.
Congrats to Bismillah for being awarded the Bib Gourmand 2016!