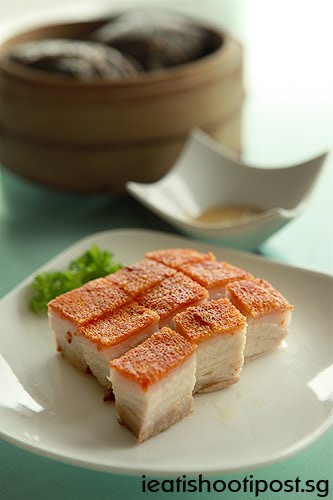 Crispy Roasted Pork Belly $9
What is your favourite part of the pig? Well, mine are pork cheeks for braising, pork chops for Tonkatsu, pork ribs for Bak Kut Teh and Pork Belly for anything. Well, not really anything. Pork belly is good for Kong Bak, Char Siew, Bacon, and of course Sio Bak. Amongst these, if I were to pick one particular dish that I would order for my last meal, it has to be roasted pork belly. But not just any roasted pork belly, it has to be a roasted pork belly like the one in the photo above and served with a dash of mustard.

This type of "Sio Bak" should not be confused with the more familiar Sio Bak (Roast Pork) that we commonly see at hawker centres. Yes, in essence they are both pork belly seasoned with salt and five spice powder and roasted, but there is a world of difference in the execution and consequently the taste of the dish.
Firstly, you will notice that for this Sio Bak, the rind is very fine, thin and crisp. This is something that none of the hawker variety can achieve because it needs to be roasted in a commercial gas oven rather than a charcoal oven. There is also a special technique which they employ to make the rind so thin and crisp like a potato chip. Then there is the way they cut the pork so that you don't get the chunky bottom layer which can sometimes be quite dry. The result is a one inch cube of Pork Heaven.
I had this type of Sio Bak in Hong Kong two years ago and there is not many other pork dishes that makes me savour each mouthful like this one does. Unlike other recipes, I feel that this way of cooking the pork allows one to really taste the original flavour of the meat. There is that wonderful crunch of the pork rind followed by a thin layer of fat which has been rendered to have the texture of butter and then the juicy, tender and savoury meat itself where you can really taste the nutty flavour of pork. If there is only one way to cook pork belly, this has to be it. 4.75/5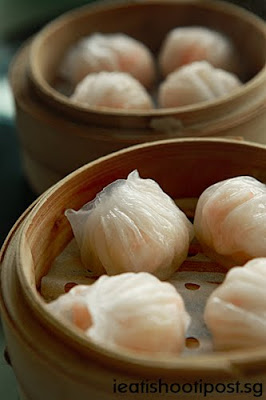 Har Gao $4.80 for 4 pieces
Our visit to Crystal Jade Dining In was quite unexpected. It was an afternoon after Church and we and the Godfamily just wanted to bring the kids somewhere to celebrate ieatprincess' birthday. Regular readers of the blog will know that I seldom like to blog about places that everyone already knows about, but I felt that the Dim Sum I had that day really hit a level that was quite unexpected even for Crystal Jade.
It turns out that though Crystal Jade is a very big chain of restaurants, the different restaurants have their own chefs who determine the final quality of their dishes. So even though the standards at Crystal Jade is already quite consistent across the board, somehow this particular restaurant has just that extra "Ooomph" that is worth blogging about.
My most memorable Dim Sum was at the Federal Palace restaurant in Hong Kong two years back. Since then I haven't found another place for Dim Sum that could rival that experience. Most of the Dim Sum I had in Singapore had been very good. Some, like the one at Cherry Gardens were quite exquisite but at the end of the day, I wasn't looking for expensive high class Dim Sum. All I wanted was a place where I could bring the family for the classic Dim Sum favourites again and again.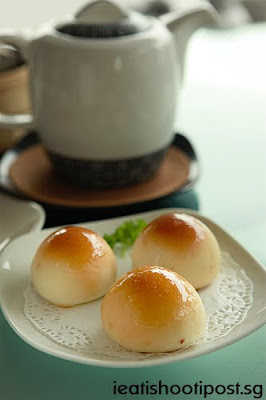 Baked BBQ Pork Bun $3.60 for 3
So I was very pleasantly surprised when I found that the Dim Sum at this particular restaurnant seem that have an extra "H" factor ("H"=Hong Kong). The Crispy Roast Pork was the first dish and I confess that after that dish I was already won over. But the rest of the dishes that followed was also very good. The Baked BBQ Pork Bun is one of the best I have tasted. The bread was so wonderfully soft that you could almost leave your fingerprints on its delicate surface as you handle it. One bite and you would be rewarded with instant gratification from the buttery soft bun perfectly complementing the sweet charsiew filling. Give me 10 of these and a cup of Teh Tarik (no they don't sell this here) and I would be very happy. 4.75/5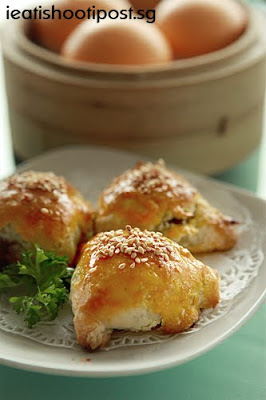 Baked BBQ Pork Pastry with Preserved Egg $3.80
This is the first time I am having a Charsiew Sou (Charsiew Pastry) with preserved egg and I have to say that the combination actually works very well. The Pastry is very good. Nice and flakey and served nice and warm. 4.25/5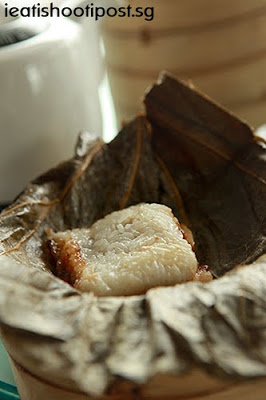 Steamed Glutinous Rice Wrapped in Lotus Leaf $4.20
I would also highly recommend the lotus leaf rice here. The glutinous rice has got just the right texture and has been infused with a wonderful special smoky leaf flavour which makes it very palatable. 4.25/5

Steamed Radish Cake with Conpoy and Egg White $3.60
When it comes to Radish Cake (or what we like to call Carrot Cake), I really enjoy how Hong Kong chefs would make sure that the texture is soft and smooth and that the cake itself is adequately flavoured. I think the photo speaks for itself. This is one radish cake where you can really taste the radish. Now this is one thing I cannot understand. Why is it that most places don't put more radish into our radish cakes? Afterall it is not as if it is an expensive ingredient like conpoy right? 4.5/5
Conclusion
My current favourite place for Dim Sum. The food is excellent and reminds me of the Dim Sum I had in Hong Kong. Rather than trying to add exotic ingredients to make their Dim Sum special, they simply make very good Dim Sum. The prices are resonable and the service is quick so there is really not much to complain about except that I get too full too quickly. The view from the restaurant is remarkable as well. It is directly opposite Universal Studios in Sentosa and would be quite a sight when Universal Studios is completed.
Post Script: I was back again yesterday just before posting this and the food is the same as the first time I ate there except that the charsiew buns were even better than I remembered and I readjusted the rating from 4.5 to 4.75.
If you are heading there, do look for the restaurant manager, Jane and let her know you are a blog reader! She will take good care of you!