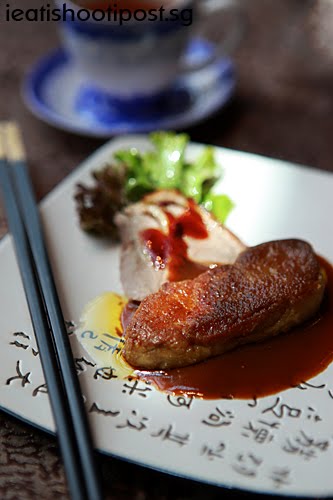 Pan-fried Foie Gras with Peking Duck Reduction – $16.00 per person
The story of Taste Paradise must be what most Singaporeans would think of as living the Singapore dream. The two brothers who own the latest classy Chinese restaurant worked their way up as Cze Char Chefs to proud owners of a chain of "Paradise" restaurants in Singapore. They first opened Paradise Seafood restaurant as a little Cze Char place in the boondocks of Defu lane in 2002. Now, 7 years later, the brothers own a chain of four restaurants including their latest flagship at the very fashionable ION Orchard.

With Taste Paradise the brothers are gunning for the upmarket and hip Chinese cuisine. "Hip" in Chinese Cuisine (my interpretation anyway) just means that instead of serving you a whole plate of noodles, the portions are plated individually so that it is more like the western way of dining. Then of course there is the use of expensive ingredients, some borrowed from the West. So you get to partake of prized Chinese ingredients like Sharks Fins, Sea Cucumber and Bird's nest alongside French favourites like Foie Gras and Caviar.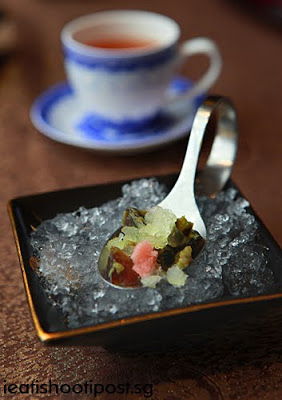 Century Egg with Lime Sherbet – $8.80 per serving (serves 4)
Our session started with the Century egg with lemon sorbet which is quite a fancy mouthful of chopped century eggs with Japanese preserved ginger and lemon sorbet. It was nice and very unique but I don't think that it tasted that much better than the good old century egg with preserved ginger that you get at the rojak stall that would justify the price. 3.5/5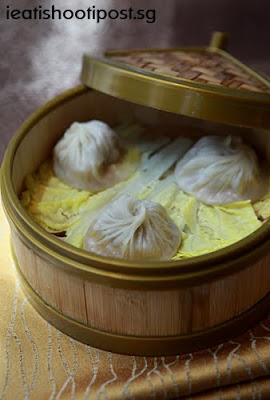 Steamed Shanghai Pork Dumpling with Foie Gras $4.80 for 3
What would justify the price are the Xiao Long Bao with Foie Gras. Now, this one is worth ordering a few baskets of. I have tasted Xiao Long Bao with Foie Gras before but they tend to overpower the Xiao Long Bao by putting too much of the Foie Gras in the filling. This one is just nice. You can slowly savour the wonderful aroma of the Foie Gras in the soup without it getting too jialak. 4.5/5
Now, if you can't get enough of Foie Gras, you can order for yourself one portion of their pan fried Foie Gras with roast duck reduction, and that will definitely satisfy you. This dish is done western style, but the Chinese inspired sauce really does complement the expertly fried Foie Gras very well. Crisp on the outside, buttery in the middle with a savoury sweet Hoi Sin based sauce. It actually tastes better than some Foie Gras that I have eaten at western restaurants. 4.5/5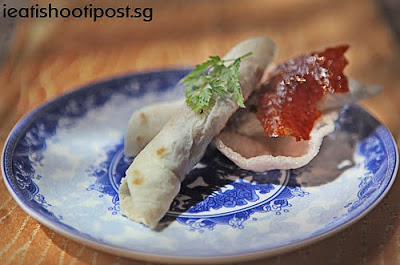 Roasted Peking Duck -$38 for half and $68 for whole
The Peking Duck is good but holds no big surprises although I like their flour based pancakes as it thicker and offers a bit more bite to the other type of pancakes which are more like very thin crepes. 4/5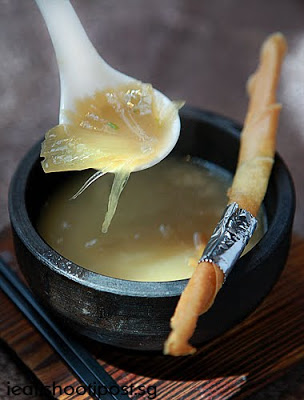 Classic Green Shark's Fin in Supreme Broth – $28 per person
They do have a "Green" sharksfin soup where no sharks were harmed in the making of the dish. I would have opted for that version, but unfortunately I was served real Sharks Fins Soup that day. I always felt that the taste of Sharks Fin Soup comes from the soup stock, so it really isn't necessary to use real sharks fins. This dish is served with a deep fried Shallot Pastry stick which is quite nice. The soupt is very tasty with strands of dried scallops (Conpoy) adding to the umami flavour. 4.25/5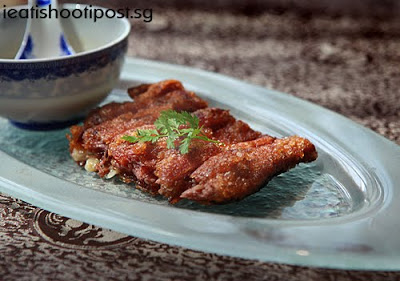 Crispy-fried deboned lamb ribs in Beijing style – $24 for regular serving
Lamb is not really a dish which I order in a Chinese restaurant and I really don't have a frame of reference for the fried lamb dish. It is a deep fried piece of lamb which must have been braised first till all the fats are buttery soft. This is very nice but if you have already eaten the Foie Gras, you would feel your coronary arteries starting to clog up if you order this dish as well. If I had a choice, I would just go for the Foie Gras. 3.75/5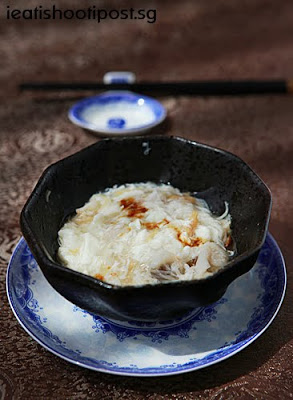 Braised vermicelli topped with simmered crab meat – $22 for regular serving
The seafood bee hoon was a nice change of pace from all the wonderfully rich food that we were eating that afternoon. The bee hoon has soaked up all the sweetness of the crab meat and tastes very good. That is the good, the bad is that it lacked was a good Wok Hei and a toasted crustacean flavour which I feel is critical to the enjoyment of this dish. 3.75/5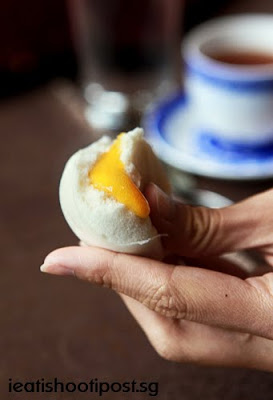 We concluded our most impressive meal with a Salted Egg Custard bun which you can see is very well made such that the fillings are just oozing out. This one is very good. 4.25/5
Conclusion
This type of meal will set you back $80++ per head but if you are just after the standard fare the prices are actually quite ok. I had a look at the Dim Sum menu and their prices are actually not bad considering the classy ambience of the restaurant. Char Siew Paus are $3.60 and Har Kaus are $4.80 per basket. So it is a place where you can go to really impress someone or bring the family for Dim Sum.