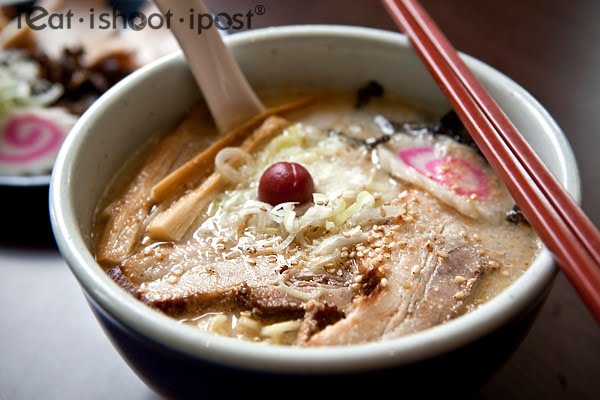 Santouka's Shio Ramen with signature Umeboshi $13
Remember that in my previous articles I made the point that Tonkotsu (Pork Bone) style broth is found in Kyushu but not in Hokkaido? There is one exception to that rule and that is the Ramen found in Asahikawa, the 2nd largest city in Hokkaido after Sapporo. Here is an oasis where you can find the marriage of curly yellow noodles with Tonkotsu based soup which is the combination that is the favorite amongst Singaporeans. It is said that Asahikawa is the only place in Hokkaido where Tonkotsu based soup is an acceptable variation. But theirs is not purely Kyushu style Tonkotsu soup either, but rather it marries the Hokkaido style of a seafood based soup with the rich Kyushu style Tonkotsu broth to produce a hearty, muscular soup which is sweet and delicate at the same time.
Santouka is a major chain of Ramen restaurants which can be found around the world and like MacDonold's, the bowl of Ramen with its signature blue coloured bowl and Umeboshi (Pickled plum) served in Singapore looks exactly the same as the ones served elsewhere around the world.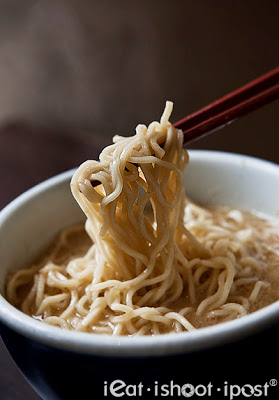 Curly Yellow Noodles imported from Kobayashi Noodle Factory
The Tokusen Toroniku (special pork cheek) Ramen is the hot favorite amongst our kakis and is the one that we all go for when we eat at Santouka. What is so special about this Toroniku you say? Well, let's just say that if you enjoy the meltingly tender Japanese style Charshu, then this is XO version of it. Toroniku is made from pork cheek and each pig has only two cheeks (on the head that is, there are two other cheeks found at the other end of the pig) So everyday, the restaurant only has a limited number of portions available. You might want to call up first if you are going there just to experience the Toroniku.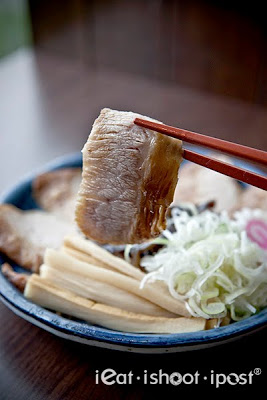 A slice of Pork Cheek (Tokusen Toroniku)
The Toroniku is served separate from the Ramen and the proper way to eat it is to soak the slice of Chashu into the hot soup so that the fats start to melt before you place it between your tongue and palate to dissolve. Pork cheek is actually very tough because it is a very well exercised muscle since pigs are always piggin' out. It was considered a cheap cut of meat until someone discovered that if it was cooked slowly over a long time, those tough strands break down into something gorgeously gelatinous and velvety which is unlike any other part of the pig.
The Toroniku can be slightly salty if it were just eaten off the plate. But when you leave it in the broth for a while, it adds an extra kick to your soup while at the same time warming up to the consistency of melting butter. As far as I can see, everyone treats their Toroniku with the same respect as they would with a slice of Otoro (Tuna Belly).
Of the three different soups, Shio, Shoyu and Miso, the most popular is the Shio. The Shio is essentially their Tonkotsu based soup with salt. This Tonkotsu based soup is slightly different from the standard Kyushu variety in that it is sweeter because of the addition of seafood in the soup base. This gives the Shio a bit of character and depth of flavour. The manager here also tells me that they use Kurobuta (Black Pig) pork bones which are imported from the US to boil the soup! Ahso! That's why the soup is so shiok!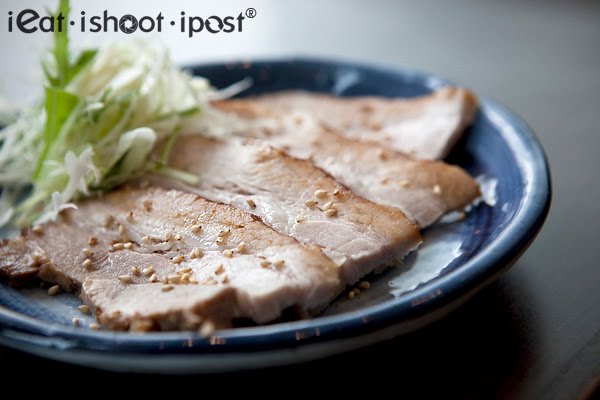 Charshu $7
It turns out that they also use Kurobuta to make their normal Charshu as well, which, incidentally is one of the best in town. The Charshu here has that fragrant nutty aroma, characteristic of Kurobuta pork which wafts up your nostrils when you savour the meat.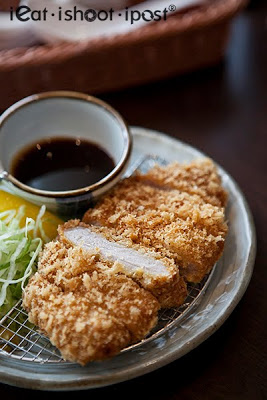 Kurobuta Tonkatsu $11
But if you want to eat more Kurobuta Pork, what you should do is to order the Tonkatsu, which is also made from Kurobuta Pork. For $7, you only get four slices of Charshu which is quite expensive. But for $11, you can get a thick slab of Kurobuta Pork Tonkatsu which is probably the cheapest Kurobuta Tonkatsu you can find in Singapore! It is expertly done and is almost as good as the $26 ones that you get from the special Tonkatsu restaurants. Now this is what I call a lobang (special tip).
Noodles: 4.25/5, Soup 4.5/5, Chashu 4.6/5
Conclusion
One of the best bowls of Ramen in Singapore with an excellent Charshu to boot. Santouka also offers excellent value as they use imported noodles as well as US Kurobuta Pork. It's no wonder that it is the top Ramen joint among some of our kakis!
Have a look at Rameniac's Map of Ramen! Here is where you can learn about the regional variations of Ramen across Japan.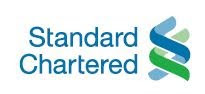 The Bank's biggest dining promotion is back again till 16 June. This means you can enjoy 15% CashBack on any meal, in any restaurant, at anytime, anywhere is Singapore! So charge your meal to your Standard Chartered Credit/Debit card to enjoy 15% CashBack at all Ramen joints from now till 16 June and another 10% to 15% off (almost 30% off) at selected merchants! SMS GET15[space]card number to 78722 to register for this promotion!
The list of the Hungrygowhere Top 10 ramens can be found at the Hungrygowhere website.
This project is sponsored by Standard Chartered. You can find out more about their excellent dining promotions at – www.standardchartered.com.sg.