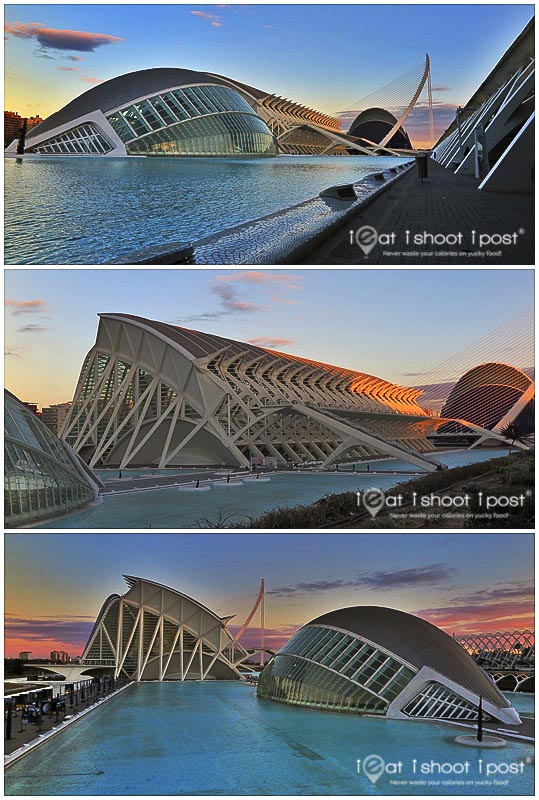 Mention Valencia and one will immediately think of paella which is what the city is famous for.   It is also known for the iconic City of Arts and Sciences, an entertainment-based cultural and architectural complex designed by Santiago Calatrava and Félix Candela.  Singaporeans will feel very welcomed in the city as the Valencia football club has been doing well in the La Liga after being bought by Singaporean businessman, Peter Lim.  So you will be greeted with a big smile whenever you tell them that you are from Singapore!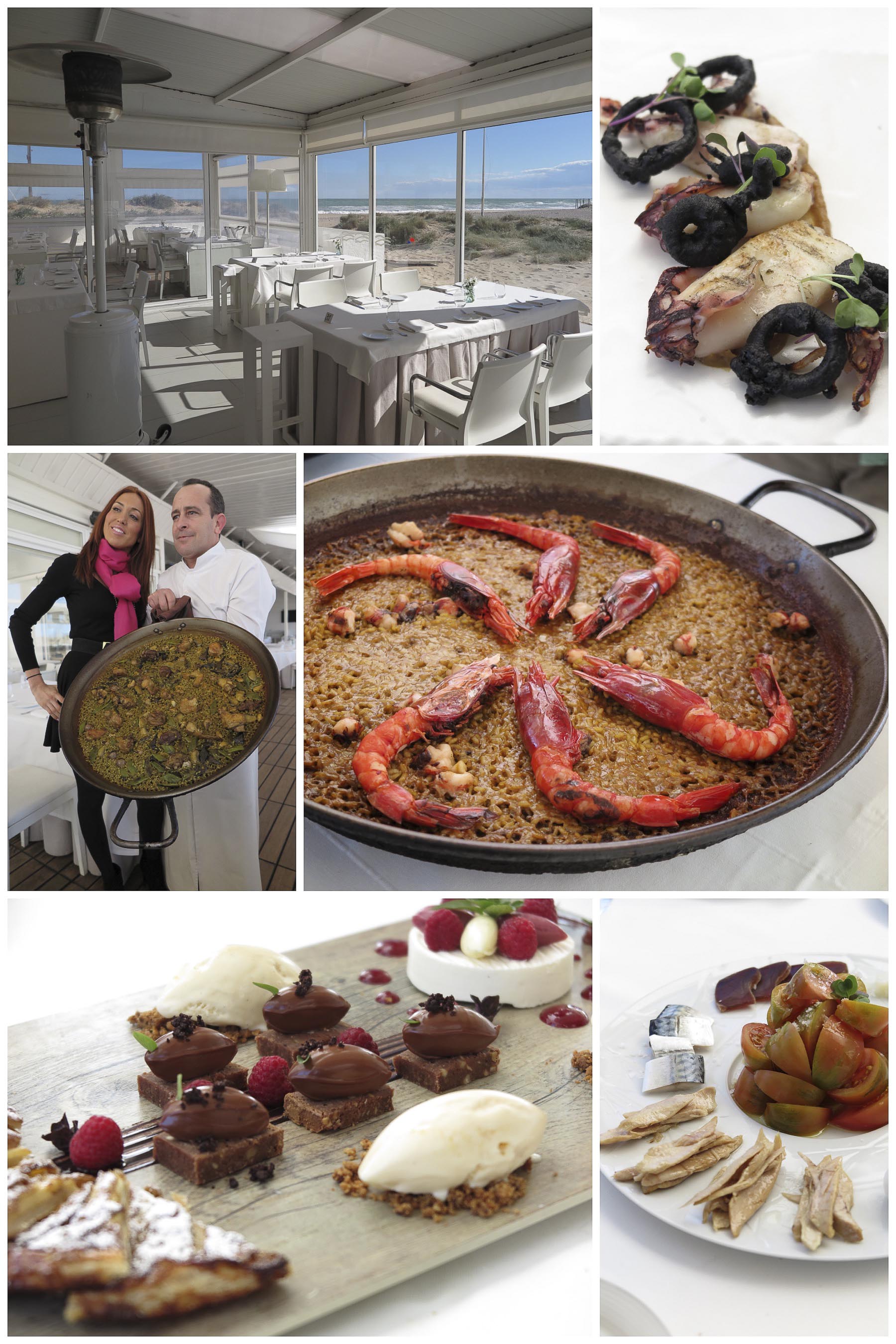 Being the capital of paella, there are many famous places where you can eat this Spanish rice dish.  Our guide from the Valencia Tourism Board brought us to one which was located on the beach right at the edge of the Mediterranean sea.  To get to the restaurant, we had to pass by the rice fields which grew Arroz Senia, the local variety of rice which the restaurant uses for its paella.
I have yet to be able to appreciate the traditional paella which has chicken, rabbit and snails in it and much preferred the seafood version which was made with a rich seafood stock and topped with the super tasty carabinero prawns.  The rice here is cooked in a very thin layer almost akin to a thin crust pizza, which means that you get more of the socarrat (charred rice crust).  I was a little disappointed that the paella was cooked over a gas fire instead of oak wood which I am sure would add that extra smokiness to the dish.  However, you really can't beat the beautiful setting here!
Arrosseria Duna
Paseo Pintor Francisco Lozano módulo 3 s/n
46012 El Saler, Valencia, Spain
Reservations: +34 96 183 04 90
http://www.arroceriaduna.es/en/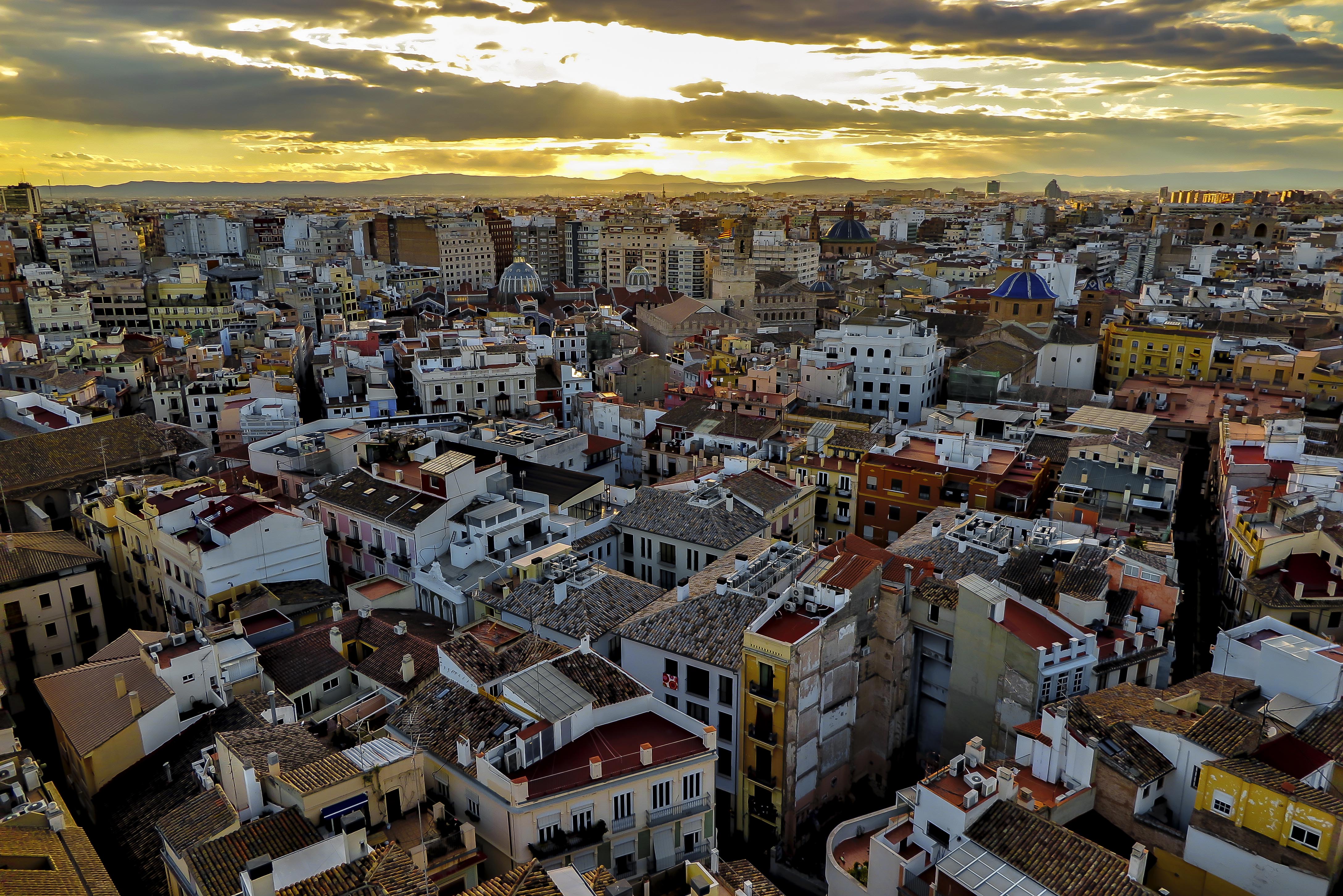 It was in Valencia that I found the Holy Grail.  No, I don't mean the Holy Grail of gastronomy, I mean the REAL Holy Grail, the cup that Jesus Christ used in the last supper.  Most of us who have watched Indiana Jones and the Last Crusade would have had the impression that the cup of Christ should be made of wood; a carpenter's cup, according to Dr Jones.   That was exactly what I thought until I learnt about the story of the Grail at the Cathedral de Valentia.
There are many "Holy Grails" located in various churches all over the world, but most biblical archeologists agree that the one in Valencia is most likely to be the genuine one.  The cup is made of agate stone and has been dated to the beginning of the first century AD.  It probably belonged to the family who offered their home for Jesus to celebrate the last supper.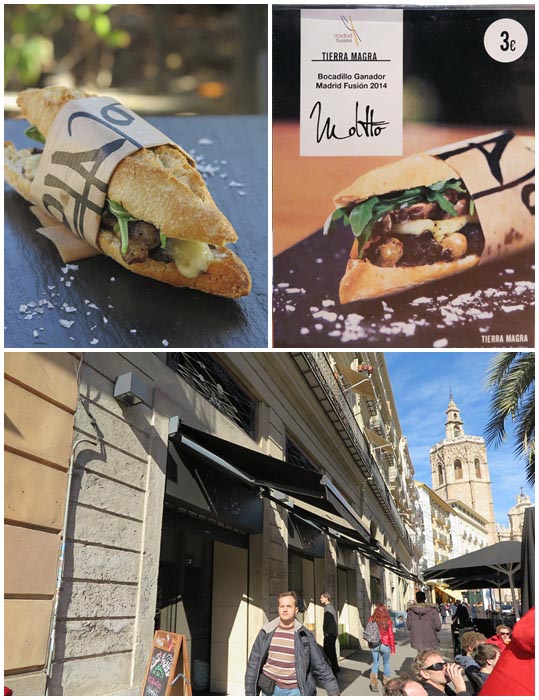 A short walk away from the Cathedral is Cafe Moltto which serves the Tierra Magra, the sandwich which was voted best sandwich in Spain at  Madrid Fusion 2014.  As the story goes,  there were many Chefs who joined the competition.  Most of them did molecular magic with the ingredients and served deconstructed "sandwiches".  Moltto's entry looked so simple compared to the competition, but it was also the one which the judges could not put down!  So they won!  The moral of the story has to be that "simple food simply satisfies."
So what goes into Spain's best sandwich?  Well start with a super crisp beer bread and fill it with brie cheese, pan fried iberico pork, blood sausage and rocket salad.  For €3 you get a small sandwich that goes really well with your €1.50 cup of coffee!
Moltto
Plaza de la Reina
9 Bajo | En Pleno Centro de la Ciudad,
46002 Valencia, Spain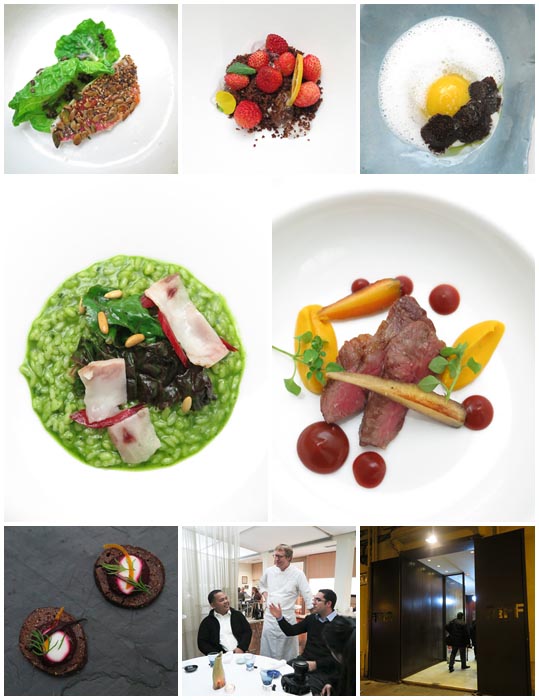 We were told that one of the reasons to go to Valencia is for its food and it's cheaper to eat at a Michelin Star restaurant in Valencia compared to the larger cities like Madrid and Barcelona.  You can have an excellent multi-course meal with the best local produce for less than €100!
One of the best restaurant in Valencia is Riff which is opened by German born Chef Bernd H. Knöller.  Like most great chefs, Bernd loves to do his own marketing everyday and sources the best local ingredients personally.  His pork comes from a local small farm which raises small quantities of exceptional iberian pigs. The flavour of the pork which was simply grilled with salt and served with seasonal vegetables was superb!  His rice dish which was topped with slivers of cured iberico pork fat was heaven on a plate.
Riff
Calle Conde Altea 18
46005 Valencia, Spain
+ 34 96 333 53 53 / + 34 671 87 59 75
http://www.restaurante-riff.com/reserve/#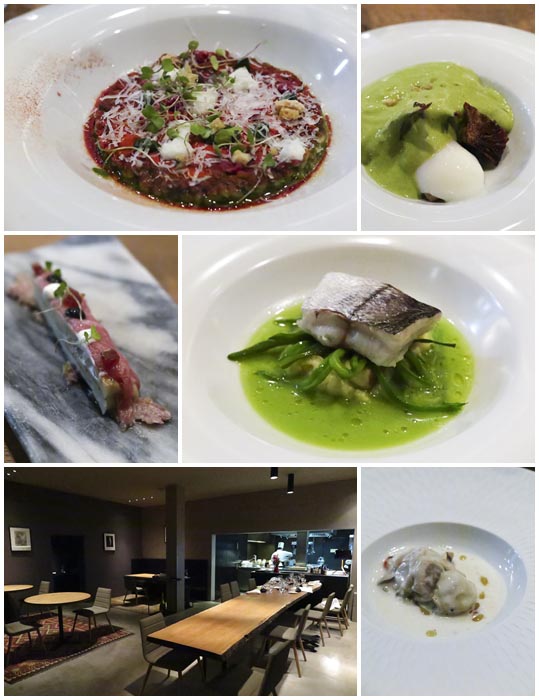 Ricard Camarena is quite the celebrity chef in Valencia and owns several places of which his eponymous restaurant is the best expression of his culinary personality.  Chef enjoys using vegetables and so you will find that he would create dishes where the seasonal veggies takes centre stage instead of the meat.  A good example is his eggplant and negitoro (tuna scraping)  dish where the sweetness of the eggplant is the highlight of the dish with the tuna only playing a supporting role.  When we were there, Chef had only recently returned from a trip to Thailand and has been infusing his soups with Thai flavours.  So don't be surprised to find yourself eating something that tastes like tom kha gai!
Ricard Camarena
C/ Sumsi nº 4
46005 – Valencia
+34 96 335 54 18www.ricardcamarena.com/
Our trip to Spain was sponsored by the Spanish Tourism Board and we enjoyed the excellent inflight service by Thai Airways which flies to Spain via a short stopover in Bangkok.