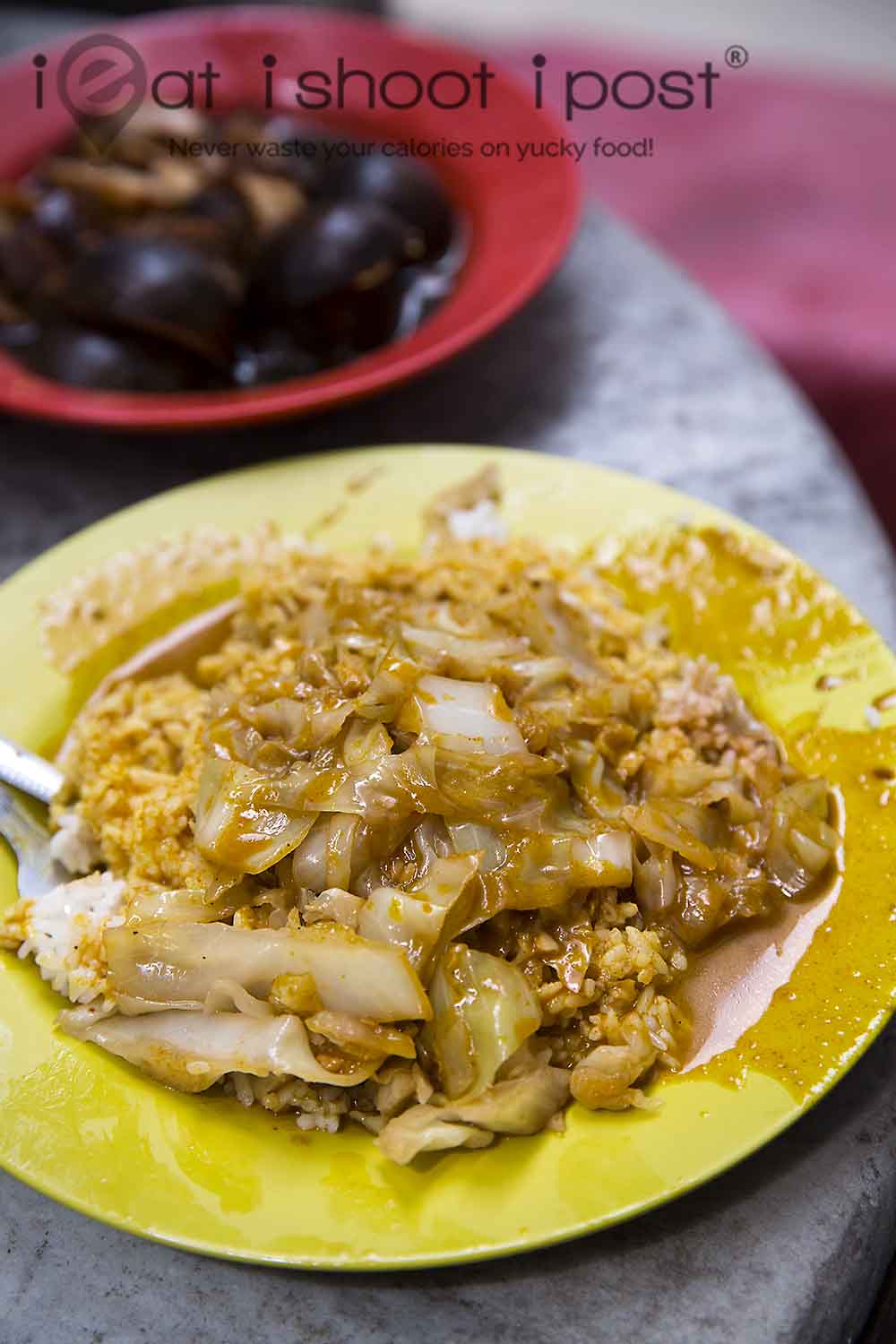 There are some eateries that are so shiok that you just have to write about them again.  My last story was written in 2008, but at that time, I didn't manage to get the back story from the owner as they were just too busy.  This time round, I managed to have nice chat with Mr Pang Tao Chin, 72 who has been serving his incredibly delicious curry rice at this old school coffeeshop for over three decades.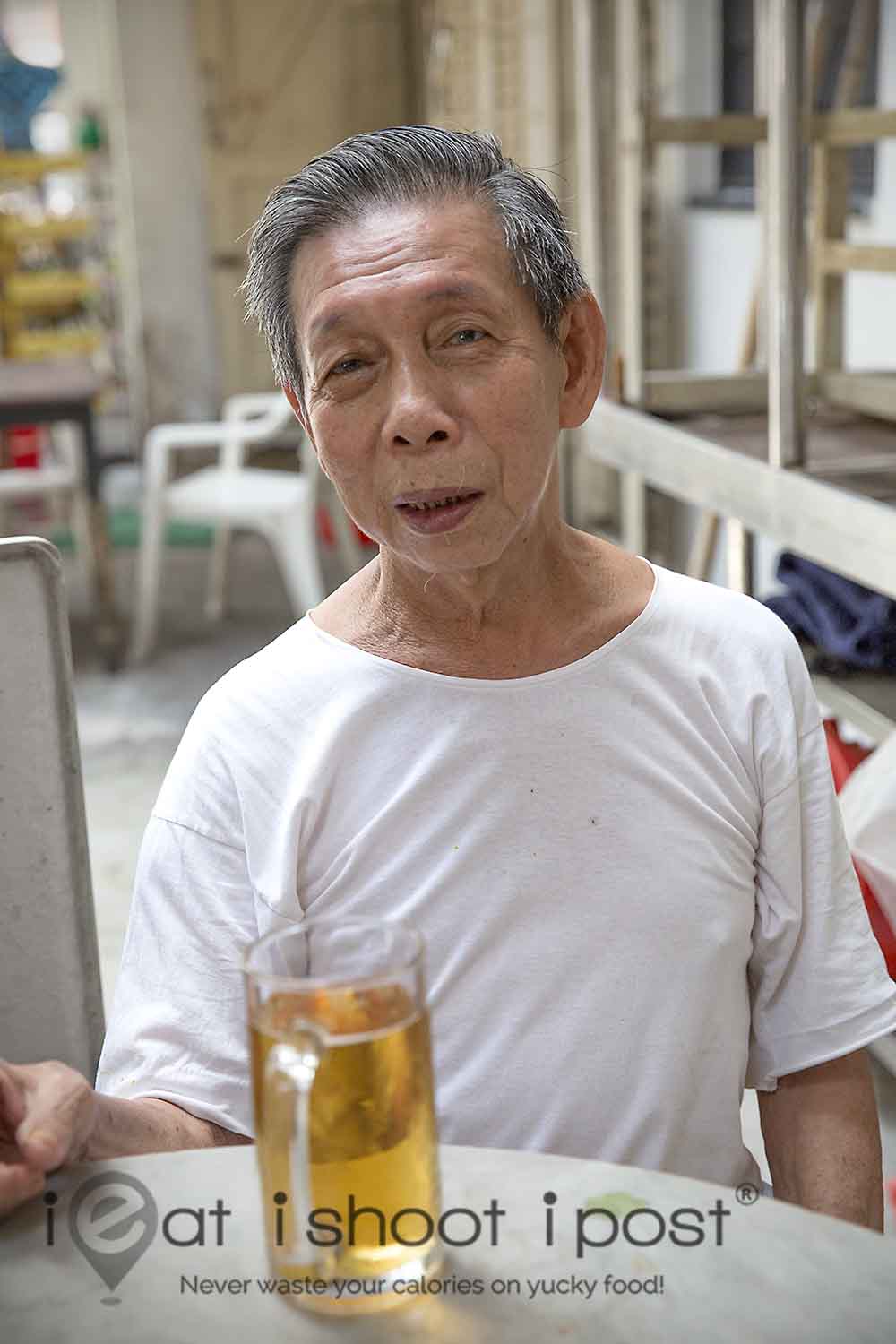 But the history of  this nameless curry rice stall is much longer than a mere three decades.  Mr Pang grew up helping his father who started selling Hainanese curry rice at a now demolished coffeeshop in Market St, just after the war. Sadly,  his own children are not interested to take over the business, so his dishes will cease to exist the day he retires.  Our only hope is for some astute entrepreneur to modernize the eatery and preserve its legacy, just like how they managed to help Mui Kee Congee.   If not, we will have to brace ourselves for the inevitability of not being able to enjoy the unique style of curry rice!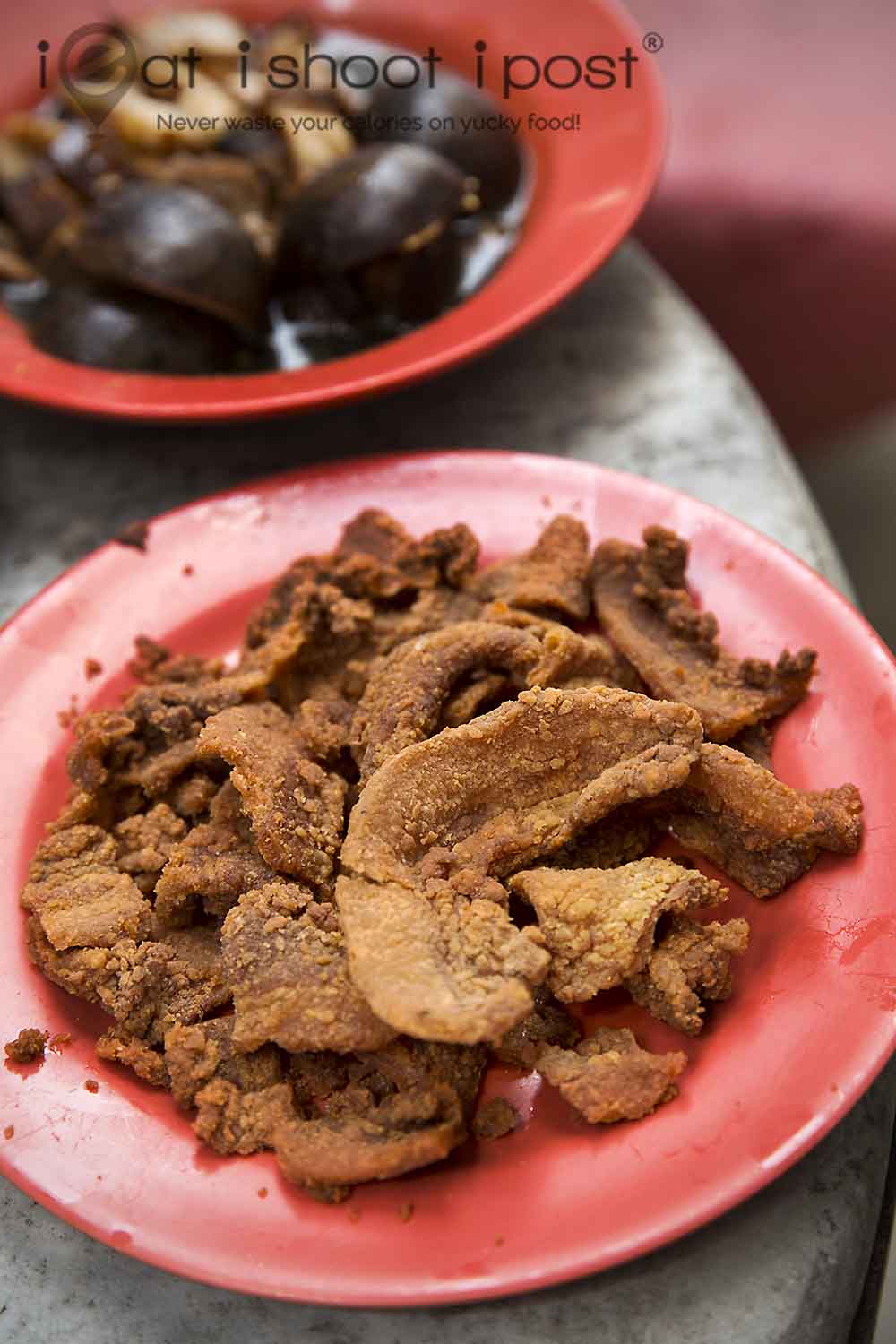 The star dish at this stall has to be the crispy "pork chops".  These used to be more commonly available in the past, but nowadays, I know of only this eatery that makes them this good.  These incredibly tasty and crispy rashers of Hainanese style bacon add that irresistible crunch and flavour explosion to every mouthful of curry drenched rice!  It's not good, my friends, it is very very good!  4.75/5
In case you are wondering, there are two types of pork chops that Hainanese curry rice vendors talk about.  One is the dry type which is what is served here and there other one is the wet type which is the more familiar pork chops served with a sauce.  I love them both, but if I had to make a choice, I will choose the dry type!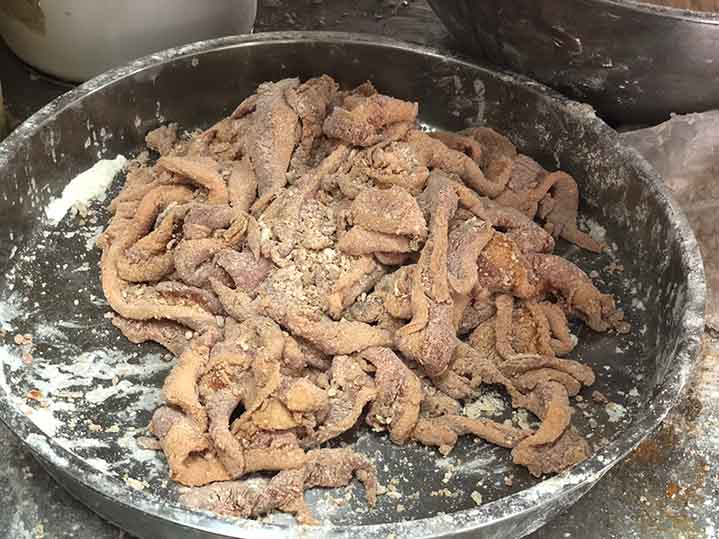 The secret, (WARNING: this is a spoiler for some of you) is in the cut of pork used to make the pork chops.  It needs to have a good amount of fat in order for it to crisp up nicely. That is what makes them, literally, to die for!
The pork is first marinated overnight then coated with flour and fried twice till is is crispy all the way through.  Mr Pang tells us that it is not possible to do this at home as the oil needs to be really hot.   That's not going to stop me from trying, though. (My research on the recipe has begun!)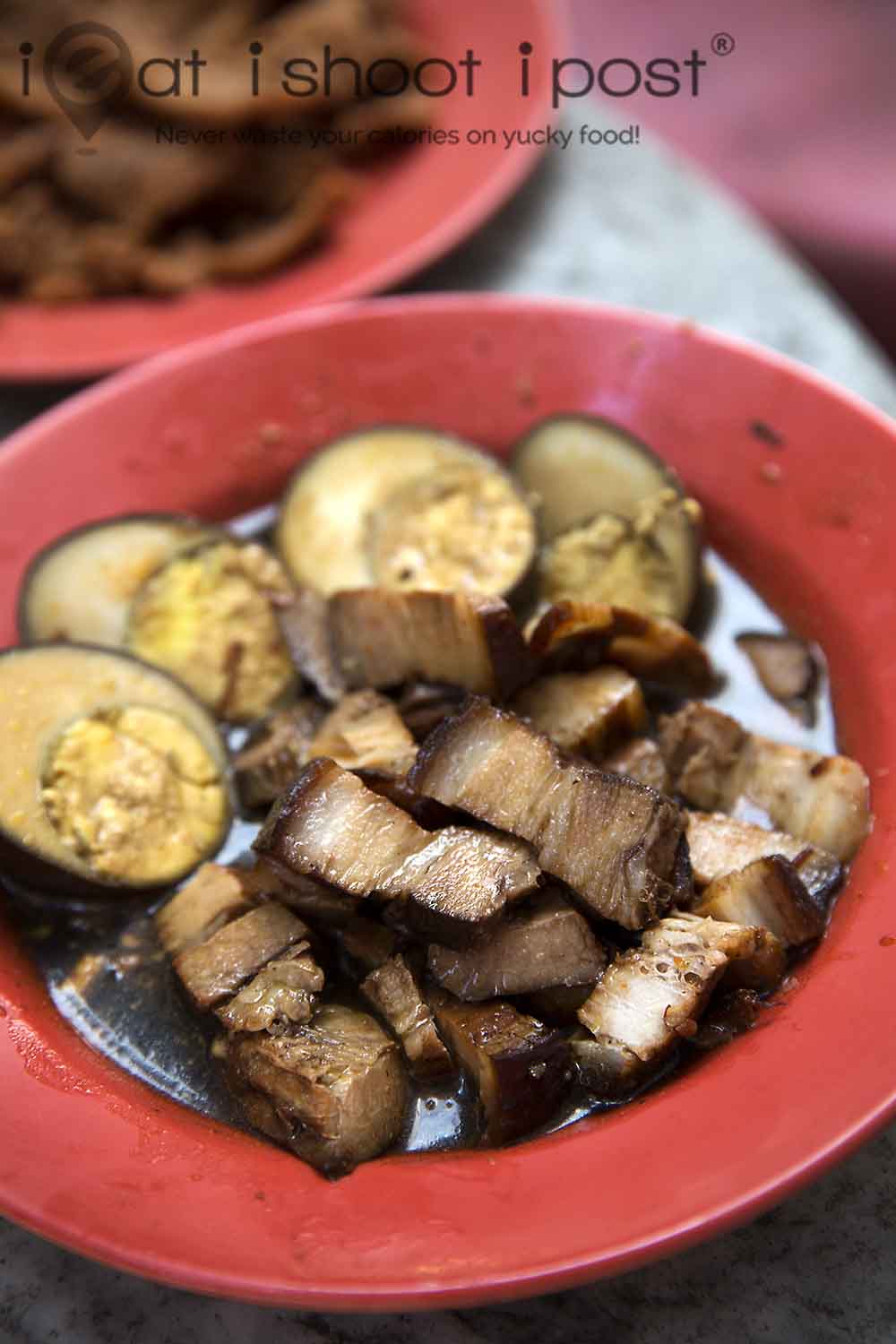 The braised pork here is also very good!  The texture of the pork is perfect and the sauce has that special flavour that you don't get anywhere else.  I was told that the ingredients are specially procured from China which is why no other stalls are able to replicate the flavour!  The braised eggs are marinated overnight such that can see the dark braising sauce penetrating right down into the egg yolk!  4.5/5
The curry itself is typical of Hainanese curry rice.  It is not overly lemak (heavy) so that you can finish a whole plate of rice slathered in curry gravy and still not feel bloated.  It could, perhaps have a teeny bit more punch.  4.25/5.  Stewed cabbage are nice and mushy.  Not exceptional, but perfect as a supporting cast.  4.25/5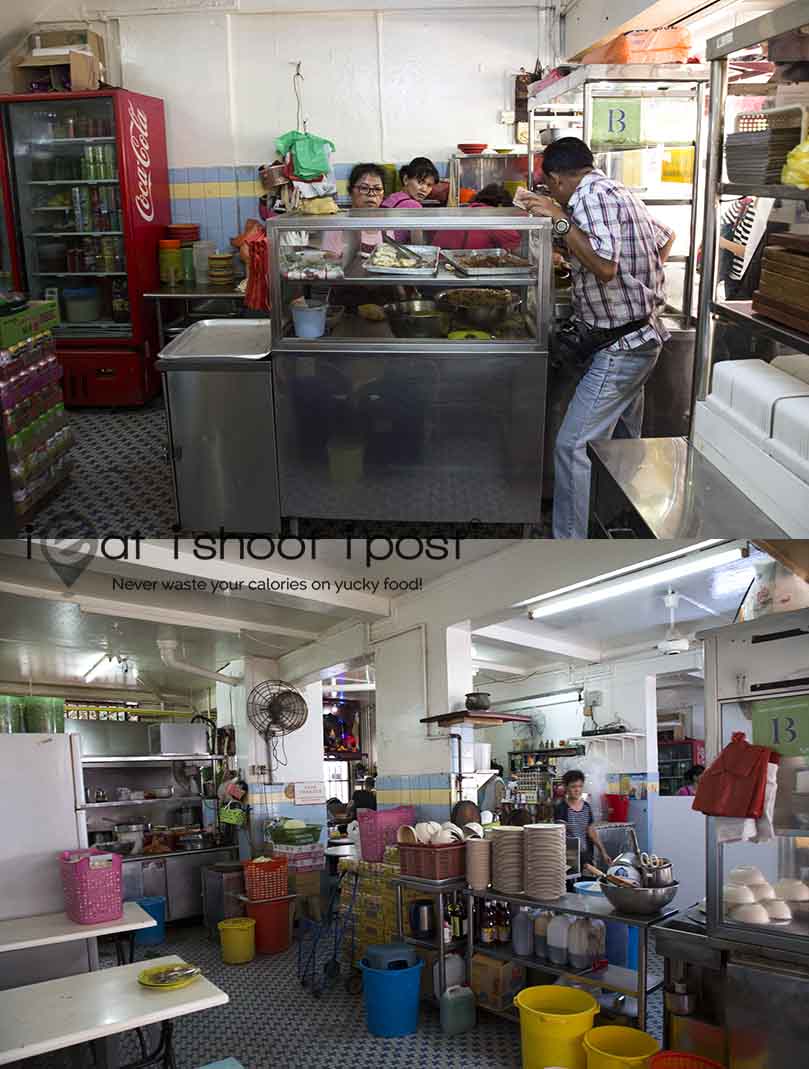 Conclusion
This little eatery really is a Singapore institution. I can only hope that I will still be able to enjoy the pork chops once the owner decides to retire!