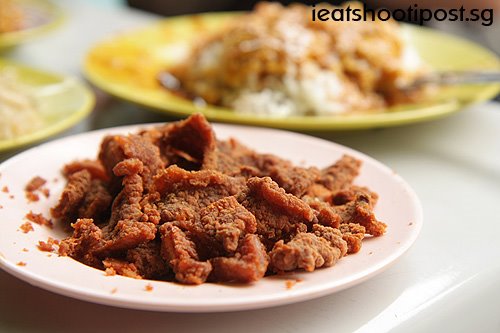 Crispy Fried Pork
There is really only one word that would adequately describe this meal and that word is SHIOK! Somehow "really tasty", "yummy", "delectable" and all the other adjectives don't really capture the emotional response as well as the word "SHIOK" or even better, "D__n SHIOK!". It just rolls off your tongue and I think it must also cause the release of endorphins when you say it. It really is almost like uttering a vulgar expletive because it does give release to your pent up emotions inside when you taste something that hits the spot. I reckon the Singapore Tourism Board should intentionally market it to tourists so that it has the same level of recognition as "Oishi!" and "Aroy Mak!".

This meal can be found in the most predictable of places, viz in an old run down coffeeshop reminicent of Singapore in the 60's. It is so unassuming that the stall doesn't even have a name, let alone a signboard. They don't even bother to light up the dreary trays of food! It goes to show that for Singaporeans, when it comes to food, it is all about substance over style, Shiokability over show.
The Crispy Fried Pork here is really D__n Shiok! Unlike some other stalls which I have tried, the crispy pork here is like eating Keropok. It is crispy right through and when you add it to the plate of rice covered with the deluge of curry, lor and cabbage gravy, it really is heavenly. Give me just these two things and I am a happy man. 4.75/5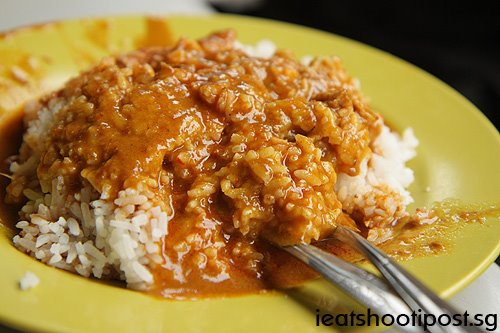 Rice with Curry, Lor and Chap Chye Gravy. 50 cents
Now I always say that the only thing better than really good food is when the really good food is cheap as well. So here is probably the cheapest way for you to fill your tummy, still have change for your dollar AND still be able to say SHIOK! Yes, I have confirmed that they will actually sell you a plate of rice with 3 gravies for 50 cents and it comes with a plate and utensils.

Hainanese Curry Chicken
Now the star of the show is the Crispy Pork. The rest of the dishes like the Curry chicken 4/5, Braised Pork 4.25/5 and Stewed Cabbage with "Lion Head" 4.25/5 are all very good but not as outstanding. However, taken as a whole package, it makes for a very satisfying meal.
Conclusion
Shiok Not Enough! Veeeery Veeery Shiok!