This Stall is Closed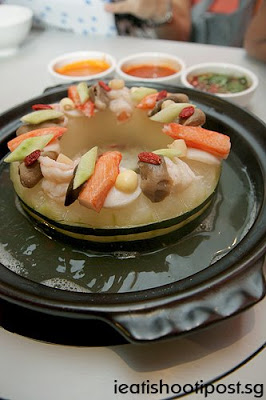 Wintermelon Soup Base
I hated steamboats when I was a kid. As a child, I preferred food that were fried, grilled and deep fried over those that were steamed or boiled. Somehow eating a piece of boiled chicken didn't quite appeal to me as much as eating fried chicken.
I guess tastes change as one gets older. I wonder sometimes if somehow God had created us that way. I mean, in the good old days people used to lose all their teeth when they got older so that they couldn't chew on meats and had to eat tofu and other soft and mushy vegetables. When you are old, not eating too much meat is good for you wheras when you are a kid growing up, you actually do need to eat meat in order to build up muscle. So maybe as we grow older, we are programmed to like foods that is better for us. Maybe that is why I am beginning to prefer steamed and boiled stuff over greasy fried stuff. Maybe its just me or are you all observing the same thing?

Anyways, back to steamboats. When I was younger, the steamboat always meant raw meats dipped into a rather plain chicken stock and eaten with a chilli sauce. I always found that a bit boring. However, of late, stalls are getting more creative with the soup bases. So we have the likes of "Mala" steamboats as well as porridge and laksa steamboats. This particular steamboat appealed to me not only because they emphasize on the quality of the soup base, but they also have a variety of different "dim sum" that you can cook in the soup.
I particularly liked the Winter Melon soup which is a favourite amongst Hong Kongers. It takes quite a bit of effort to cook this soup which is why this is one steamboat which you actually have to pay for the soup. (The top up for the winter melon soup is$10 per pot. Other soup bases start from $5). Aside from the Winter Melon soup they also have Shark Bone and Herbal Chicken soup which are all very "Hong Kong".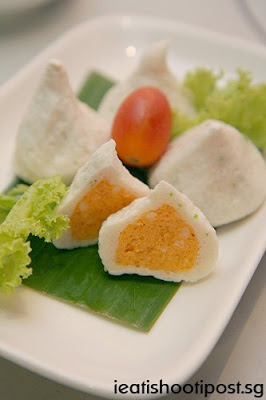 Crab Roe wrapped with Fish paste $5.80 (not part of buffet menu)
Some of the specially imported "dim sum" that caught our attention are the Crab Roe wrapped in Fish paste dumpling shown above which combines savoury crab roe with an out covering of fish paste. Or I guess you could think of it as a fish ball with crab roe filling. 4/5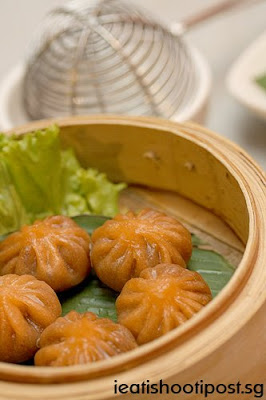 Char Siew Pau Dumplings $4.80
What I ended up eating quite a few off that night was this "Char Siew Pau" which is char siew filling wrapped in "Crystal" skin (ala Crystal Dumpling).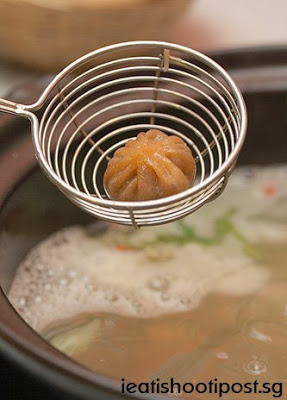 I have never boiled a char siew pau before so it was a pretty wierd notion at first but after the first bite, I was quite hooked. I think I ended up eating around ten of these that night. (they are around the size of a 50 cent coin) 4.5/5 I think the texture of the sticky chewy skin with the fragrant char siew filling was pretty novel and addictive.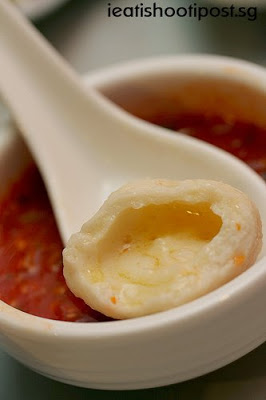 The other dim sum that I really like is the Cheese filled Fish Paste dumpling. Might sound a bit wierd but the chewy, melted mozarella cheese goes quite well with the fish paste and chilli. 4.25/5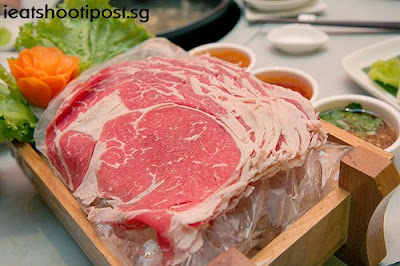 Sliced Angus Beef (Australian) $16.80 (normal price $21.80)
Beef lovers will rejoice at their "Fei Niu" (lit fat cow) which uses Australian Angus. They were having a promotion at that time and a plate costs $16.80. 4/5
Conclusion
I like the uniqueness of this Hong Kong style steamboat. The soups are very good quality and you get to try stuff very different from the usual steamboats. Pricewise, they have lunch buffet starting from $18++ and dinner starting from $27++, which is a tad more expensive than the ones you find at beach road but certainly something to try if you are looking for a good quality steamboat with good soup bases and novelty "Dim Sum".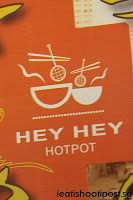 Lunch Buffet $18++
Dinner Buffet Mon-Thur $27++
Fri-Sun $29++
Top Up for soups starting from $5 per pot