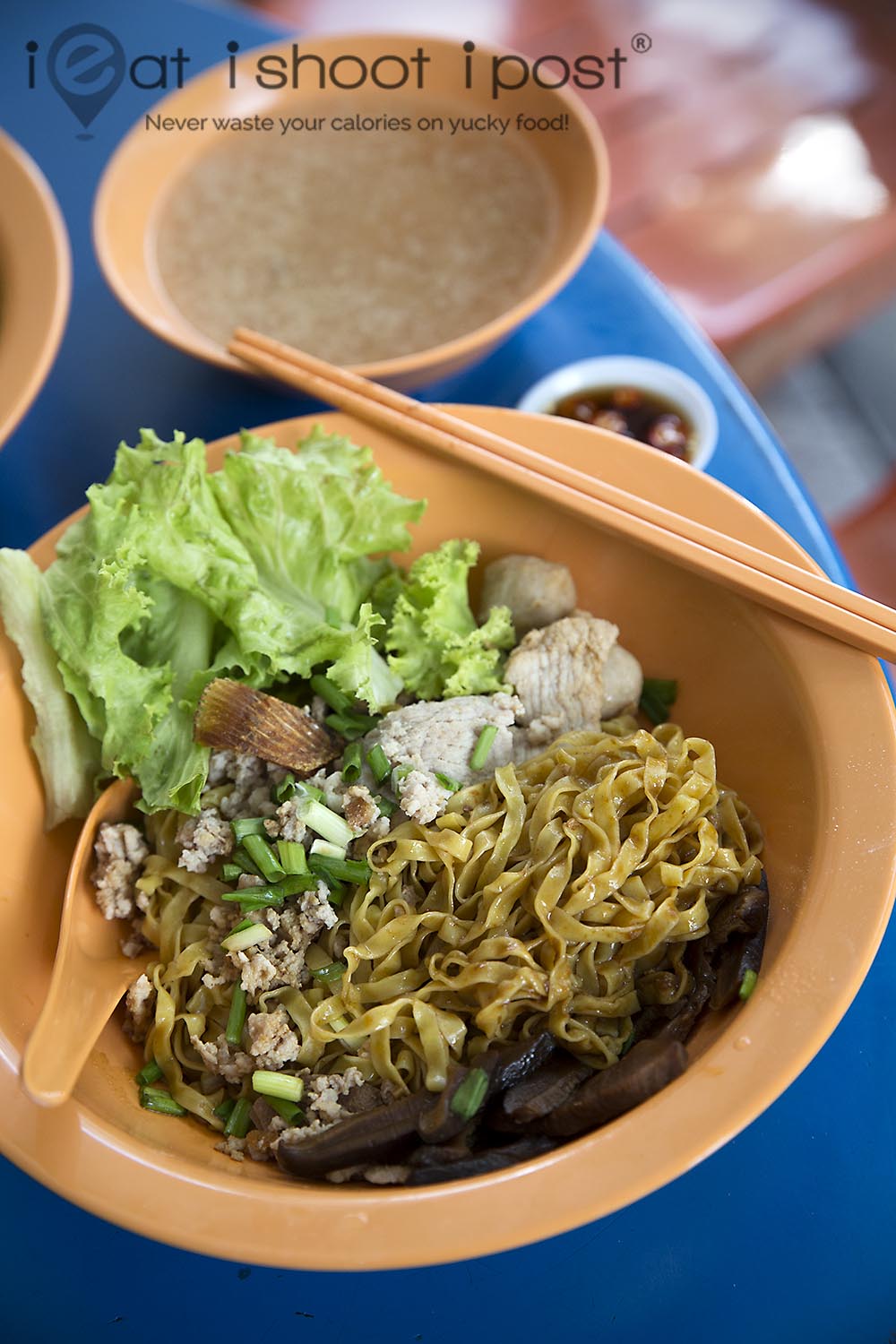 Here are some reasons for mediocre hawker food:
1.  The hawker doesn't know how to cook.
2.  The hawker doesn't have any passion to make better food.
3.  The hawker knows how to cook, has the passion, but is limited by what potential customers are willing to pay.
Today's story is about a young hawker who falls into category number 3.
Bai Yong Sheng, 36,  has been helping out at his dad's bak chor mee stall since he was 15 years old.  His father had, in turn, learnt the recipe from his grandfather who used to sell bak chor mee from a pushcart!  That makes him an uncommon, 4th generation hawker!
They were selling bak chor mee at the food court in Plaza Singapura from 1997-2012 before moving to Blk 739, Bedok Reservoir Road where they have been for 6 years before relocating to their present stall in Ubi last month.
Yong Sheng tells me that with the relocation, their bak chor mee is now better than ever.  My initial assumption was that with more years of experience, things would generally keep improving, but this wasn't the reason for the improvement.  The real reason is economics.  Over at Bedok Reservoir,  rentals were higher and they were not able to sell a bowl of bak chor mee for more than $3.50.  Now at Ubi, rentals are lower and the people working around the area are more willing to spend on food.  That means that he is now able to use more quality ingredients like dried sole fish and octopus in the soup as well as to throw in more stuff into the sambal!
"It's not that we don't know how to make a really good bowl of bak chor mee, it's just that people start to complain when we increase the price by even 50 cents!" Yong Sheng tells me.
He also said that with the lower rentals, he can afford to shorten the opening times so that he can spend more time with his young kids.  That means he's less tired and more happy.  And a happier hawker usually means a better bowl of noodles!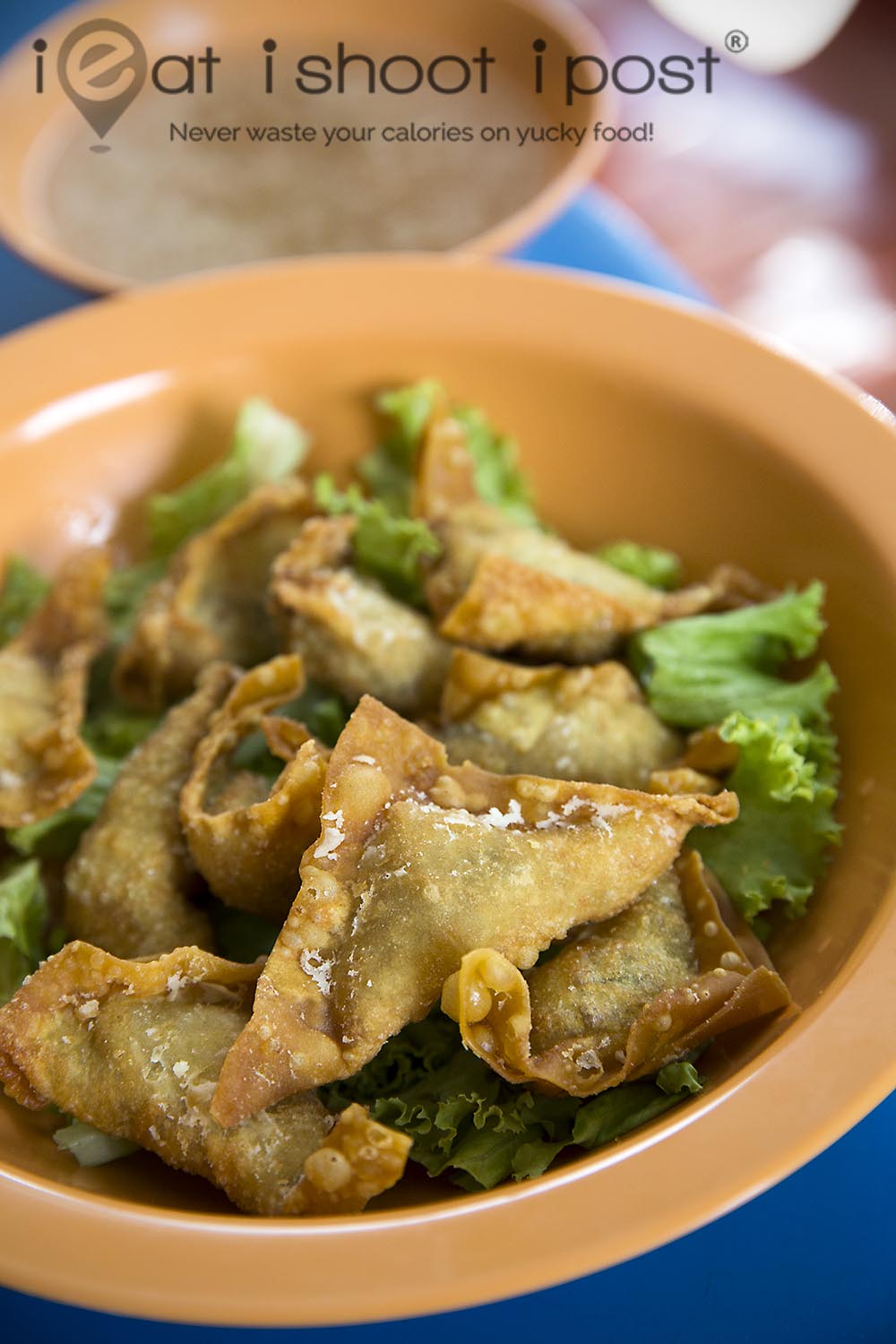 The father and son team pride themselves in serving a very traditional bowl of Teochew bak chor mee.  That means that the noodles are served with black vinegar, pork lard and a braised mushroom sauce.
The importance of pork lard cannot be understated and after years of experimentation, he claims that his pork lard is more fragrant now then ever before.  He prefers to keep the recipe a secret, but says that it has something to do with the way the fat is rendered.  To make the sambal chilli, they first render the pork fat, then use that to fry the sole fish (ti poh) after which the fragrant oil is then used to fry the chilli!
The bak chor mee is very good.  Not the best I have come across, but very competent and the best I have come across around the Ubi, Paya Lebar area. There are still some elements in the sauce that hasn't quite hit the crescendo, but I am confident that it would continue to improve as they run in the kitchen. 4.25/5
The basic bowl is $4.50 but you can add another dollar to include two very nice fried giao.  Instead of water chestnuts, they use turnip which gives it a different kind of sweetness but lacks the crunch.  It works very well when it's fried but doesn't work as a soup dumpling.  They also have a very tasty fried chicken which you can order separately or on top of noodles.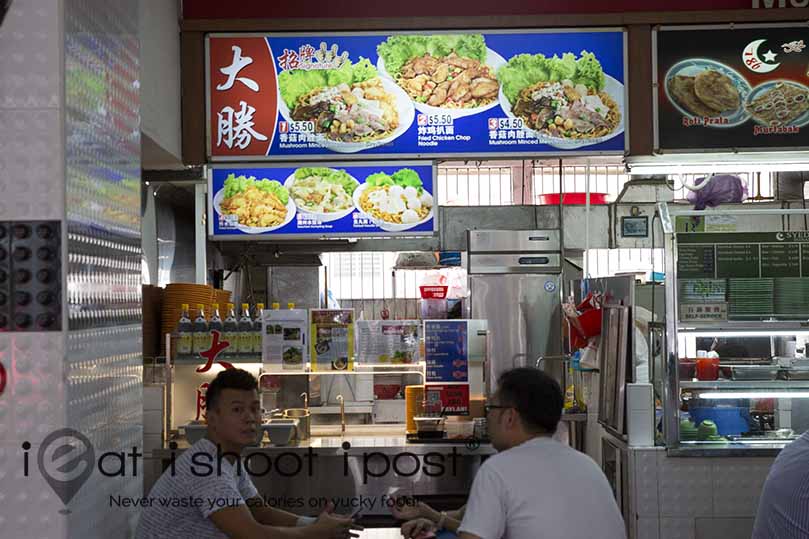 Conclusion
Forth generation hawker serving a bowl of traditional bak chor mee.  Well worth a try if you are around the Ubi area. For even more oomph, order an extra bowl of fried giao!  (10 for $5)
Postscript
Mei Mei Roast Duck in the same coffeeshop is also very good!