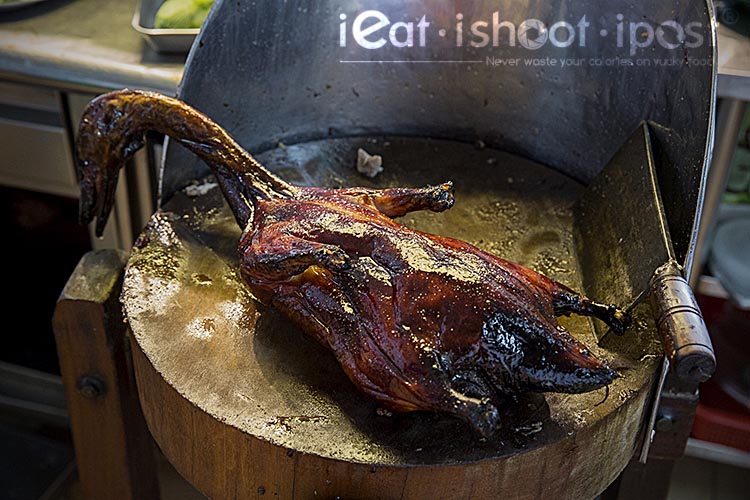 There are not many Roast Meat joints which are headed by a lady boss. The one that most people know about is Kay Lee who became even more famous when news broke out last year that she is going to retire and letting go of her business for a cool $3.5 million. As far as I know, Da Jie 大姐 (Older sister) at Kay Lee is still at the chopping board although the restaurant is currently closed and undergoing renovations.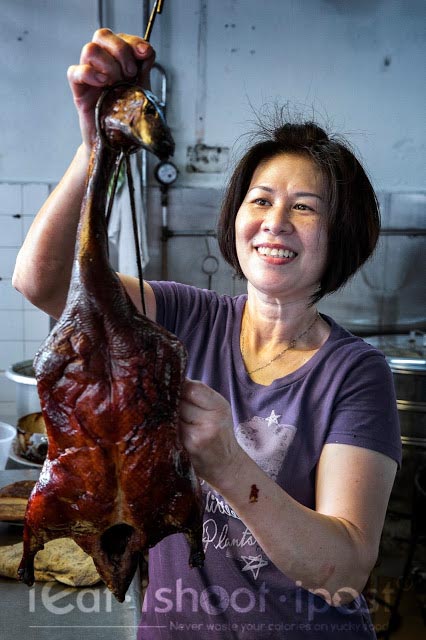 A stone's throw away, Mei Mei 妹妹 (Younger sister) is still hard at work. She is called Mei Mei because she used to work for Da Jie 大姐 (older sister) at Kay Lee for 15 years before striking out on her own. She is still very much under the shadow of her more famous Da Jie but doing a really good job roasting ducks for her band of loyal followers.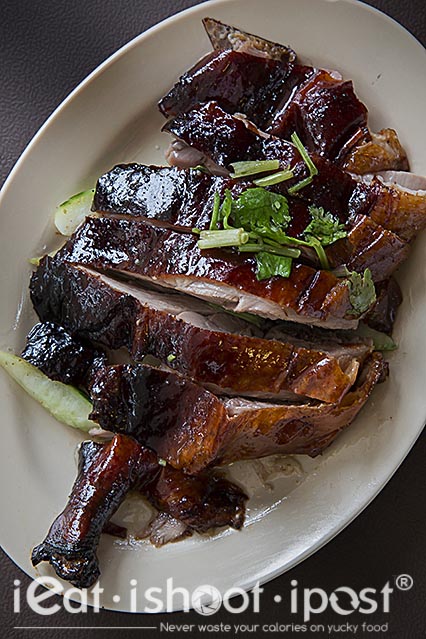 Most people tend to forget the fundamentals of basic measurements when they are comparing the prices of ducks and chicken. Unlike crabs or charsiew that go by weight, ducks and chickens go by birds and so it makes no sense comparing a $45 bird to one that is $38 unless we know how big the bird is, right? So here, the Roast Duck costs $45 while in other places it might cost $38 and because of this, one might feel that it is pricier here. But the duck here is 3 kg while the usual size duck that most other stalls use is 2.2kg, so pound for pound it is actually cheaper.
The reason most stalls use smaller ducks is because the meat gets tougher as the duck gets older. However, larger ducks are better for roasting as they are more flavourful and the meat is thicker. In order to get the ducks she wants, Mei Mei sources her ducks from a farm near Ipoh and she pays a good price in order to get first pick of the ducks. She explained to me that usually a large duck means it is an older duck, but she gets ducks which are young, but are naturally larger in size. The way she explains it to me is that just like humans, some ducks are just bigger sized than others!
That attention to detail translates to a wonderfully tender roast duck which I consider one of the best around. There is just enough spice to mask the gamey flavour of the duck and the skin is crisp when it is freshly roasted. The meat itself is thick but still succulent and very tender! 4.5/5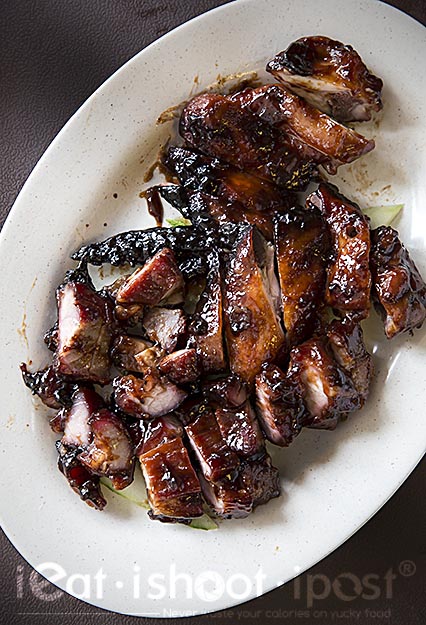 Although the roasting technique and marinades have been inherited from Kay Lee, Mei Mei has, over the years tweaked her recipe such that it is now uniquely her own. However, the charsiew here is still reminiscent of the Kay Lee style charsiew with its signature dark red hue. The flavour is very good, but Mei Mei only uses the normal pork collar and doesn't give the option of the more luxurious Bu Jian Tian 不见天 (pig's armpit cut), so some pieces can be a tad dry. 4/5
Her BBQ honey chicken wings are excellent, though. Wonderfully marinated and roasted to a dark brazen hue with a good amount of char at the wing tips, they are the most addictive $1.30 worth of meat that you can spend anywhere in Singapore. 4.5/5
Conclusion
This lady roasts a mean duck! They have been around for a while now but have just taken over the stall space that is left by Kim's Hokkien Mee previously, so you won't be able to find them on the maps yet. The duck here is excellent and the larger sized birds really translates to a quality roast duck which is meaty, yet succulent and tender.