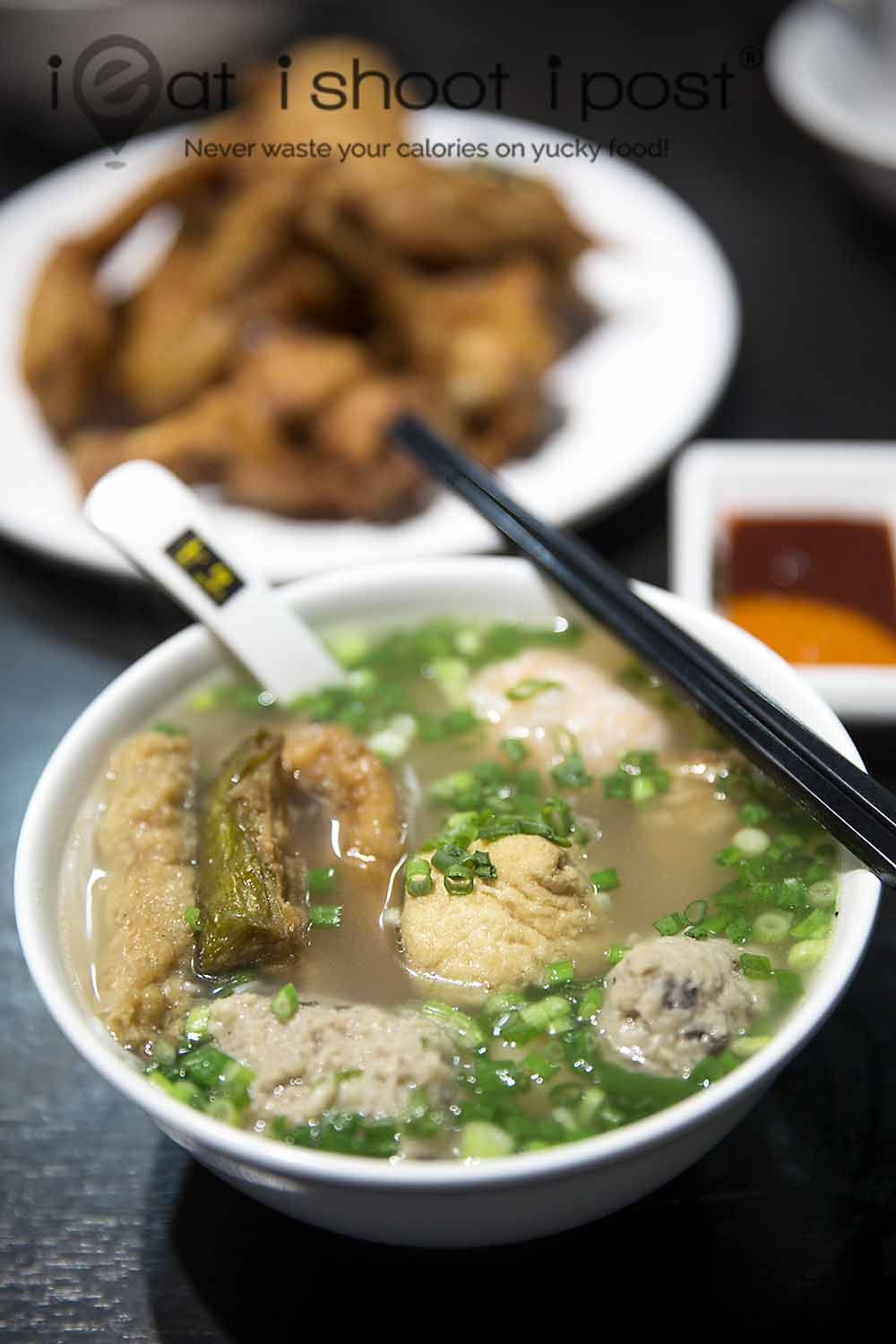 The formula for success in hawkerpreneurship can be summarized thus:
Good(taste + quality + price) = Success
Bai Nian is a fine example of how this formula works.  In just three short years, Andy Pang went from the timber business to running three busy yong tau foo stalls and an entire food court!  How did he do it?  He gave his customers a bowl of yong tau foo made with quality ingredients that tasted good at a reasonable price!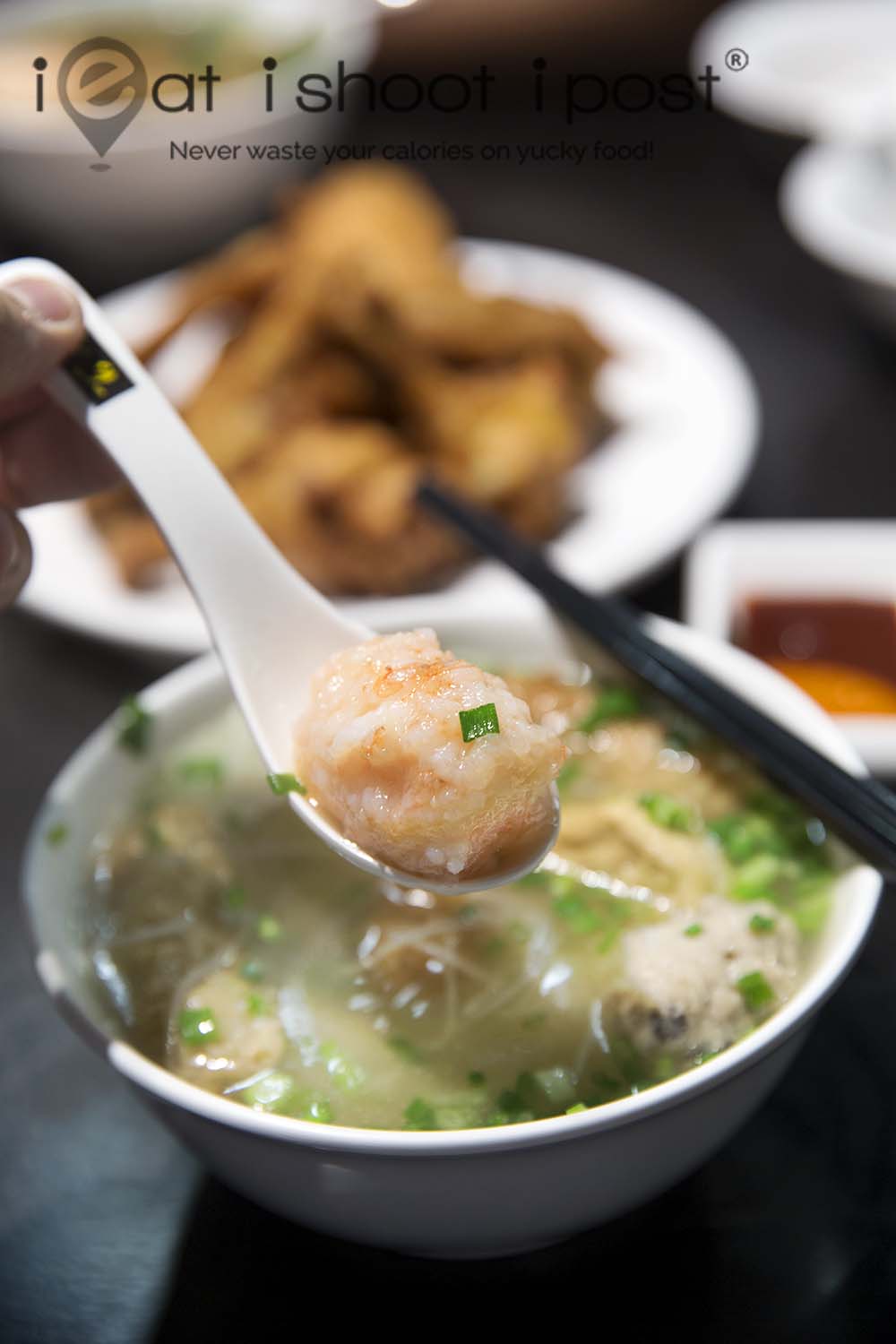 His bowl of yong tau foo certainly brings a breath of fresh air to the drab food court yong tau foo scene where all the items seem to have come from one single factory somewhere in Woodlands.  Rather than giving you a smorgasbord of mediocre items to choose from, you just pay one price and get 7 pieces of handmade, bite sized yong tau foo.  There's prawn balls, pork balls, bittergourd, white, black and gold bean curd rolls which are made with from a combination of fish, prawn, squid and pork filling.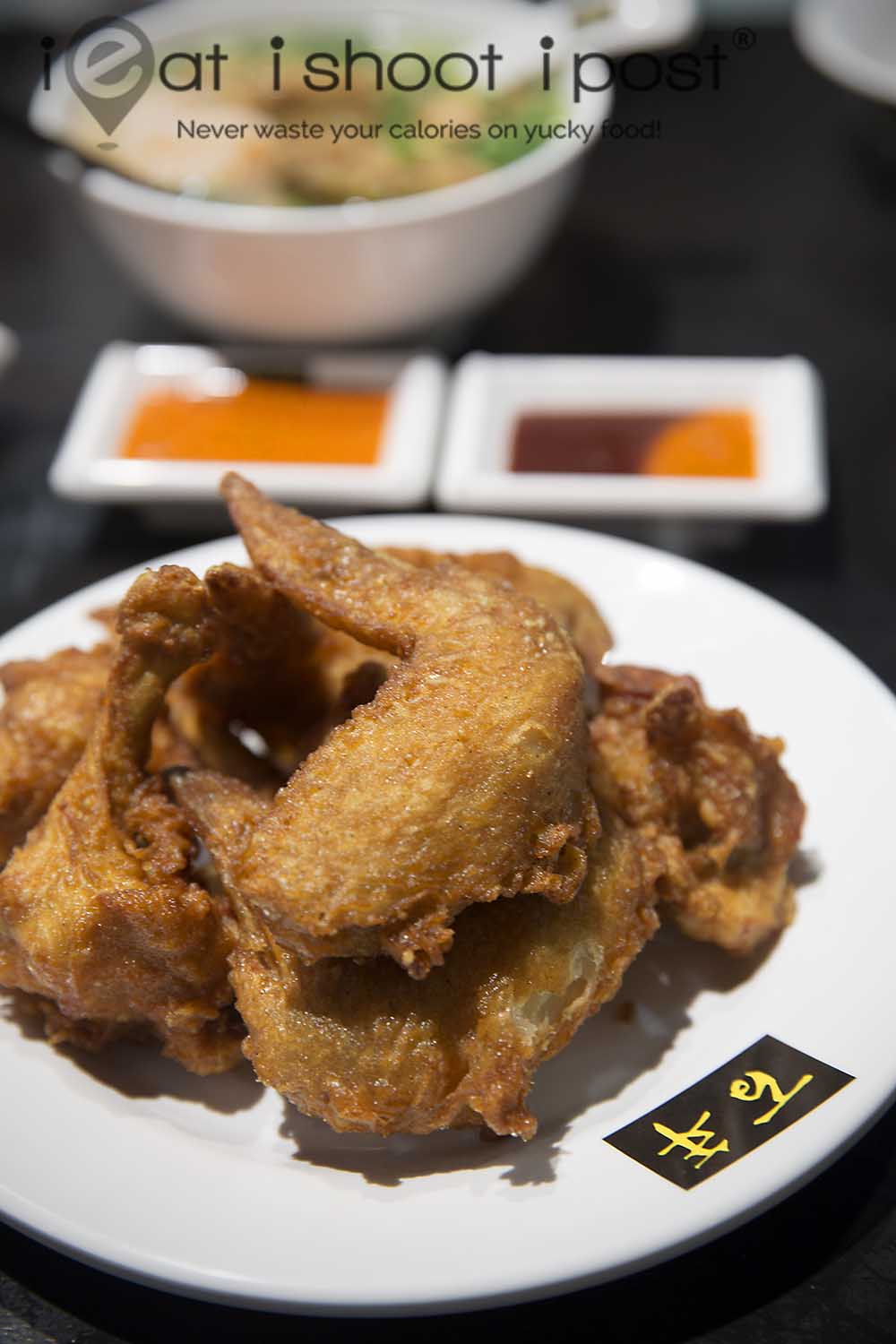 Their prawn balls are made from fresh tiger prawn meat that are roughly chopped, lightly marinated and freshly cooked on the spot.  The texture is bouncy and moist.  The pork balls are similarly nice and bouncy with the crunch of black fungus.  The soup is light and tasty and it is a bowl of soupy goodness that warms the tummy and leave you wanting to come back again soon for another bowl. 4.5/5
There is an romantic backstory about how he came up with the idea of the idea of bite sized pieces of yong tau foo.  It all came about when his wife was admitted to hospital in 2011.  She asked for yong tau foo but wanted it in easy to eat bite size pieces instead.  After she was discharged, he continued to refine the bite size yong tau foo concept and served it to his friends and relatives.  After two years he finally started his yong tau foo stall at Albert St Food Centre which very quickly attracted long queues!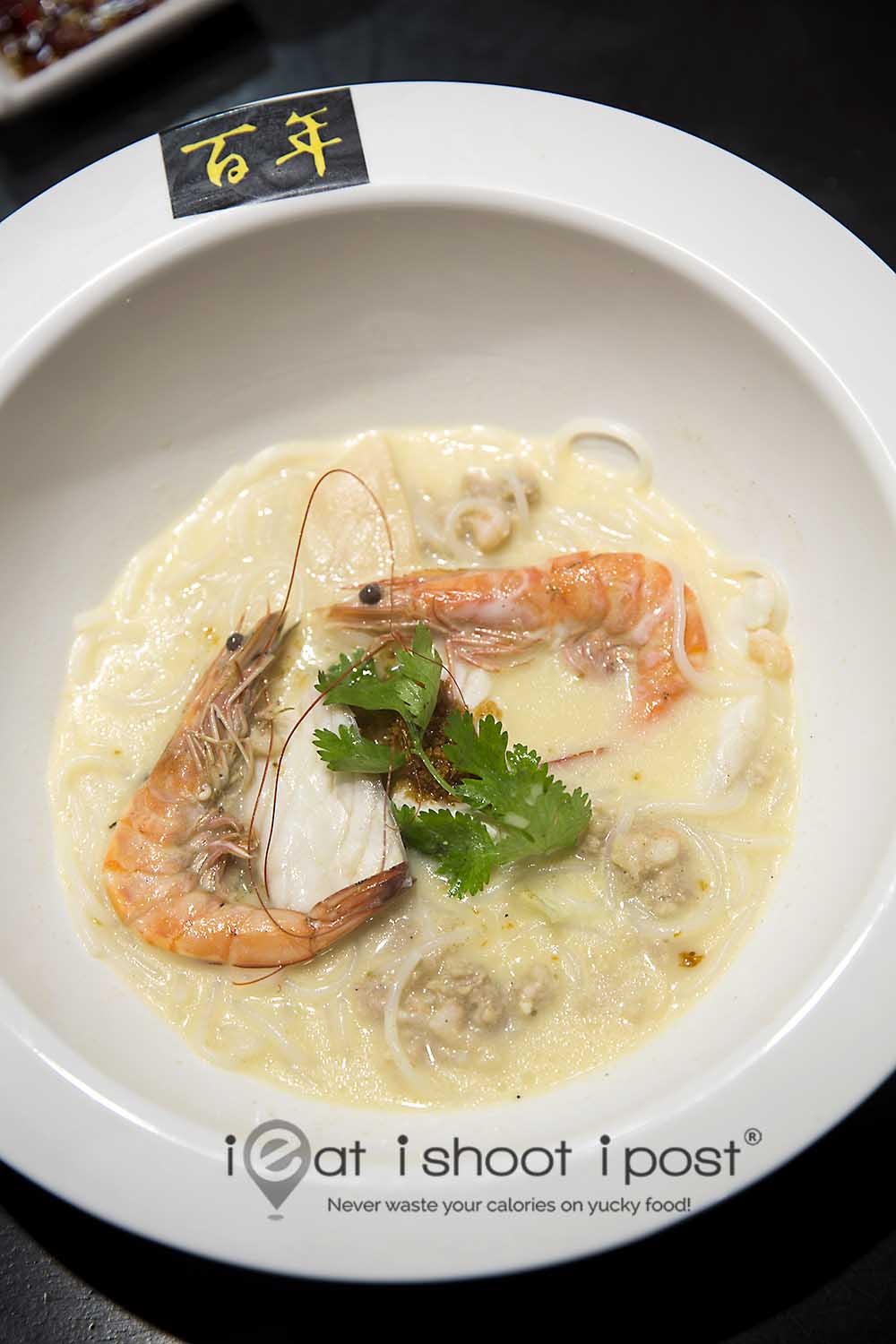 Aside from yong tau foo, Andy also has side dishes like his fried chicken wings which were nicely marinated and has sticky collagen rich juices inside which I enjoyed.  The crust was a bit tough and could have had a little more crunch, though 4/5.
They are also planning to introduce a new seafood soup dish which is made of seafood and cheese!  The cheese flavour is very subtle and gives the soup an interesting creaminess. If you are interested to try this, you can try asking for it direct as it is not on the menu yet.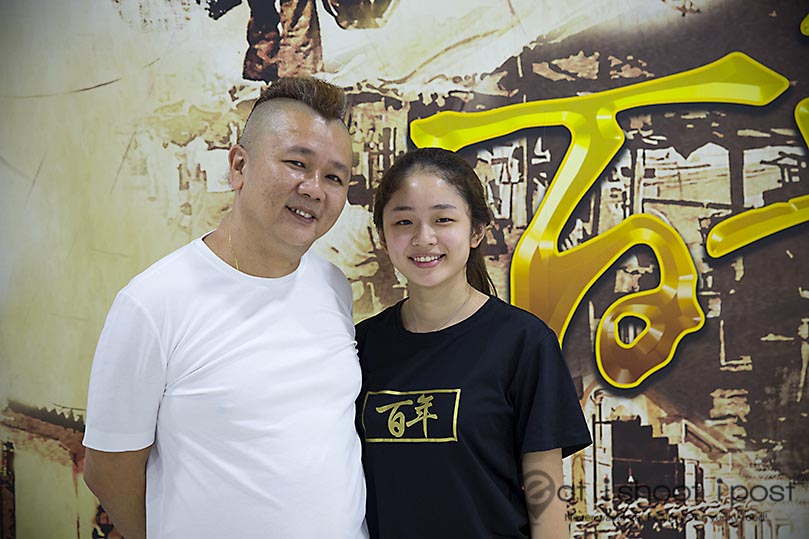 It's also good to see a new generation hawker in training.  17 year old daughter, Chanel had started her course at Shatec before Andy pulled her out of school to help out at the stall.  She has a passion for cooking and is now training to take over the stall!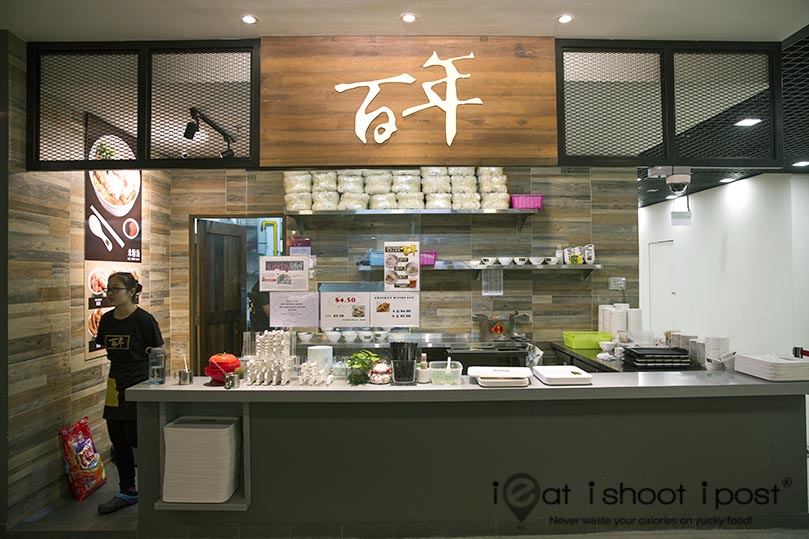 Conclusion
Bai Nian is a great example of how food court food can be done right and still be sold at an attractive price! The bite sized yong tau foo are tasty, easy on the tummy and is something I could eat on a regular basis!