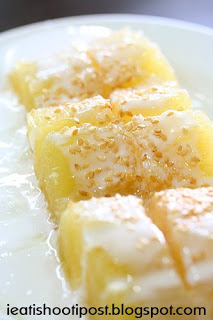 Announcement is hereby given concerning next Makan Session!
Venue: Joe's Kitchen (Opp Alexandra Hospital)
Date: 26 April 2008
Time: 7 pm
Price: $35 per pax
Menu
1. Som Tum (Green Papaya Salad)
2. Kao Dunk Na Dunk (Rice Crisps with Minced Pork)
3. Prawn cakes
4. Khor Mu Yang (Grilled Pork)
5. Gai Yang (Grilled Chicken)
6. Green Curry Beef
7. Red Curry Roast Duck
8. Claypot Crab Vermicelli
9. Tom Yum Fried Fish Soup
10. Basil Leaf Minced Pork
11. Poom Fy Dang – Kang Kong Thai style
12. Deep fried Grouper with Thai Chilli
13. Mango Sticky Rice
14. Tapioca with Coconut milk
Some of the dishes have already been blogged before and I have specifically told the chef that our group of foodies will be expecting to eat the best authentic Thai food that he can cook up!
The restaurant seats 45 people. So it will be on a first-come-first-served basis.
If you would like to come please go to the forum and register your attendance there. Here is the link
The review of the restaurant can be found here