This stall is closed!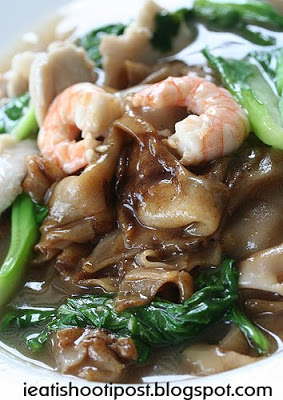 Hor Fun $4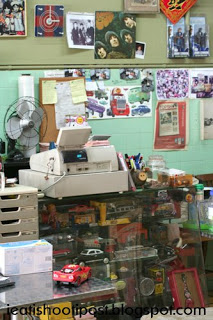 There are some places which I just fall in love with at first sight. Koon Kee is one of them. ChinChyeGuy's dad told me about this place which sells a pretty mean Hor Fun and since I have been searching for a Hor Fun with wok hei, I simply had to pay the place a visit. But it wasn't the food that got me at first. It was ambience of the place. Situated in a row of old shophouses opposite Serangoon Stadium, stepping into Koon Kee is like stepping into a time machine back into the sixties. I am not saying that it feels like a old Cze Char coffee shop. No, it's just that the owner of Koon Kee happens to be an antique collector, so the place is filled with old metal toys, Beetles records, bulky one door fridges and the like. Its just got that old "Hole in the Wall" rustic feel to it that I haven't felt in Singapore since I came back from Bangkok.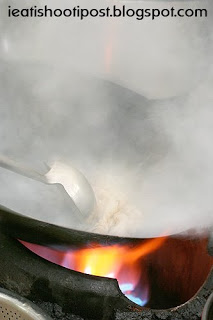 Koon Kee has been around for a long time. They started at the Civil Service Club, then moved to Hwa Chong JC for a while before Mr Lim decided to retire. After a restful retirement for 2 years, his younger son decided to resurrect his father's restaurant and they found themselves at this lovely little hole-in-the-wall.
My first plate of Hor Fun was a bit of a letdown as it did not have the wok hei flavour which I was eagerly anticipating. When I complained about it, the chef told me that a lot of people nowadays did not want the charred flavour so they had to cut back. So I had them fry another plate of hor fun for me with wok hei.
The state of Hor Fun in Singapore is pretty lack lustre nowadays and this one stands out as one of the best one I have eaten so far. However, I still felt that it still lacked that special something from the past. Perhaps I need to persuade the "old hand" to come out of retirement to fry one for me?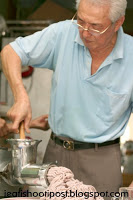 The Hor Fun here is sold out everyday because they order fresh Hor Fun daily and never keep it overnight. An expertly fried fresh Hor Fun is smokey with chewy charred bits at the edges and soft and slurpy at the same time. The sauce is pretty good and they do have fresh and good quality seafood although they do lack the more traditional pork tripe. 4.25/5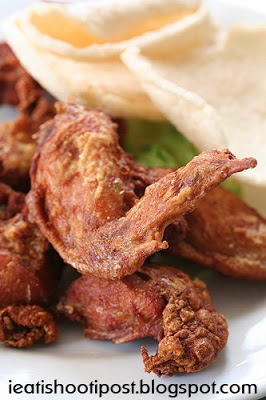 The other item which was recommended to me was the fried chicken. It is supposed to be Har Cheong Kai, but I think it tastes better if you don't call it that. It's a really tasty fried chicken but a mediocre Har Cheong Kai. I felt that day that it had just spend a minute too long in the oil so it was not as juicy as it should be. 4/5
Conclusion
Judging from the standard of the two dishes I had and the fact that dining here is really like eating in someone's home, I have already decided that I will be coming back to try their other dishes. I was told that the red wine chicken is really good as are some of their Thai food since the Lau Ban Niang is Thai. The Hor Fun was very good and one of the few places which I would recommend for Hor Fun, but is this really the best a Hor Fun can get nowadays?
Update: 25 Feb 2012
The restaurant has undergone a makeover and is now known as Kombi Rocks Diner.