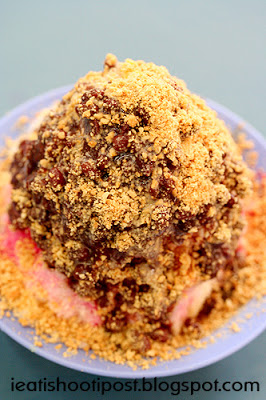 Do you think that Ice Kachang is the quintessential Singaporean Dessert? When you think of a typical Singaporean dessert, does Ice Kachang immediately come to mind? I think it is, even though I seldom order Ice Kachang nowadays, preferring Cheng Tng or Tau Suan. But if you should ask me to draw a Singaporean dessert, I think I would draw a Ice Kachang. It's like if someone were to ask yo to draw a pet, you would draw a dog or a cat. Ice Kachang is the icon of Singapore dessert. Agree or not?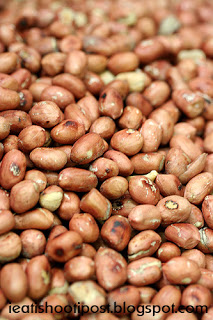 So how to make your Ice Kachang stand out from the rest? Do what Annie does and cover the mountain of ice with a thick layer of mushy red beans and top that with freshly roasted ground peanuts. This must be a good idea given that after Annie's started doing this, other Ice Kachang stalls have also decided to copy this idea. (As I am told)
The mushy red beans were done the way I like them – nice and mushy and not overly sweet. But it was the ground peanuts that really impressed me. In a day and age where these can easily be bought from a supplier, it is heartening to see a tray of freshly roasted peanuts sitting in the stall. This sort of passion for details is what makes the difference. 4.25/5
Conclusion
Still not a huge fan of Ice Kachang, but it is deeply rewarding to taste freshly ground roasted peanuts on Ice Kachang.
Update 28 Jan 2015
Their new address is Taman Jurong Market and Food Centre #01-01
3 Yung Sheng Rd, Singapore 618499
7.30am to 7.30pm