With Chicken Rice Man and Food Guru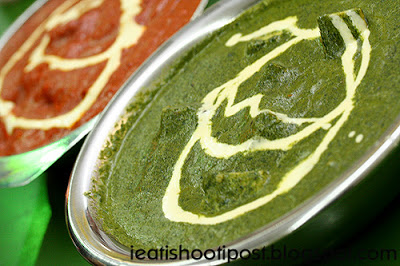 Butter Chicken $6 and Palak Paneer $6
I have been trying to find a cheaper alternative to Tandoori Restaurant since I ate there last month. A fresh chewy naan with smooth and creamy butter chicken is one of my top 5 eats! But the $15 butter chicken over at Tandoori is not something that I can eat every week, delicious as it is. I needed to find a satisfying meal for less than $10.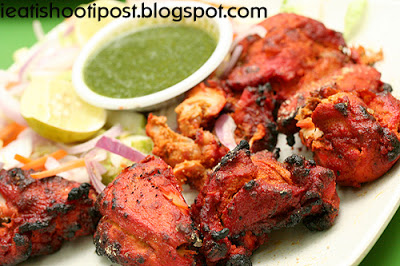 Chicken Tikka $6
This place is one of the eating haunts of Ninja Hello Kitty, so it must be of a certain standard, although he did warn me that the standards have dropped a little since he blogged it. And it is one of the few places I can find Naan after 10pm in the evening. So I made the 30 min journey to the West to try it.
The butter chicken was delicious AND quite good value. At $6 per bowl, it was almost one third the price at Tandoori but good enough that I would eat it again. It is less creamy but nontheless still rich enough and was strong on the tomato paste. 4.25/5 The Palak Paneer (Pureed Spinach with Cottage Cheese) was however quite dissappointing. The cottage cheese was tasteless and hard and the gravy was only colour with little ooomph. 3/5
The chicken tikka was impressive on display but not very good in the mouth. It was a bit dry when it should have been oozing with juices if it was freshly grilled from the raw state rather than being double grilled. 3/5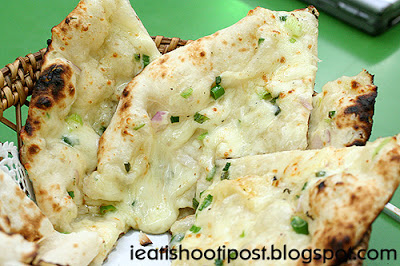 Cheese Naan $2.50
The Naans on the other hand really saved the day. The cheese and plain Naans were excellent. Chewy, fresh and fragrant it was as good a Naan as any. And the best thing was it is only $2.50 for the Cheese and $1 for the plain, which means I can have 2 or 3 without having to break a $10 note! 4.5/5
Conclusion
Great place to eat but you must order the right stuff. I would go back and order the Naans and the Butter Chicken and maybe try some other stuff. For around one third the price of eating at Tandoori Restaurant, I can get 80% of the satisfaction. For me that means I eat here every month and eat at the restaurant twice a year!