The stall is closed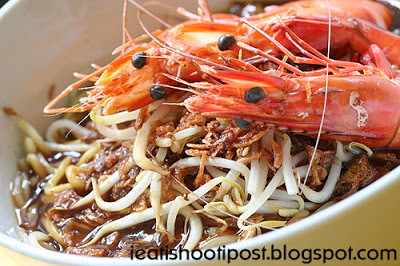 When my friend, matt62, told me about this stall that sells Live Prawn Noodles, I just could wait to go down and see it for myself. How can I resist the idea of having succulent live prawns in my prawn mee?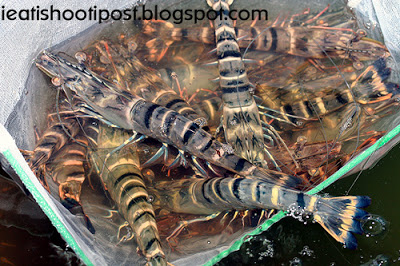 Now, I have to moderate your expectations a little. The prawns are indeed live and they are larger than your usual tiger prawns. However, the style of the prawn noodle is very different from the usual. Over here, they use a herbal soup instead of the normal salty, savoury prawn noodle soup with belacan that we are all used to. When you get to the entrance of the stall, you can already smell the Tang Kwei (Angelica Root) wafting in the air.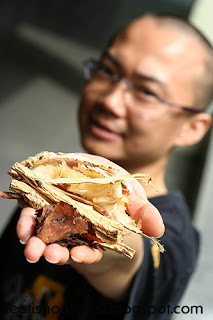 This live prawn noodle concept was birthed in the fertile mind of Alan who until 4 years ago was a regular in the RSAF. How does one come up with a dish like Live Prawn Herbal Noodle Soup? It is unlike anything I have tasted in Singapore. Bit like a herbal Bak Kut Teh, but with prawns instead. According to Alan, he had no prior experience in Prawn Noodles, he just did it because it was the simplest hawker fare he could think of. Why herbal? He said the herbs are meant to lower your cholesterol and so balances out the high cholesterol you get from the prawns. Hmmmm, I don't know enough about herbal medicine to comment about that statement. What I can say is that the herbal concoction certainly does not promote hair growth, judging from Alan's Shaolin (lack of) hairstyle.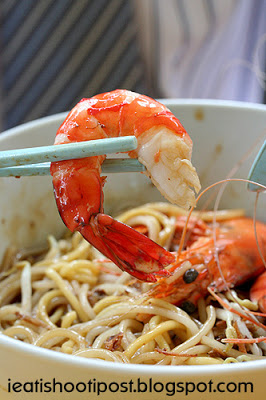 My personal preference is the dry version. He has a special thick gravy made from stewed pork, oyster sauce and soy sauce which was quite tasty. The chilli is made from lots of Heh Bee (dried prawns) and adds quite a kick to the gravy. The soup needs to be taken really hot. It does not have the ooomph of a savoury prawn noodle soup. Instead it has that very "Cheng" (clear) and cleansing quality about it and leaves a nice slightly bitter aftertaste (Kam Kam) at the back of your tongue. 4.25/5
The prawns are as fresh as you can get. I had a real shock when Alan scooped up the prawns in the net and simply popped them into the hot water! I still can't get over it!
Conclusion
This is the kind of place you just need to try at least once for the sheer novelty of it. After that, it will depend on whether you like the herbal soup or not. For me it was more for the novelty at first, but strangely it does sort of grow on you after a while. I will need to wait a few weeks to see if I get the urge to go back again.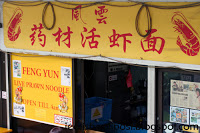 Feng Yun Live Prawn Noodle
100 Kim Seng Road
#01-04 Kim Seng Plaza (Note new address below)
12pm-3pm 6pm – 4am (or until sold out)
Closed on Sundays 81123675
New Address:
Blk 715 Yishun Street 71 (S) 760715
Open 11am to 11pm
Closed on Mondays
Thanks to sleepsleep2003 for the update