This stall is closed!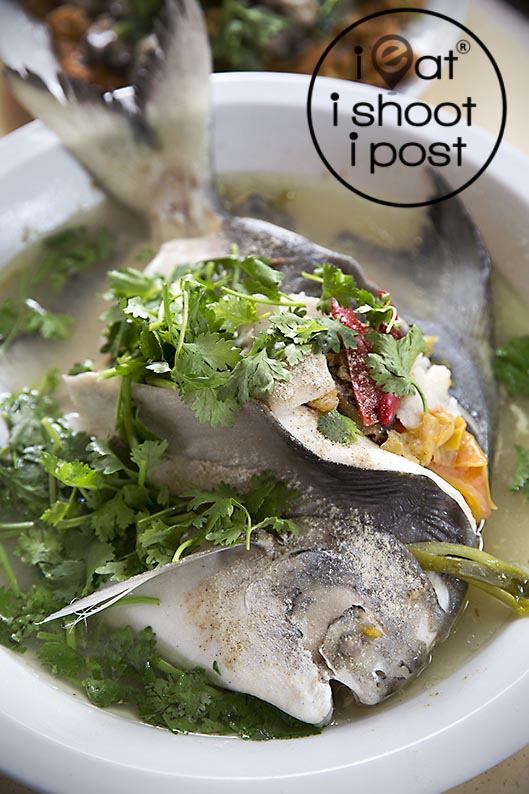 You probably have heard of Ah Orh before.  This seafood place has been around since the 50's and serves out classic Teochew dishes like steamed pomfret and cold crabs.  There are two Ah Orh's around.  One is situated at Bukit Merah and the other one is located at Blk 22 Sin Ming Road which is the one being featured today.  The man behind the wok is 66 year old Mr Goh who started helping out at his father's (Ah Orh) restaurant when he was still a little boy of 4.  (Not sure how he was helping then but that was what he told me)
Ah Orh has a reputation for being expensive and it is expensive if you are comparing it with other coffeeshop Cze Char.  But as the old adage goes, you pay for what you get and what you get at Ah Orh is really fresh and good quality seafood which is expertly prepared.
The Teochew steamed pomfret here is the best version of the dish that I have had for as long as I can remember.  Mind you, I don't eat this dish every other week, so you will have to take my first statement in that context.  But I was really impressed with the steamed pomfret which was so nicely done that the texture of the flesh was just perfect and the sauce had just the right balance of sour, savoury and sweet. If you have never been enamored by Teochew style steamed pomfret, this might just change your mind.  $75 is a lot to pay for one fish, but the Dao Chior (Chinese Silver Pomfret – pampus chinensis) was very big and its quality is excellent.  I have seen this fish selling at my local market for $50, so it is not cheap even if you prepare this at home. 4.6/5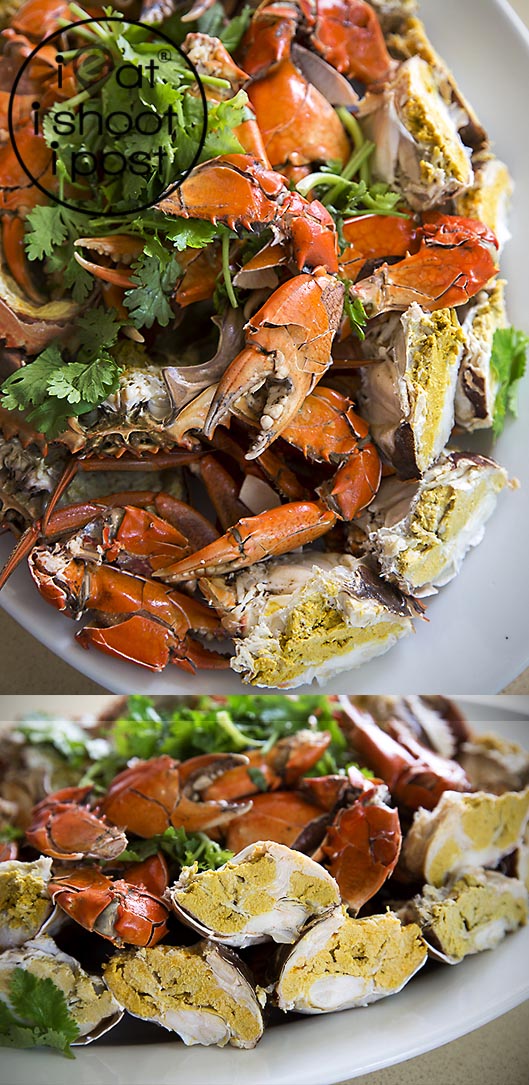 Teochew cold crabs are easy to make.  You basically boil the crab, let it cool and put into the fridge.  Anyone can do it. The difficult part is getting your hands on the crabs which are full of "Gor" and that is the reason why you eat this at a restaurant.   The "Gor" is often mistakenly referred to as crab "roe".  It is actually not "roe" (ie eggs) since both male and female crabs have it.  Neither is it "milt" (ie sperm).  It is in fact, the liver of the crab which gets really fat (like foie gras) as the crab has been eating and storing up energy to get ready to shed its old shell.  That is why these crabs are also known as "double shell" crabs as you can see the new soft shell developing underneath the old shell.
Restaurants like Ah Orh have been buying these double shell crabs from their supplier for years and  that long term relationship means that they can get hold of crabs that we ordinary consumers can't.  The crabs are very good.  They are solid, meaty and chock full of yellow gold which should please most people.  My crab expert who was dining with me tells me however, that he is able to get hold of crabs that are even better than these in terms of its flavor. So, as I said, these crabs should please most except the ultra discerning crab connoisseurs. 4.25/5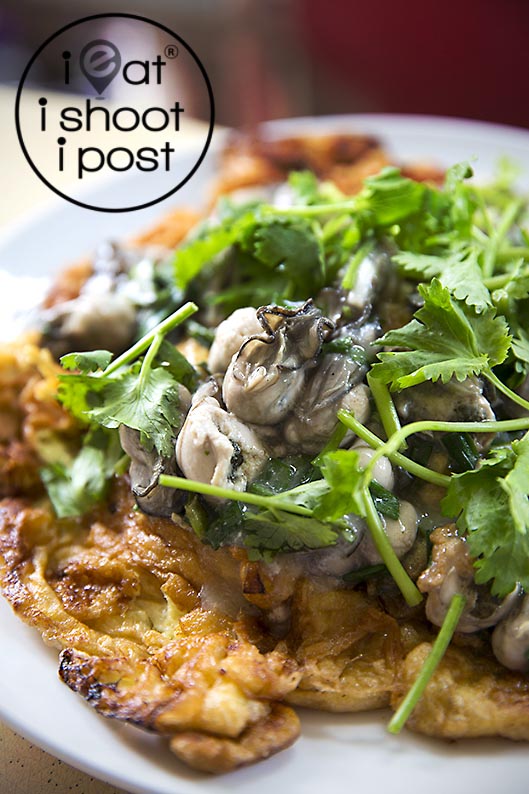 The oyster omelette here is excellent. They use Koren oysters which are fresh and flavourful. The egg omelette is crisp on the outside and fluffy on the inside.  This really is as good as it gets!  4.5/5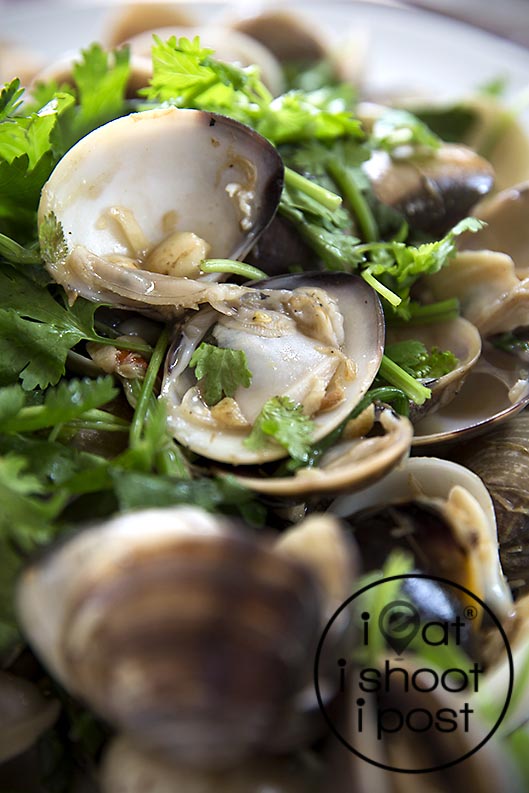 I also like the clams which had a nice smokiness that can only come from a wok master. They were however, slightly overcooked that day such that the meat is just slightly dry. 4/5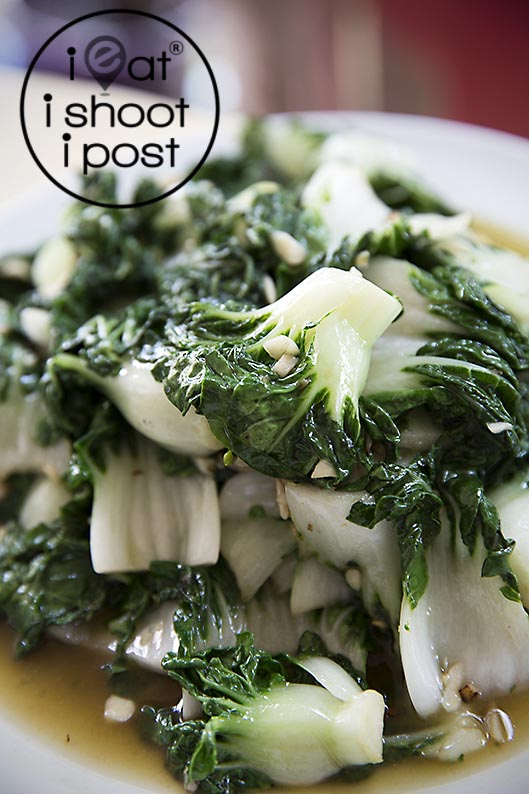 The nai pai (奶白) was superb. The quality of the vegetables is top notch and fried just right so that it was crisp and sweet without being fibrous.  I didn't think much of this much touted vegetable before and have often gone away wondering what the fuss was all about. Now I know!  4.5/5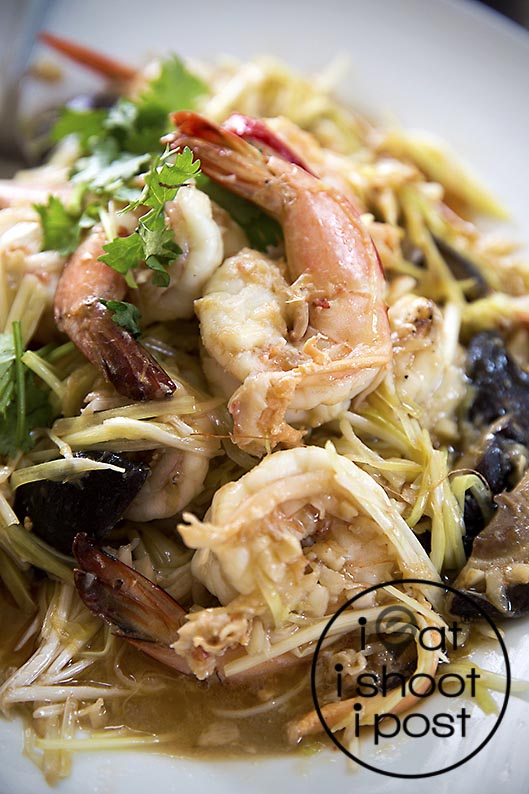 Being a typical Teochew, Mr Goh tells me that he only uses the freshest wild caught seafood at his restaurant.  You can taste the freshness of the jumbo Ang Kah prawns in this dish where the prawns are fried with chives.  Unfortunately it looked better than it tastes. The chives didn't have the sweetness that I was expecting and the flavour of the prawn and chives did not quite meld to reach a crescendo.  4/5
Can't say I am a big fan of fish roe but I am sure that there are a lot of people reading this who are.  Fried fish roe is not something that is readily available, but I think that they are getting more attention in recent years due to the popularity of Japanese cuisine.  Fish eggs, like any other eggs, eg tobiko (flying fish roe), caviar (sturgeon eggs), ikura (salmon eggs) and even chicken eggs are tasty because they are packed with all the nutrition that a animal needs.  So naturally, we are drawn instinctively to such food sources.  But this fish roe just did not resonate with me as I found it a little dry, grainy and not all that tasty. Then again I don't like pig liver either, so I think this might be a personal thing.  3.5/5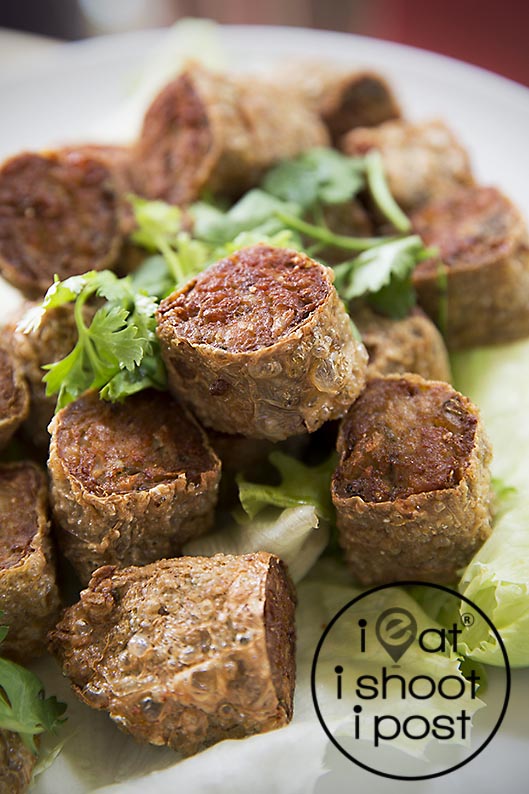 Judging from that hundreds of prawn rolls on display at the storefront, I would say that the prawn rolls here are a very popular item.  I haven't yet come across a prawn roll I didn't like but neither can I tell you where to find the best one in Singapore.  I still can't.  4/5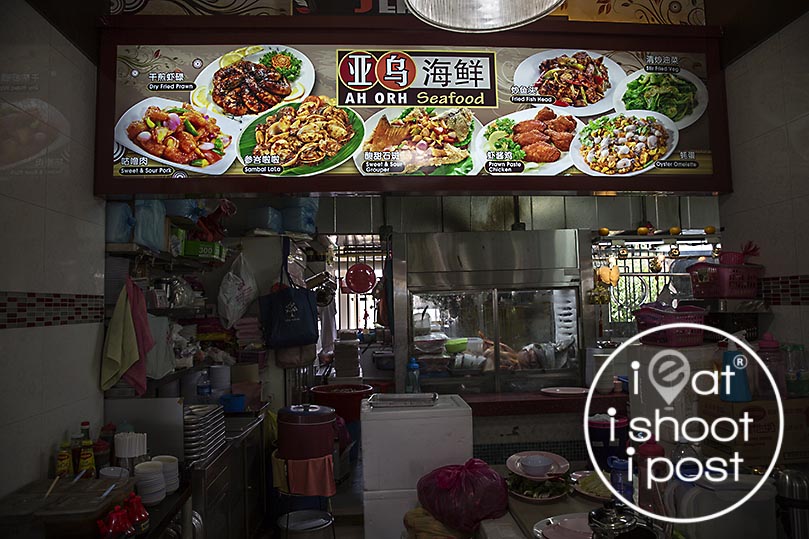 Conclusion
If you are looking for really fresh and good Teochew steamed fish as well as other Teochew cuisine, then this is the place to find it.  Just remember the old adage.  Cheap no good, good no cheap.  Yes, it may be more expensive than other Cze Char places, but this is not your usual Cze Char place!