It was a dark day indeed for Teochew Muay (Porridge) lovers when Xu Jun Sheng closed its doors 2 years ago. There are very very few Teochew Muay places where you have a selection of ready prepared dishes and are still able to order Ala Carte dishes as well.
But the good news is that they are back in business and judging from the crowds during lunchtime on a weekday, I would surmise that most of their regulars have already gotten wind of it. Our kaki, sumosumo is one of the regulars there and according to him, this is the BEST
Teochew Muay place in Singapore. Then again, I don't know how much weight you can place on the opinion of a guy who orders RICE instead of PORRIDGE when eating Teochew MUAY?

I am just kidding.
After revisiting Xu Jun Sheng again last week, I also agree with Sumo that this is definitely one of the best places where you can enjoy Teochew Muay.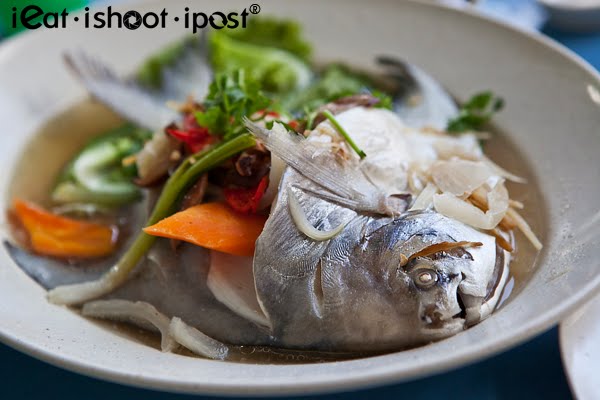 White Promfret steamed Teochew Style
For us Teochews, the White or Silver Pomfret (Peh Chior) is the epitomy of the steamed fish. And it doesn't get as classic as steaming White Pomfret with sour plums. A Teochew Ah Hia like myself would learn from a young age (A Teochew Ah Di then) about the prized White Promfret. For some reason, the Teochews seem to "own" this fish much more than the other dialect groups. We were taught from young that that the Pomfret should only be steamed as it preserves the tender smooth flesh. Doing it any other way is sacrilegious. Sometimes I guess you might have to end up frying the fish because it is not fresh enough to steam. But having fish that is not fresh (Chnee) is even more sacrilegious! No true blue Teochew chef would ever dream of serving fish that is less than fresh fresh.
There is a world of difference between a White Pomfret (pampus agenteus) and a Black Pomfret (parastromateus niger). For a start, they from different genuses, so it is like comparing a Sheep with a Goat rather than a White Sheep and a Black Sheep. No self respecting Teochew would serve Steamed Black Pomfret to an honoured guest. Of course, if you feel the guest has overstayed his welcome, then an oversteamed Black Pomfret might be just the thing to serve, provided of course that your guest is also Teochew and gets the subtle hint.
White Pomfret is one fish which I actually liked when I was young because it is never fishy like Mullet. When steamed right, the sour plum lends a tang to the smooth flesh which makes you salivate and want to eat more. The taste of the steamed pomfret here is as good as it gets, though my kakis felt that the flesh could have been smoother if it were taken out of the steamer a little earlier. 4.25/5

Difference between Peh Chior and Dao Chior
For those that are really in the know, there is one type of Pomfret that is even more prized than the White Pomfret and it is what we call the "Dao Chior" (Chinese Silver Pomfret – pampus chinensis). Now this the the type of Pomfret you should serve if you are trying to impress a prospective future Mother-in-law who happens to be Teochew. The Chinese Silver Pomfret is more expensive and less readily available than the White Pomfret. The flesh is even more delicate than the White Pomfret. The easiest way to recognize this fish is to look at the ventral ( bottom) fin. The White Pomfret has a sharp tipped fin while the Chinese Silver Pomfret has a blunt fin. The Chinese Silver Pomfret also tends to be more round in shape and more of a speckly grey when compared to the White Pomfret.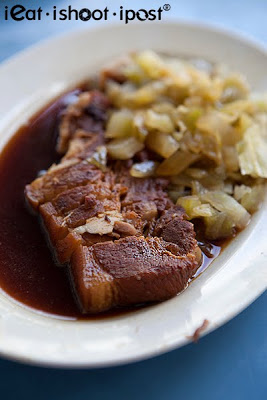 Lor Bak (Braised Pork Belly)
Aside from the steamed fish, the other item which serves as a gauge for the Chef's skills must be the Lor Bak (Braised Pork). There ain't nothing more comforting than seeing the steam wafting from a cauldron of braising sauce which you suspect might contain traces of gravy from the last decade. I like the Lor Bak here. It is not overly spiced with five spice powder and its very balanced. One of the best braising sauces I have come across. 4.5/5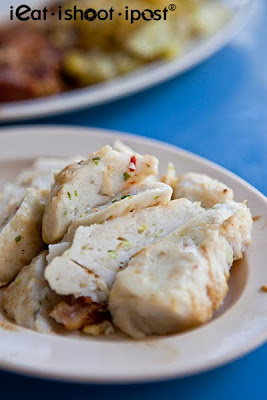 Homemade Fish Cakes
The fish cakes here are another gem which you must try. There is one ingredient which they add to the fish cake which you don't readily get elsewhere — Dang Cai (preserved veg). I usually don't like Dang Cai, but somehow the combination of the Dang Cai and the Fish Cake is fantastic. It is the tastiest fish cake I have come across. 4.5/5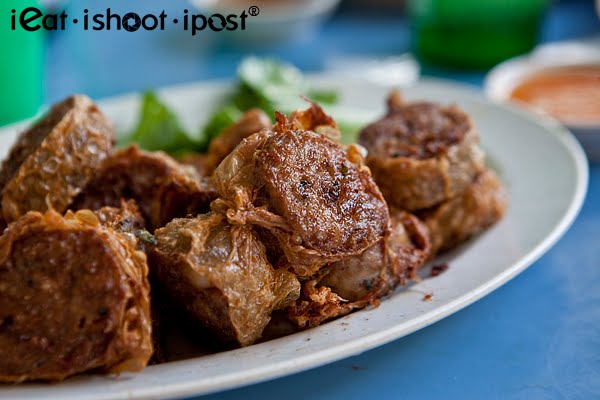 Prawn Rolls (Hae Zhor)
I almost went away that day without ordering the Prawn Rolls if not for one blog reader who was sitting in the other table. He came over to introduce himself and said in no uncertain terms that I would regret it if I did not order the Prawn Rolls.
Boy was he right!
There was something in the prawn rolls which made them very tasty. You don't get your big pieces of prawns here to give you that visual satisfaction, but put it into your mouth and you would be closing your eyes to try to analyse why the taste is so perfect. One of the secrets that the Teochew Ah Chek here was sharing with me is that they do use Pork Mesentary to wrap their Prawn Rolls. Apart from that, the rest is secret. 4.75/5

Tofu Prawns
Being a Cze Char as well, they do have a few dishes which are not classically Teochew but these are dishes I will always order when I come here. The Tofu Prawns is one of them. The gravy that bathes the prawns and homemade tofu is very addictive but I have to admit that it goes better with rice than with porridge. 4.5/5
Conclusion
This is now the gold standard by which all my other Teochew Porridge stalls are compared to. Somehow their dishes all resonate with me and this would be the one stall I would bring anyone who wants to eat Teochew Muay.

New Address wef 18 Apr 2011