This restaurant is closed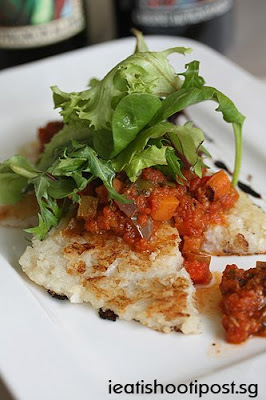 Risotto Rice Cakes $8++
There is no problem looking for good food in Singapore if money is not a problem. You just have to go to some really high class restaurant and enjoy a great meal. The tricky thing is how to find a place that serves great food but at a price which would not make you think about going there only on special occasions. Plus, as our blog monitoress, Khim would testify, sometimes you can spend a lot of money at a fancy restaurant and still need to go to the hawker centre afterwards because your stomach is only half full (or half empty depending on whether…. aiyah you heard it all before)
Anyway, I am very pleased to find a restaurant that I think khim would approve.
Absolute Haven was started by a brother and sister team who's idea is to provide value-for-money, fine dining in an informal setting. This is the kind of idea I like since that means that I can bring my kids along and still enjoy a great meal.
We started off with their signature appetizer which is Risotto Rice cakes. Imagine potato rosti but made of rice instead. I liked their parmigiana sauce which has just the right balance of sweetness and tang to it. The Rice Cakes was a little novel for me and I can't really decide if I actually like Rice which is crispy on the outside but mushy like a thick porridge within. Still the strength of the sauce made for quite a tasty bite. 4/5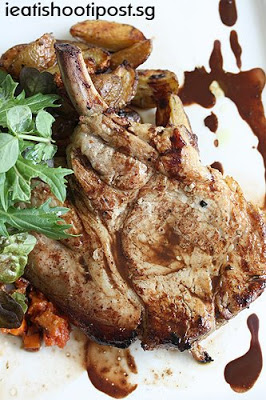 Yorkshire Pork Rack $23++
Let's move quickly to the dish that I am highly recommending.
When it comes to Grilled Pork Rack, the Yorkshire White Pig is Champion over the Berkshire Black Pig (Kurobuta) in my books. I have a stack of Grilled Kurobuta Pork Rack photos still sitting in my hard drive that will never see the light of a LCD screen. They were expensive and really nothing to write about (at least those that I have tried). Now the Yorkshire Pork Rack is a different story. I have had this twice and both times it has raised my eyelids and delighted my tastebuds.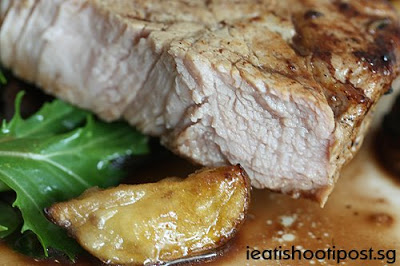 Not easy to get Pork Chops to remain juicy!
The thing about Pork Chops is that they get dry very easily if not done well. But the Yorkshire Pork Rack tends to be juicy and tender and the pork has a wonderful nutty and earthy flavour about it. Part of the tenderness is due to the fact that they marinade the pork in milk before cooking. They grill it quite nicely here such that the Pork has that wonderful smoky charred flavor. Quite a big portion for $23 and around half the price of the Kurobuta Pork Rack that I've had elsewhere. The jus has just enough umami to bring out the full flavour of the pork. 4.5/5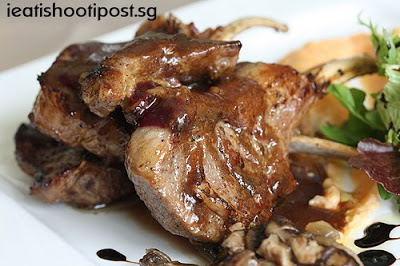 Lamb Rack $26++
Would you agree with me that it is easier to come across lousy beef than lousy lamb? Most Lamb racks can still "make it" even if they are not cooked well. My usual complain with lamb is that there is never enough to eat because they are so small.
I am happy to report however that you get 3 quite generous cuts of Lamb Rack here and they use quite a good quality Australian chilled lamb, so its tender and juicy. The sauce has just the right amount of sweetness which I like with stronger tasting meats. It was so good that the kids were clamoring for more and we had to order a second portion just for them! (And for the M-I-L too) 4.5/5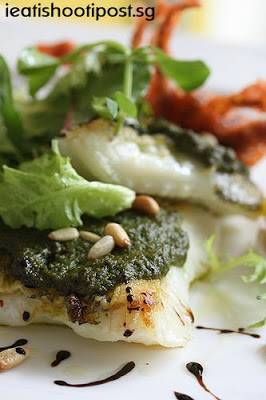 Pesto Cod $26++
$26 here buys you two generous slices of "White Cod" (Not gindara, my guess is it's probably Sea Perch) as well as a deep fried soft shell crab which I think is great value. I found though that the pesto sauce was a little too mild. I think it could be better with more ground up pinenuts and a stiffer parmesan to give it more punch. 3.75/5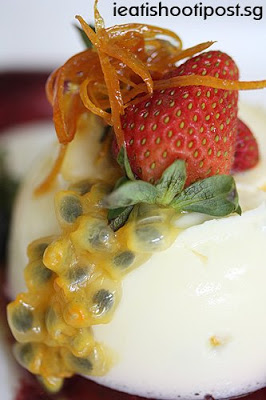 Panna Cotta++
Not everything is rosy though and the dessert dept needs a bit of a brush up. We tried the Panna Cotta and the Creme Brulee and all I can say is that if you are the type who is concerned about health, then the desserts here will suit you well. However, I think that most dessert lovers will go for something that is sweet and creamy so the stuff here might not make the grade for them. So I hope that they can work on this dept so that we can all finish the meal with something that is more on par with their appetizer and mains. 3/5
Conclusion
If only this place had been around when I was still dating Amagada! It would have been quite an affordable place for a romantic dinner! Great place for a set lunch too except that the interior lighting needs to be changed because it is too dim when there is bright sunshine shining through the narrow main entrance. Oh yes, and for those who like to complain about places charging for ice water, you'll be pleased to know that ice water here is not only free, it is nicely scented with slices of strawberries as well.