With smart and Mr.YaKwang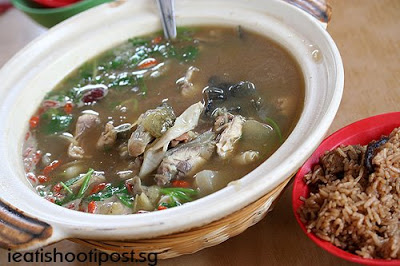 OK I admit it, I am a turtle virgin, so when smart suggested we go for Turtle Soup, I felt an emotional mix of excitement and trepidation at the same time.
Turtle soup is not for everyone and there's a lot urban legend surrounding this esoteric dish. Many believe that this dish is an aphrodisiac, warms the body and increases alertness. I am no expert in this, but I think it sounds as if there are some ingredients in the turtle soup that causes the blood vessels to dilate. So, dilatation of blood vessels in your skin would cause you to feel warm. More blood to the head increases your alertness and better blood flow to the John Thomas might mimic the effects of Viagara.
Now, eating Turtle soup in Geylang with two other men might be a especially risky if you happen to be a politician or a preacher. It is especially worse if you also look as if you are going to be withdrawing your CPF soon. Good thing I don't look like either, so I was quite safe. Smart on the other hand, looked like a golden honey comb glistening in the sunshine.
It was 2.30pm in the afternoon and the restaurant was quite packed with many golden honey combs and busy buzzing bees. It is the kind of scene that is becoming all too common in Geylang. It was common knowledge a few years ago that if you were in Geylang for food, then you should head for the odd number Lorongs and avoid the even Lorongs. It is unfortunate nowadays that parents have to think twice about bringing kids to eat in Geylang in order to avoid having to explain the process of the birds and the bees. The proliferation of shops selling adult toys is also another recent phenomenon to hit Geylang. Unlike the Western, more "liberal" countries where there are rules to keep these shops hidden from the view of children, in "conservative" Singapore it is ironic that a child can be staring at these adult toys easily from along the main road. Are there any readers from the appropriate Ministry reading this? Perhaps it's time to form a committee to look into this whole issue?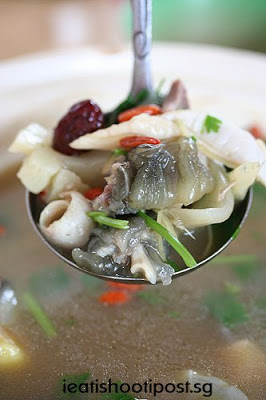 The beauty of Turtle Soup (I am told) is all that soft gelatinous skin and shell which you would love if you love Fish Head. Boiling all that cartilage makes the soup a little more smooth and viscous very much like Shark Bone Soup. Tastewise, the soup tasted like the standard herbal soup to me and all that soft gelatinous stuff didn't thrill me that much.At $40 per claypot of Turtle Soup, I am happy to say that it is money that I can save for something else. 3/5 Smart on the other hand came away well rejuvenated and glowing with renewed energy. He gave it 4.25/5. I guess you either love it or eat it just once and never again.
Conclusion
Maybe when I grow a bit older I would like it. At this point in time, I would save my calories for something else.