So surprised to see my own picture on the front page of the Straits Times today! I knew that there would be a feature in Digital Life, but I wasn't expecting that they would put my photo on the front page!
I thought that the article was a little overly optimistic about portraying blogging as a revenue generating engine. Certainly, a few of the top bloggers in Singapore are blogging professionally, but for many of us, blogging is a simply an enjoyable hobby. Yes, the ads do earn a few dollars but certainly not enough to pay for the food that I blog and certainly not for the petrol cost.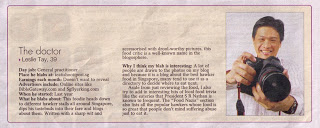 They made a few mistakes with my blog which I wish to clarify. In the article, they said that Advertisers include Biblegateway.com and Sgflyerking.com. Firstly, the daily verses that you see at the bottom of the blog is not revenue generating. It is simply there to remind me that "Man does not live on bread (or Chicken Rice) alone, but on every word that comes from the mouth of God" (italics – mine). Secondly, I have no association with Sgflyerking whatsoever except that it might have appeared once on Google Adsense.
When they asked me how much I earned from the ads, I told them that after a year and a half of blogging, I still haven't earned enough from the Google Ads to buy a new Laptop. But unfortunately, that was not what was conveyed. I feel that blogs are only just being recognized as a platform for advertising, so potential advertisers are still unsure about whether to take the plunge. Furthermore, to put an ad in the blogs, they have to deal with individuals and not professionals so there is no widely accepted practice or price range in order to go about doing this. So as a result, it is still not easy to attract companies to put ads on blogs.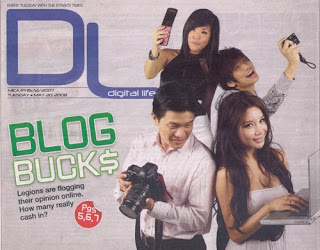 This is why I support the local ad agencies such as Nuffnang who are trying establish a local industry standard for blogs. But I think the future looks bright for bloggers and at the rate things are going, I am hopeful that one day I might be able to make the hobby pay for itself and perhaps be able to buy me some new camera equipment and a new Laptop (I am working on a laptop with only a 20GB harddrive and whose battery is completely dead – any company out there would like to sponsor?)
So if you are thinking of making a career out of blogging, make sure you have a good backup plan first.