This restaurant is closed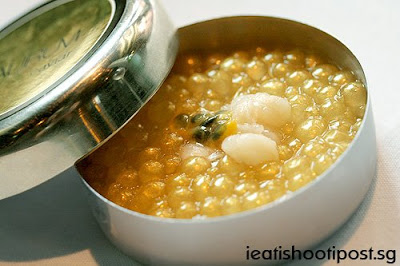 Martini Gold Lychee Cavier – Part of a set of 6 "Aurum Insanity" $28
I have always wondered if I would ever end up as a chef if given a second chance at choosing a career. Well, now thanks to Nuffnang and Spring Singapore, I get the opportunity to spend a day as an apprentice cook with one of Singapore's most creative chefs, Edward Voon, who was Captain and manager of the Culinary Team which won the coveted best Gourmet Team award in this year's Food and Hotel Asia event. But before I get to do that, Edward suggested that I should at least come over to have a taste of his creations first.
The kind of cuisine that Edward dishes out is what I would call experimental cuisine. Some call it "molecular gastronomy" but I beg to differ. There is nothing "molecular" in the strict sense of the word. It is true that turning peas into something that resembles an egg yolk but still retaining the taste of peas (ala Ferran Adria's Liquid Pea Ravioli) is a veritable feat of food engineering but at most it occurs at a cellular level. So it should rightly be called "cellular gastronomy", but I am just being pedantic.
Whatever you call it, I really enjoy this type of manic food mutilation which turns the kitchen into a chemistry lab. At this point, a lot of what is being done is essentially to change the texture of produce whilst preserving its taste. So, for example, they turn ham into a liquid, olive oil into powder and vinegar into air (foam). I reckon in the future our Alchemists cum Chefs might even be able to cause a concoction of chemicals to precipitate into beluga caviar — now that would truly be molecular manipulation!
This type of stuff might not appeal to everyone especially if you are the type that likes to eat a big hunk of meat to fill the tummy. But for me, I felt like a kid opening my presents on Christmas Day.
One of the interesting starters we had was the Martini Lychee and Gold Caviar. It tastes like Lychee but the refreshing little globules bursts in your mouth like Ikura (Salmon Roe). And real gold dust was actually used to give it that twenty four carat look. In case you are wondering, gold can be eaten. As a matter of fact, we even use it to treat conditions such as rheumatoid arthritis. It was certainly the most memorable palate cleanser I have ever come across.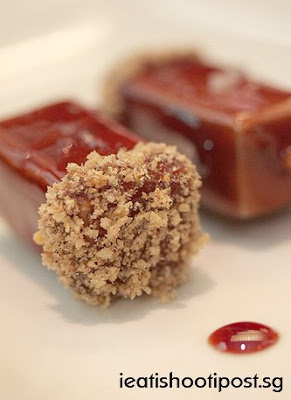 Mini Foie Gras, Port Wine jelly (Part of the "Aurum Insanity" set)
The foie gras is the one dish that really got us excited. I am tempted to give this dish a 5/5 for sheer amount of enjoyment I got out of it. The foie gras terrine had the colour and consistency of hazelnut cream that you often find in chocolates. It was smooth, almost slightly sticky and full of intense foie gras flavour.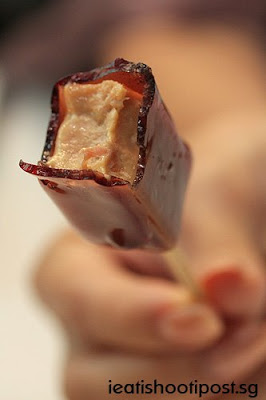 The shell was made of Port Wine Aspic (Jelly) which had the consistency of the egg white (or should it be egg black?) of Century Egg, but tasted like Port. The combination worked extremely well. I could easily eat ten sticks of this and forget about everything else.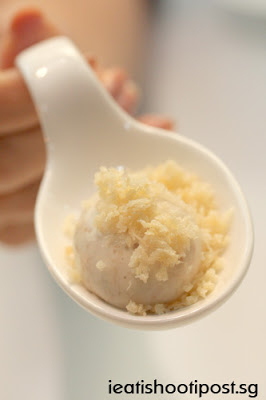 Liquid Ham "Replicated Crunch" (Part of "Aurum insanity")
Liquid ham is basically a ham and cheese sandwich in the form of an egg yolk with bread crumbs sprinkled on top. This is very much like the Liquid Pea Ravioli in concept but instead it is filled with a warm ham and cheese liquid that tasted exactly like, well, ham and cheese. I thought this might taste better if it was cold though. The warm ham was a tad too heavy and sluggish for me.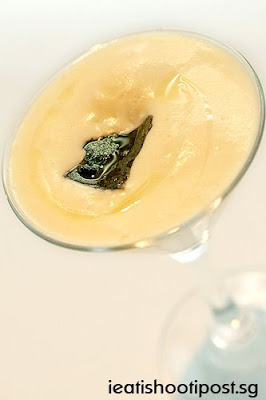 Omelette of the XXI Century
Omelette of the XXI century takes the classic Spanish Omelette and metamorphasizes it to fit into a Martini glass. What it had was caramelised onions on the bottom with egg yolk sabayon slowly cooking in hot potato puree topped with a slice of truffle. The potato puree had the consistency of a mousse rather than a puree and although it was very light, the taste of the potato was pretty intense.
The thing I find about this type of cuisine is that the altered textures and presentation really focuses your mind onto trying to identify the taste of the food presented. As a result, you gain a profound appreciation of the taste of simple things like egg yolk and potatoes which are actually very tasty everyday items we frequently take for granted.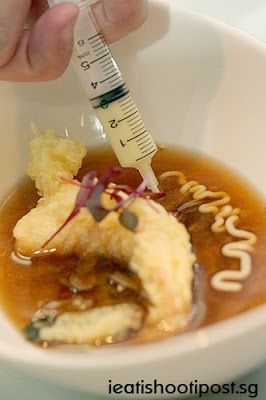 Golden Shitake Broth $16
The Golden Shitake Broth gives new meaning to the phrase "Instant noodles". The olive oil suspension in the syringe immediately turns to noodles when it is squirted into the hot shimmering Shitake Broth which had gold dust swirling inside. It was certainly a interesting dish to "wow" your date. The broth was really salty like what you get with a Sukiyaki. Just imagine an Ebi Tempura in a Shitake flavoured Sukiyaki soup and you got what it tastes like.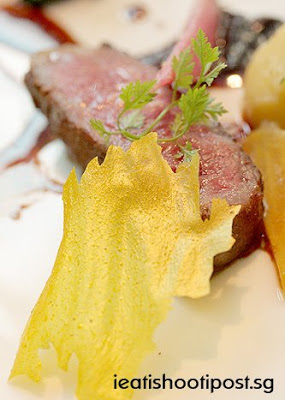 Grilled Peppery Angus Beef $60 200g
Now after about eight amazing appetizers, I must say that main course was a bit of a let down. Don't get me wrong, the Peppery Angus Beef Steak is probably the tastiest steak I have had this year but we were expecting it to come in a liquid form or otherwise disguised beyond recognition. I guess sometimes you really don't want to improve on perfection which is a USDA Angus Beef steak. The one thing they did was to add some edible Gold leaf which was made from polenta and saffron. I must have eaten more gold that night then in my whole lifetime and strangely all my joints are feeling quite supple!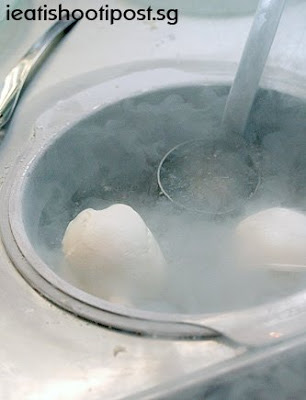 For dessert, a hospital like trolley was wheeled in front of us with a trough of freezing cold liquid nitrogen. You can actually draw some up and treat the warts on your feet and save yourself the cost of the meal by not seeing the Doctor! Just kidding….. if you have any warty lesions please see your Doctor yeah? Anyway the liquid nitrogen is used to quick freeze the white chocolate mousse and to do other nifty things like turning diners in to "fire" breathing dragons.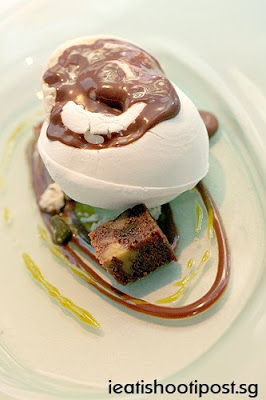 Chocolate Nitro $20
What emerged from the liquid nitrogen was a ball of liquid white chocolate encased in a crisp meringue like shell. The little chocolate brownies were little more than a garnishing. If you love Pavlovas (which I do), then you will certainly love this dish.
Conclusion
There have been a handful of truly memorable dinners that Amagada and I have shared together and our meal at Aurum has just been etched into that exclusive list. It wasn't just that the presentation were novel, but a few of the dishes were actually quite shiok. Of course there were some items which I felt could be further improved, but overall, I'd say that the degustation menu ($198++ for 15 courses) is worth every cent for the experience you are getting. If you still prefer ala carte, they have a special $98++ set which serves normal portions so that you get to choose one entree, soup, main and dessert. The "golden" memories are worth every cent, in my opinion.
Though we might still have a long way to go before we get anywhere near El Bulli, it is good to know that we have home grown talents like Edward who are boldly going where no Chef has gone before. So I am glad to be part of Spring Singapore's drive to attract more of our young people into this industry.
Postscript:
The bad news is that Aurum will be shutting its doors on 27 May and relocating somewhere else. Meanwhile there will be a 2 month hiatus while Edward does a stint at the French Laundry to get new inspiration.