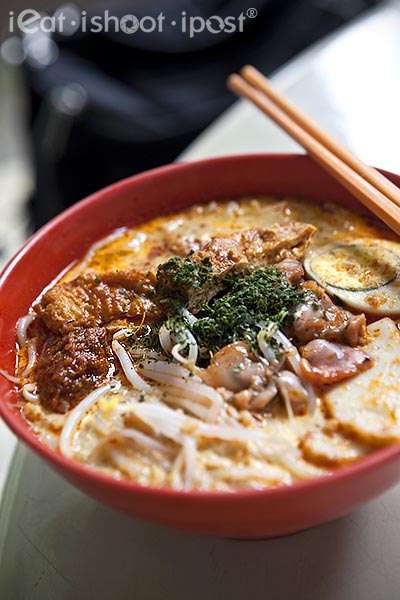 Have you ever wondered why the Penang Assam Laksa and our local Curry Laksa are both called Laksa? I will tell you in a while.
But first, why have I driven all the way to Yishun today? Well, a few people have commented that I there was a lack of stalls in the North listed in the ieat Hawker App, so I am making a concerted effort to seek out food stalls up North which are worth the trip. The App is an ongoing project and aside from adding more stalls every month, I will adding more functions, so make sure you download the updates when they appear! Thanks very much to everyone for your support! Do continue to help spread the word!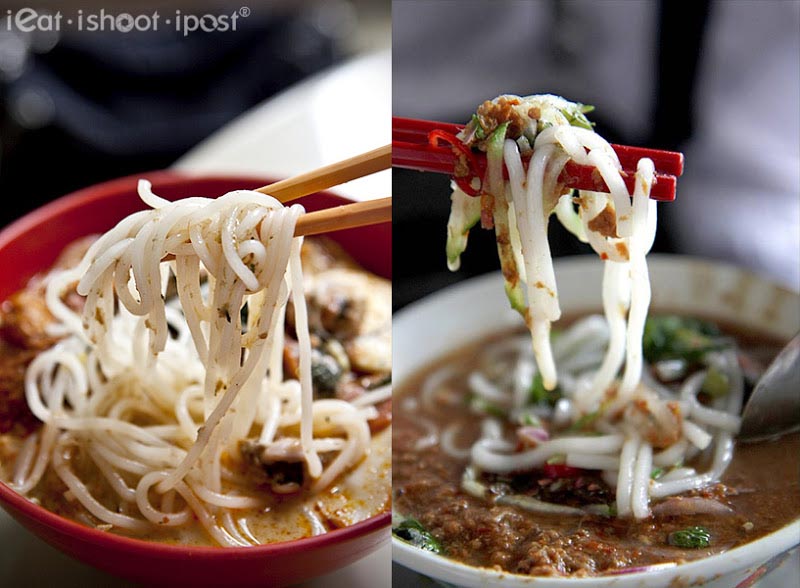 The mystery of why Penang Assam Laksa and our Laksa are both called "Laksa" is actually quite evident when you sit down and compare both dishes side by side. Have a look at the two photos, what do you see is common to both dishes?
It may have taken a few seconds, but I am sure you had that "Eureka!"moment when you realize that the only thing both dishes have in common is the Chor Bee Hoon (Thick vermicilli). But that hasn't quite solved our mystery of why both dishes are called "Laksa", has it?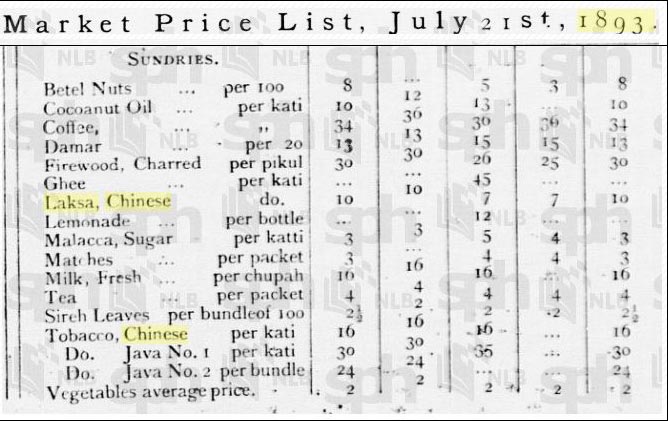 Well, as it turns out, Laksa used to be the term used for Chor Bee Hoon. As you can see from this Market price list from 1893, "Laksa, Chinese" was listed as a common food items.* So in Penang, they put Laksa noodles in a gravy made from Kembong Fish and tamarind juice while in Singapore, we serve it in a Nonya curry!
If you are up North and have a hankering for Laksa, most people will be able to point you to this particular stall to quell that need to feed. 928 Laksa has been around for about 15 years and has developed quite a reputation amongst our Facebook Fans!
Personally, I thought that it was a good bowl of Laksa, but it isn't something I would drive to Yishun to eat since there are many good Laksa stalls in the East. The first thing that I noticed is that the laksa leaves have been chopped by a food processor and so the leaves were crushed. As a result it lacked that fresh laksa leaf fragrance which you get when the leaves have been hand sliced. According to the TV program below, the lady said that she used dried prawns without their shells so that you don't get that familiar sandy grains at the bottom of the bowl. I am not sure if it was the lack of shells or if the batch of gravy that day was a bit weak on the dried prawns, but I didn't get that nice savoury ooomph that I was looking in a good Laksa. Still, it is a descent bowl of Laksa and if you happen to be up North. 4/5
Conclusion
If you live in the East, there really isn't any compelling reasons to head up North for this Laksa. But I am sure that our Northerners would disagree! I am still on the lookout for stalls up North worth traveling for so if you have any recommendations, please write to me at [email protected]


*Foodage, Okto 2011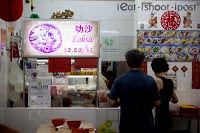 Thanks to Sen for the video upload