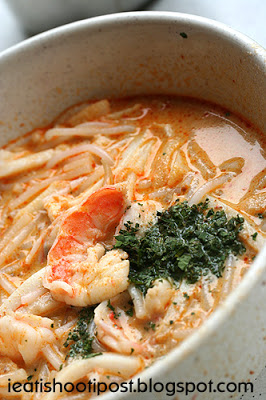 As you know, nothing quite hits that spot like a good bowl of laksa. In fact, if there is a Umami scale, Laksa should rank 9/10 while hospital porridge specially ordered for a hypertensive, diabetic, heart bypass patient would rank 1/10.
And when it comes to Peranakan style or more specifically "Katong Laksa" style Laksa, the place to be is… well….. Katong!
At the height of the Katong Laksa craze, there must have been about 4 or 5 stalls all competing for the Katong Laksa crown. When I first ate there 20 years ago, it was just a stall in an old coffeeshop, but since then, that stall moved across the road, then another stall came and occupied the old stall, then another one opened next door and so on until there were about 4 or 5 stalls around that same junction. Last year, the some copy cats closed down and there were 3 stalls left. I tried all 3 at the same go and decided that my favourite was 328 Katong Laksa. I think most people's taste buds must have agreed with mine because when I visited them again last week, they have taken over the corner coffeeshop as well as the shop next to it. It's almost like the endgame in Monopoly.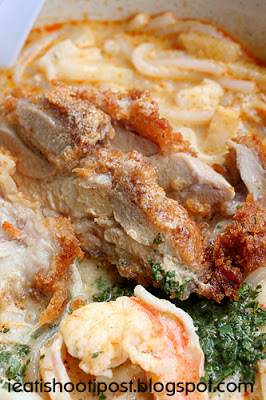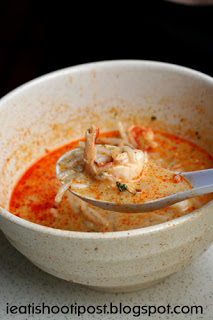 The one thing that I always miss in my bowl of laksa is chicken meat. Usually I like to have plain white chicken, but on this occasion, the chicken rice stall up the road was under renovation, so I had to settle for fried chicken cutlet from the economic rice stall in the same coffeeshop. Let the chicken soak in the Laksa gravy for a while and pop it in your mouth!! Hits you right there, Yeah Yeah Ye'ah!
The Laksa gravy is still one of the best around although I must admit that it was better in the days when the Lao Ban Niang was cooking it only for her one stall. Back then, the best part of the meal was finding the minced up Hae Bee (Dried Prawns) at the bottom of the bowl. Nowadays, it is minced too fine such that you can't really enjoy the grainy bits in your mouth. Nonetheless it is still one satisfying bowl of Laksa. 4.5/5
Conclusion
Used to be better, but it still has the ability to satisfy that savoury crave.