This Cze Char place is famous for the White Bee Hoon! White Bee Hoon? Never heard of White Bee Hoon? Well, I don't blame you, because it isn't quite a recognized Singapore dish yet. I was told that there are several places in town that serves White Bee Hoon, but this one is by far the most famous. When I was doing my reservist in Nee Soon Camp, I heard so many recommendations for this White Bee Hoon, that we organized a troop movement to recce it out. Unfortunately, our first experience was a little disappointing and my reputation as a foodie took quite a beating amongst my fellow officers.

But the White Bee Hoon continues to hound me as I was searching for places up North. I just couldn't reconcile my experience with the fact that all their fans are willing to wait at least half an hour to an hour for their White Bee Hoon fix. So, a 2nd visit was in order.
This time round, the White Bee Hoon was much better. But I think that in order to fully appreciate it, you need to have correct some preconceived ideas. If you think of this dish like a Fried Hor Fun, then you will be disappointed because the Bee Hoon is not fried till it has that Wok Hei flavour before being simmered in the stock. Instead, if you think of it as a dry XO Bee Hoon, then you might start to appreciate it.
Basically the Bee Hoon is simmered in a rich stock made from old mother hens and the dish as a whole is not heavy on the palate. It's more like a pasta really. My initial reaction was still that it tasted a little bland, but the dish really does grow on you. 4/5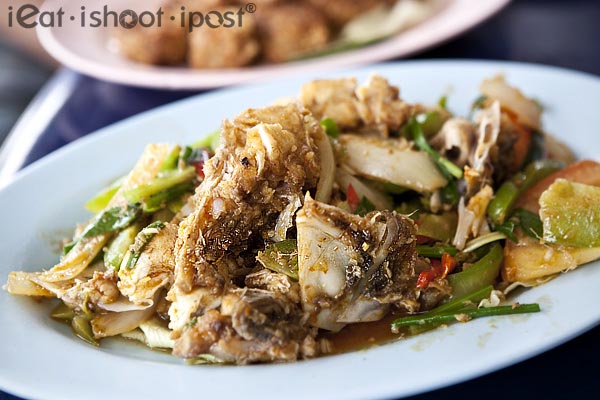 What the kakis were really impressed with was the Stir Fried Fish Head with Bittergourd. This dish, like the White Bee Hoon, is a creation of the lady boss. The secret lies an an aromatic chilli paste with has the perfect balance of savoury, spicy, sweetness and tang which is quite addictive. We all gave it three thumbs up! 4.5/5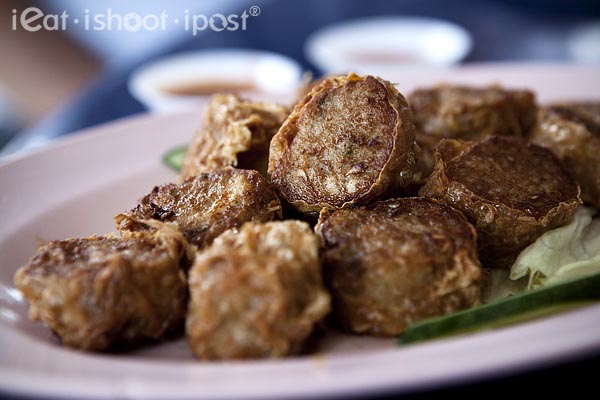 The Ngor Hiang is another dish that is highly recommended by fans. It's good but I find that there are lots of other Cze Chars that also make good Ngor Hiang, so it is not easy to say how this one stands out. One point of difference is that they use a fair amount of fish paste in the Ngor Hiang, so the texture tends to be a little finer than those made purely from minced pork and prawns. Still worth ordering if you like Ngor Hiang. 4.25/5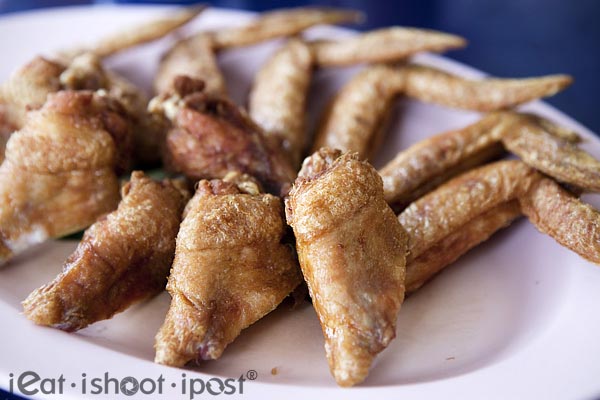 We were recommended the chicken wings by the waitress who took our order. She told us that they are more like the Malaysian Style chicken wings. It's alright but I wouldn't order them again as they were a little dry and there was nothing special about the marinade. 3.5/5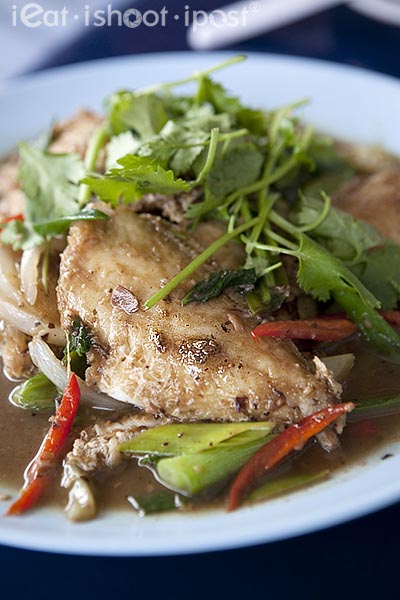 The good thing about You Huak is that the Lao Ban Niang is pretty much in charge of the kitchen. So the dishes are a little more unique like the aforesaid White Bee Hoon and Fish Head with Bittergourd. Another dish they is quite good here is the leatherjacket in black bean sauce. Being Teochew, the fish is always fresh, so the meat is nice and delicate. The black bean sauce is a tad on the salty side, but goes very well with rice. 4/5
Conclusion
I think this is one of the few places up North that is worth traveling for! I must admit that I am not completely sold on the White Bee Hoon, but that is my opinion against hordes of loyal followers of the eatery. The sliced Fish Head with Bittergourd is a must try though and overall, its a great Cze Char experience.