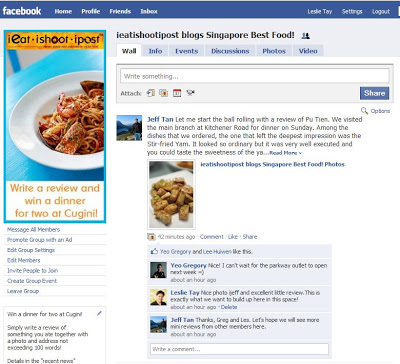 Write a review and win a dinner for two at Cugini! – ieatishootipost
Not everyone wants to maintain a food blog but I know that there are a lot of foodies amongst our readers who are really good at recommending a good place to eat every now and again.
So, what I thought would be interesting is if our facebook group wall can be made into a community food blog where everyone recommend something good to eat. Even if you don't like to write a review, you can still join in the fun by commenting or even just clicking that you like the particular review. I think it can be a place where our foodies can interact and find something good to eat.
Just to make things a little more interesting and to get things going, I am running a competition where the best review will win a prize. This week's prize is a dinner for two at Cugini restaurant worth $150.

You can read about Cugini here: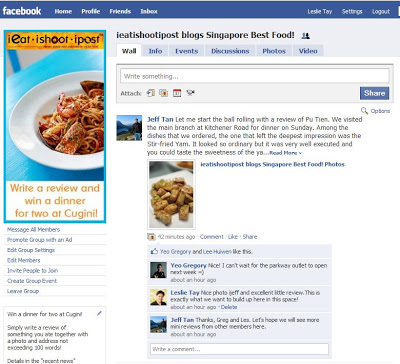 Here is what you need to do:
Post a review with at least one photo of something you think is worth recommending on the ieatishootipost facebook group wall. You can see it here.

Rules:
1. Your review must not exceed 250 words (not including the address)
2. You must have at least one photo
3. It can be about any stall or restaurant in Singapore
4. You must include the address of the restaurant
5. You can submit as many reviews as you want
Judging Criteria
1. The quality of the review (50)
2. The photo (10)
3. The level of interest it generates (20)
4. The number of "Likes" it generates (20)
Prize:
1. Dinner at Cugini worth $150
2. Inclusion of member to " Foodie of the Week" list
Please Note:
1. Have fun! Don't take it too seriously.
2. The judge's decision is final
3. Closing date for entry: 15 November
4. Winner will be announced on 22nd November
5. Dates are subject to changes
6.. This is quite a new idea so please understand that there will be bumps along the way, but hopefully I can streamline it so that it becomes a regular feature where everyone can benefit from each other's review with the bonus possibility of winning a prize along the way.
So what are you waiting for? Let's eat, shoot and post!
To go straight to the Facebook Wall click here