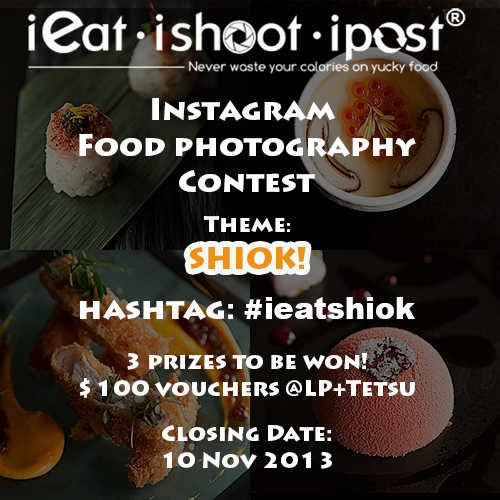 Calling all instagrammers! Next time you shoot food, make sure you stick an extra hashtag #ieatshiok to join our food photo competition! The theme is "Shiok!". You can even hashtag some of the best photos you have taken in the past! The top three photos will win a $100 voucher to eat at LP+Tetsu! Each participant is allowed to submit up to 5 photos. Contest will close on 10 November and I will announce the results on 11 Nov! The contest is open to anyone around the world, but the vouchers will only be sent to recipients in Singapore.
You can view my instagram photos here: instagram.com/ieatishootipost
LP+Tetsu have just launched their lunch menu which features bento box sets starting from $28. There are also two and three course, French or Japanese set lunches for $35 and $45. LP+Tetsu is French/Japanese dining concept that is a joint venture with one Michelin starred chef, Laurent Peugeot. For more info, please check out their website.
Many thanks to LP+Tetsu for sponsoring the prizes!
LP+Tetsu
163 Tanglin Road,
#03-18 Tanglin Mall,
Singapore 247933
www.lptetsu.com