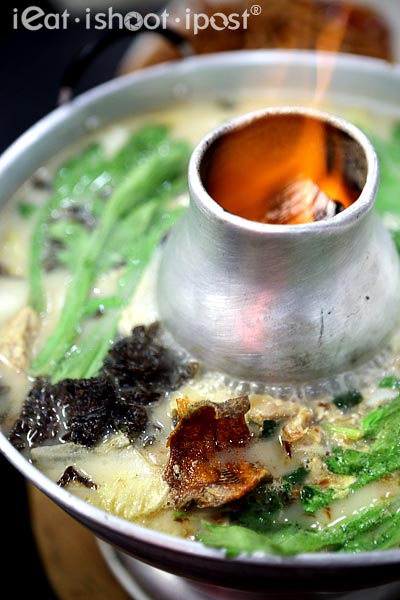 You all remember my last story about Whampoa Keng Fish Head Steamboat? Well, after the story was posted, we followed up with a very memorable Makan Session where Sharon (2nd wife) entertained us with her singing. Since then I had promised Sharon that I would visit her restaurant at Rangoon road soon, and as with the lyrics of the familiar chinese song 你怎么说 goes "你说过两天来看我, 一等就是一年多" (you said you will see me soon, but its been more than a year!). Well, it really has been more than a year, but we eventually visited Sharon at her Rangoon Road branch!
The Rangoon Road branch turned out to be an excellent place to have a family dinner. I like the location as it is situated on a quieter road and so its easier to find parking. The food is pretty much the same as the one at Balestier road since they have a standard procedure for preparing the soup base which includes a prepackaged mixed of herbs. I was told that all in all, there are 30 ingredients that go into the soup which explains why it is so addictive. With a lot of other fishhead steamboat places, the predominant flavour of the soup stems from the use of fried solefish (Ti Poh) as this is quite a classic Teochew style of cooking. Although there is fried solefish in the soup, it isn't overwhelming and is nicely balanced with the herbs such that it creates a nice harmony of flavours on your palate. 4.5/5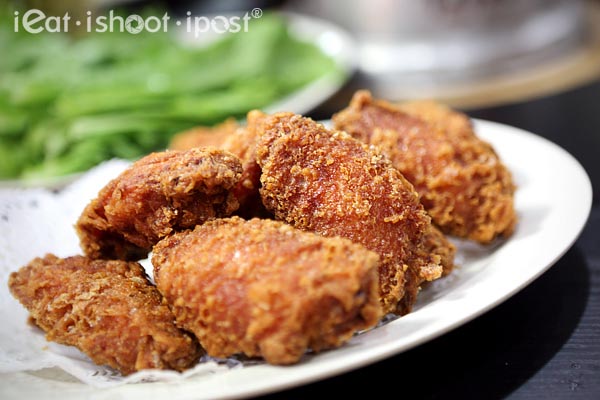 There are a few things I look for in Har Cheong Gai. The first criteria that goes without saying is that it has to be freshly fried. I think that most places fulfill this criteria. Next, it should only be mid wing joints. This is important not just because it is the part of the chicken that best absorbs the marinade, but more importantly, the cooking is more uniform then if they use miscellaneous chicken parts. Then I always like the visual cue that the wings have been marinated for long enough and this is usually seen when the flesh between the bones have that reddish tinge to it. The batter should be thin and crisp and the inside should ooze with juice when you bite into it. The Har Cheong Gai passes on most of this criteria but it would have a perfect score if the wings were just slightly larger in size so that they were more juicy. Other than that, they are actually very good and well worth ordering. 4.25/5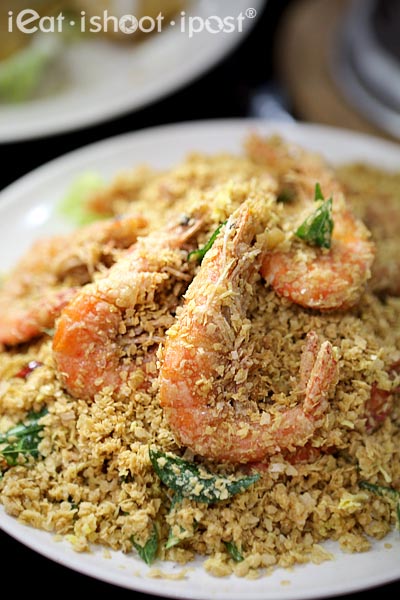 I am not sure who invented Cereal Prawns, but I think it is quite safe to say that it is a dish that probably originated in either Malaysia or Singapore. I must say that person who invented it is quite brilliant as it is quite a unique dish! What I really like about Cereal Prawns is the cereal itself which goes so well with rice. Generally, I don't think much of the prawns that go with it as I always find that they are over cooked such that they are neither succulent and juicy nor crisp as a keropok. In fact, if I were to cook this dish myself, I would use small prawns and fry them to a crisp and then toss them in the cereal! 4.25/5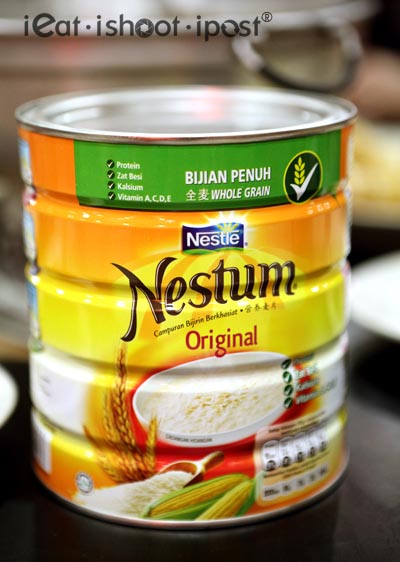 I was quite amazed that many fans on facebook knew that the cereal used to fry Cereal Prawns is actually the familiar Nestum cereal that most people probably haven't eaten for a while. Now before you start thinking of Cereal Prawns as health food, may I just let you know that the cereal mix is primarily made of two key ingredients — butter (more probably margarine) and Cereal with a handful of curry leaves and sliced chillies thrown in. So this is hardly health food which probably explains why it is so good!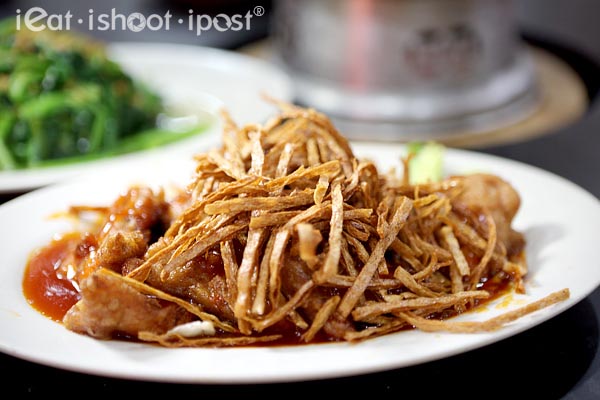 One dish that is unique to the Rangoon Road branch is their Pork Ribs with Cod Fish Strips. This is basically your Sweet and Sour Pork Ribs which has been topped with those familiar Fish Strips snack that have been deep fried and piled on top. The Fish Strips are actually quite a good idea as it provides an extra dimension of flavour and texture. The pork was nice and tender but I found the sauce to be a tad too tangy. 4/5
Conclusion
Excellent place to satisfy that hankering for a good hearty Fish Head Steamboat! The price of the steamboat here is slightly higher than other places listed in the blog, but the environment is much more comfortable and the side dishes are excellent!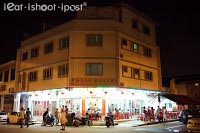 Read Part 1 of the Whampoa Keng story here