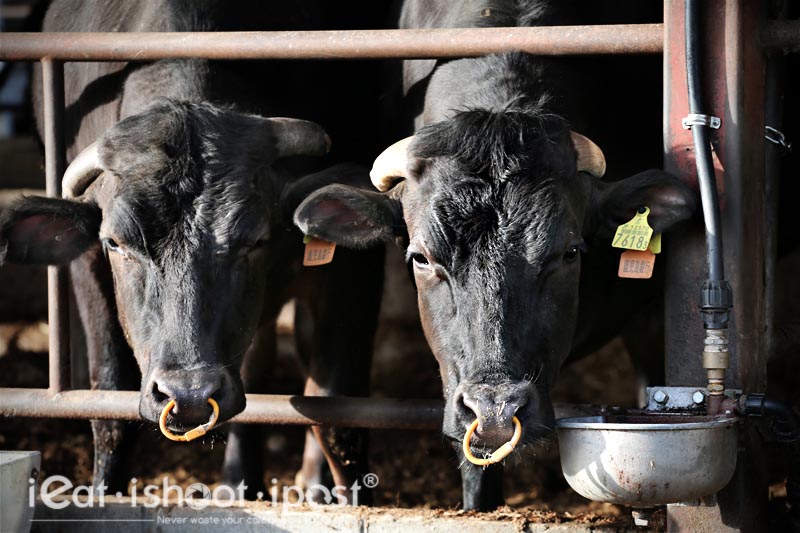 Ozaki Wagyu Farm – ieatishootipost
Do you remember the first time you tasted Wagyu Beef? I certainly did and I am sure most of you would too because Wagyu is just one of those paradigm shattering experiences that you are not likely to forget. Wagyu has since lost some of its mystique, now that it is readily available in Singapore. However, I remember the amazement I felt when I first laid eyes on a slice of Wagyu. How in the world can beef have such intense marbling? The pure white reticular fat that is so delicately weaved in between the bright red muscle fibres is surreal. You don't find this kind of marbling in chicken, pigs or sheep. Heck you don't even find it in cows unless they are they are from the mystical land of the rising sun!
So how in the world do the Japanese manage to produce such a marvelicious piece of meat?
When Kobe beef was first introduced to the West, they made videos like these to create a sort of Eastern mystique surrounding the beef. It was the age before Bruce Lee when Asian characters were portrayed by Western actors donning pigtails, Fu Manchu style moustaches and bucktooth dentures to depict the stereotypical Chinaman's rabbit tooth grin on film. Much has changed culturally but the image of the Japanese cattle being massaged and fed beer is still very much in our collective psyche. How much of it is true and how much of it is myth? Do Wagyu cattle really live lives that every aspiring Tai Tai (ladies with Pradas who don't need to work) dream of?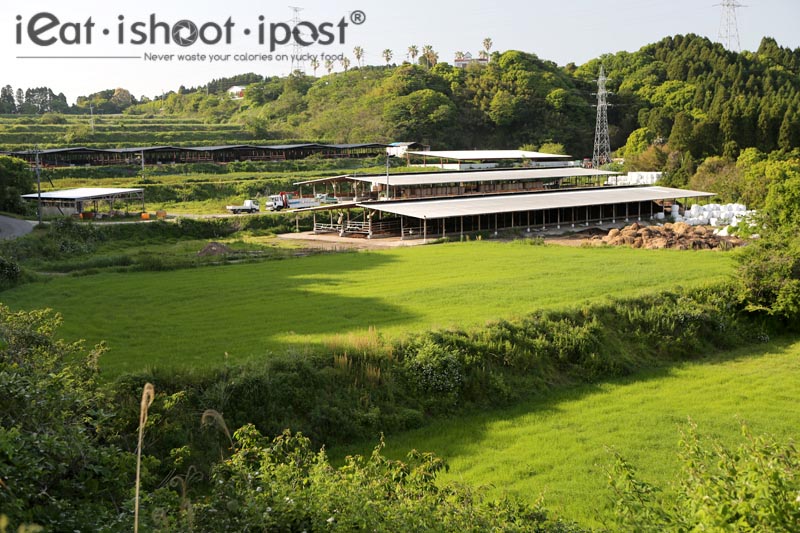 These thoughts raced through my mind as my Air Solaseed Flight descended into Miyazaki Airport. I would finally get to witness for myself the music, the massage and the bovine beer guzzling that miraculously transforms a mild mannered black haired cow into superbeef! Perhaps I would even get to feed the cow some beer myself!
Miyazaki is an hour and forty five minutes by air from Tokyo and is situated at the Eastern part of the Southern island of Kyshu. Like Hokkaido up north, Kyushu is often regarded as the outback of Japan where agriculture and farming take place. Although the most famous Wagyu, viz Kobe, Matsuzaka and Omi are produced on the main island of Honshu, Miyazaki prefecture is in fact, the 2nd largest producer of the Japanese black cattle and in 2007 won "Champion Cow" in the "Wagyu Olympics". Miyazaki Beef is already quite well regarded in Japan but I was about to meet a rogue farmer here who is breaking with convention and taking Wagyu to the next level.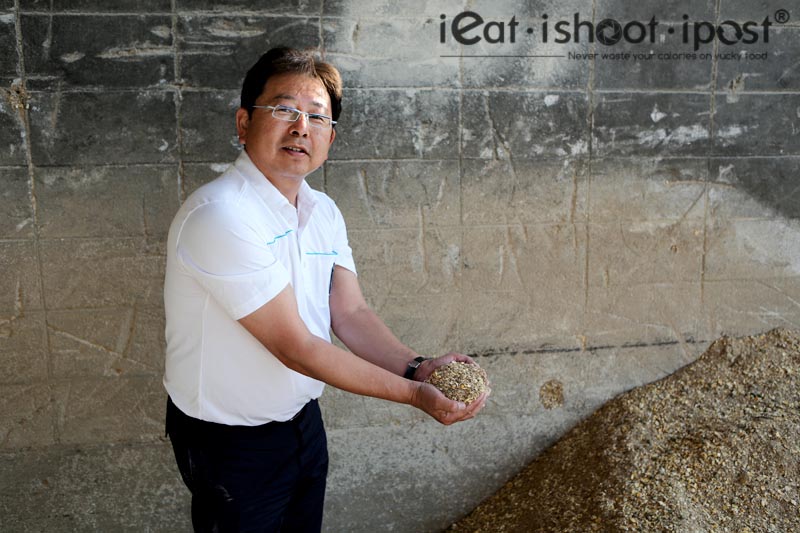 Having won the National Wagyu competition for producing A5 beef more than ten years ago, Ozaki-san felt that he wanted focus his efforts to producing the World's tastiest beef rather than the World's most marbled beef. His motive is very simple. He loves to eat beef and he wants to produce beef that he can enjoy eating everyday. The Japanese grading system, he explains, focuses on the amount of marbling and the colour of the meat and fat but does not take into account the actual taste of the beef. (The Japanese Meat Grading System) He wants to produce beef that is not only sublime in texture, but one that is tasty and has a fat that is easily digested so that you can eat a whole slab of beef without being overwhelmed by its richness.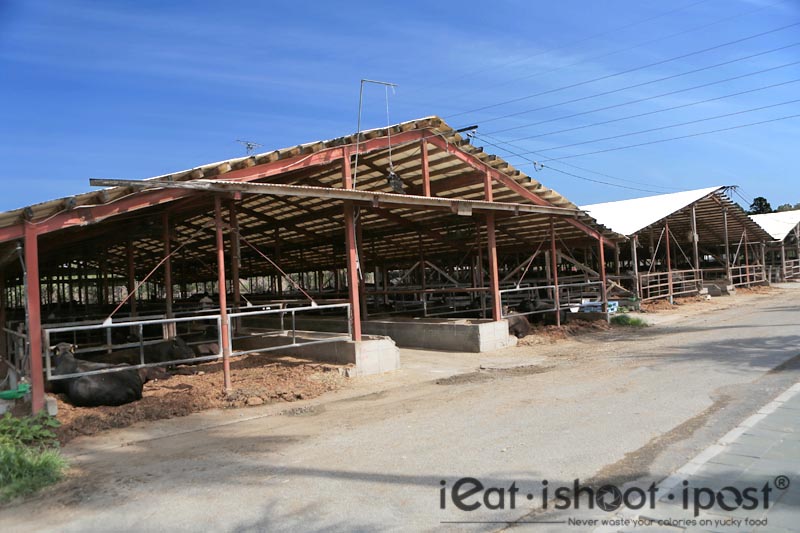 Unlike cattle ranches in the West, Japanese cattle are raised in sheds where they spend most of their days in sheltered comfort. This is done out of necessity in Japan where land is scarce unlike the abundance of wide open plains in the US and Australia. In the early days, cattle were used as draught animals where they help farmers to till the padi fields. Since much of Japan is mountainous, the Tajima (Black Hair) cattle have evolved to be small, stout animals which are very comfortable living in their own stable beside the farmer's house. With the development of mechanization after the war, they soon became redundant as draught animals. It was also around this time that there was also a surge in interest in eating beef as it was perceived that eating meat was what made the Westerners so much taller and stronger then the Japanese. As a result, cattle began to be bred for its meat instead.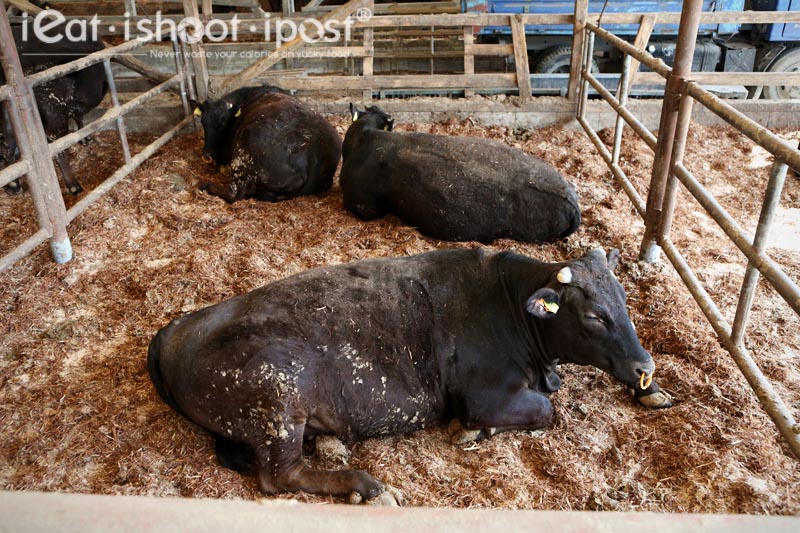 I think the more astute readers would have figured out by now that I am trying to set you all up for a big anticlimax right? OK lah, so rather than telling you how excited I was to meet the Wagyu Warriors and hand-feeding beer to the cattle let me just say that the rearing of Wagyu is about as exciting as growing mushrooms. There is no Mozart, no massaging and no beer. There was also no flies, no smell and no mooing, just a serene environment where the cows quietly stood around eating and pooping, which is what most cows do even if they are out in the prairie.
Now the point about the lack of mooing is important as it shows that the cows are healthy and not in any sort of discomfort. Like babies, cows moo when they are in distress, so having a farm where all the cows are contentedly chewing curd is a good sign that everything is fine. If you have been to a farm or the zoo before, you would know that animals really do stink. The lack of stench at the farm is actually quite amazing although not immediately apparent since you never do realize such things until someone points it out to you.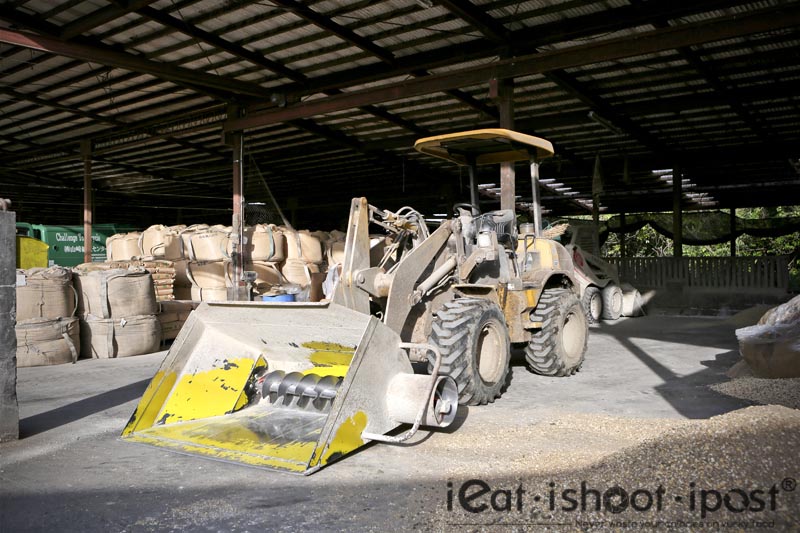 Ozaki San explained to me that the whole serene environment has a lot to do with the feeds that he gives his cattle. Unlike a lot of farmers who simply give their cattle pre-packed high calorie feeds designed to maximize marbling, he has developed his own mix of thirteen different ingredients that he gives his cows. His secret recipe for tasty beef, so to speak.
Charcoal is given to the cattle in order to absorb excess bacteria that is produced when cattle are fed on grain. This keeps the cows healthy and at the same time, they also have the added benefit of producing less smelly poop. Another special feed he gives is a seaweed mix which he imports from Peru. The seaweed mix is believed to contain many trace minerals and helps in the anti-aging of the cow. As I have suspected, all that fantastic marbling actually puts a lot of stress on the physical health of the cattle. So the seaweed mix is given to keep the cattle in good physical condition. Ozaki San also uses a corn in his mix because he believes that corn is essential to give the beef its beefy flavour, something he undoubtedly picked up during his stint in the US.
"Mixing of the feeds occurs every morning and is the most labour intensive process at the farm" he tells me as he walked over to another pile of feed and cupped it in his hands.
"Ah noh, this is as close as the cattle get to drinking beer" he smiled at me, referring to the moist barley mash in his hands, a by product of the beer brewing process. "And no, we don't massage our cows. Massaging doesn't do anything for the cattle. It is quality of the feeds that will determine the taste and marbling of the beef!" He quipped.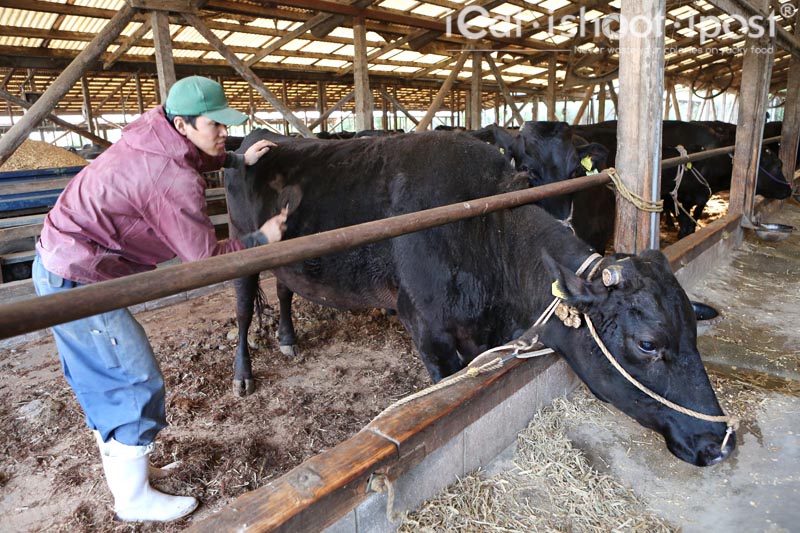 I continued to press Ozaki San about the other legendary practices of Wagyu farming. How about brushing the cow with Shochu and straw brushes? Surely there must be something you all do with your cows? I read somewhere that the farmers would blow Shochu onto the cow and stroke them with a straw brush to relax the cow and to redistribute the fat to improve the marbling of the meat.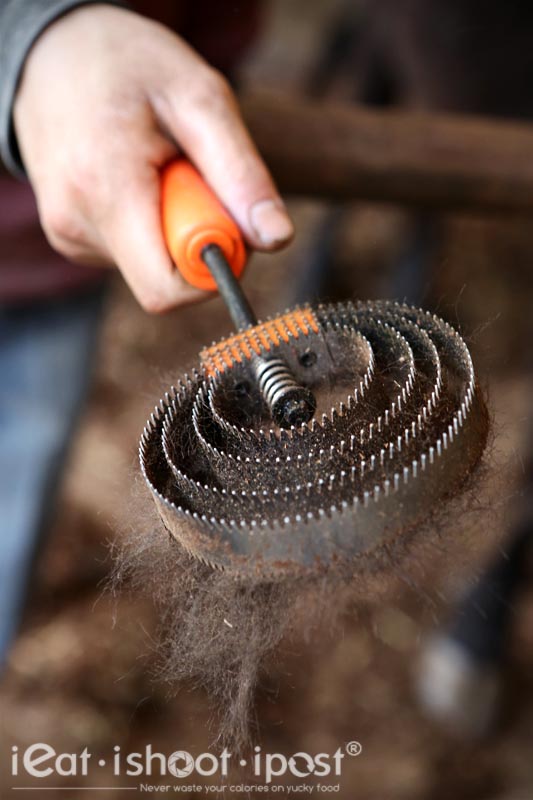 It turned out that they do groom their cows, but only because they tend to shed hair seasonally and it helps to remove the excess hair and grime. But they don't do it all the time. And rather than straw brushes, they use a metal apparatus with rows of saw like teeth. And with that my entire romantic vision surrounding Wagyu cattle was effectively demystified and rendered impotent.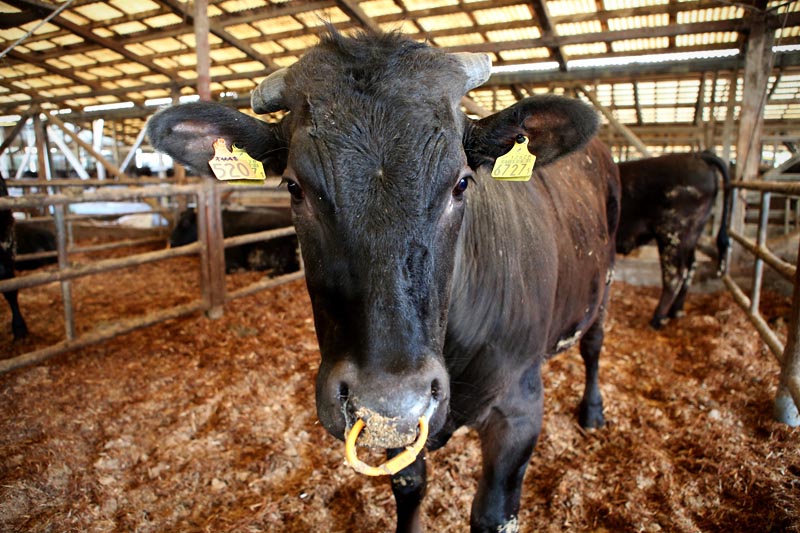 As we walked along the rows of cattle in the shed, Ozaki San explained that they buy both steers (castrated bulls) and heifers (virgin cows). Steers are larger in size and produce more meat whereas the beef from heifers tend to be a little more delicate and sweeter. They do this in order to cater to the different needs of the buyers. Most Wagyu in Japan are slaughtered at around 28 months, but Ozaki-san believes that the flavour continues to improve as they mature which is why he prefers to slaughter them at 32 months. This of course means more feeds which equates to higher costs. But as Ozaki-san explained, he does whatever it takes to produce the best beef in the world!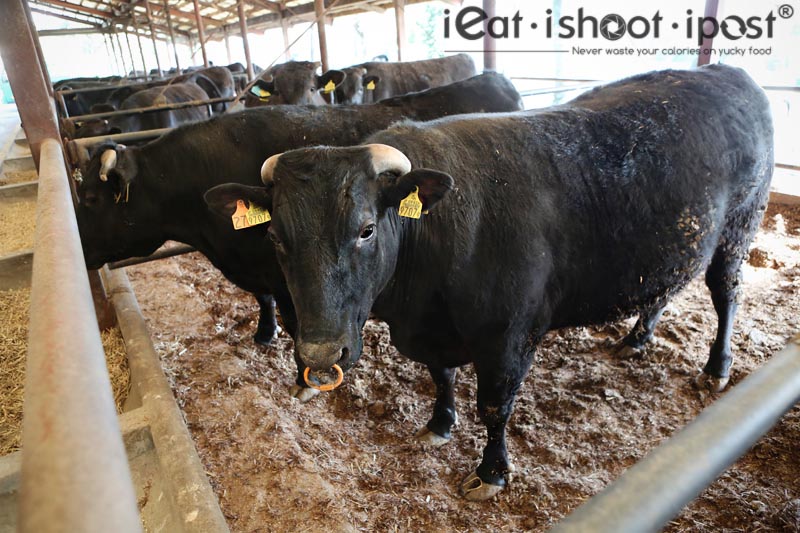 As we walked along the rows of cattle, Ozaki-san explained that the cows start off skinny at one end of the shed and they begin by feeding them straw. After a few months of straw feeding, they progress to be fed with his special concoction of 13 different ingredients. As they cows get fatter, they are gradually moved to the other end of the shed until they get to the last row.
"Ah, here is 9707, the one that will be sent to Singapore!" he smiled as we got to the extreme end of the shed.
Ozaki San has around 1500 heads of cattle at his farm and produces one cow per day for the market. He is probably the only farmer in Japan that actually markets his own beef using his own name. The rest of the beef producers sell their beef to the co-ops which brand and market the beef regionally. To do this he also operates his own cold room where the meat is cut and packed after slaughtering. He is so confident of his beef that was willing to literally put his own face on the box, an icon which I thought looked strangely like the late North Korean leader, Kim Jong Il!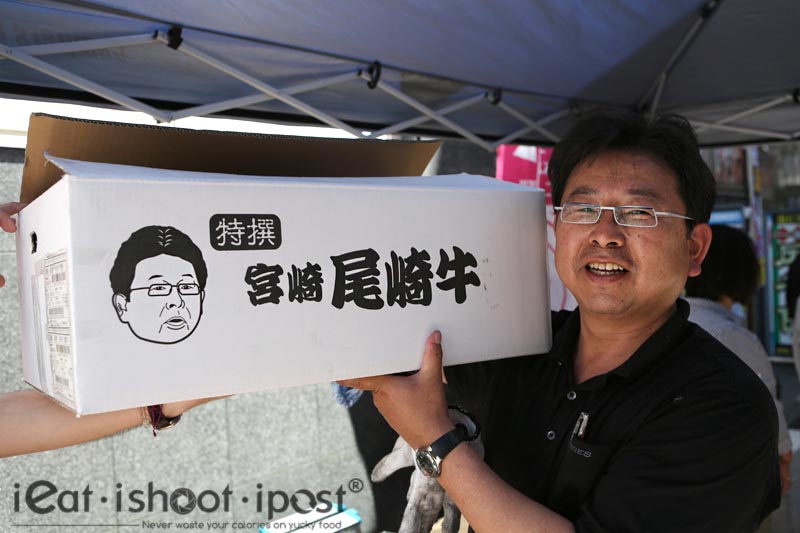 One of the big difference in eating Wagyu beef in Japan is that you actually get to eat every part of the cow from the tongue to the tail and over the next few days of my trip, I would be intimately acquainted with the anatomy of the cattle starting with the tongue and making brief stops at its four stomachs before getting to the intestines and finally, the tail. The real eye opener for me was the liver which tasted so much like a beefy foie gras, amazingly devoid of that muddy offal stench! The fact that the animal has been raised only on natural feed and free from hormones means that its quite safe to eat the innards and in Japan, they don't waste any part of the cattle.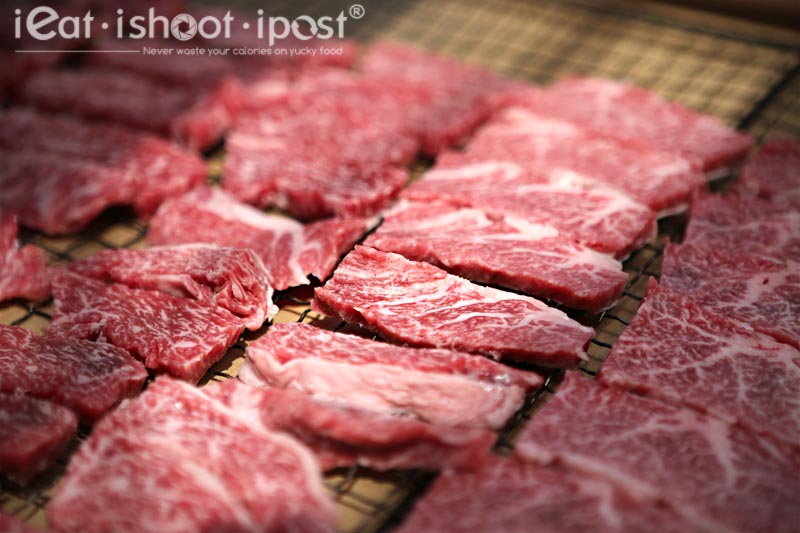 Ozaki Beef will be making its debut in Singapore from 1 June at Copon Norp restaurant. My friend Hisato is both the distributor as well as the restauranteur and he will be bringing in the whole cow so that we too can experience different parts of the Wagyu. So do look out for the makan session in June!
This post was sponsored by Copon Norp Singapore, opening at the Berjaya Hotel at Duxton Hill on 1st June.