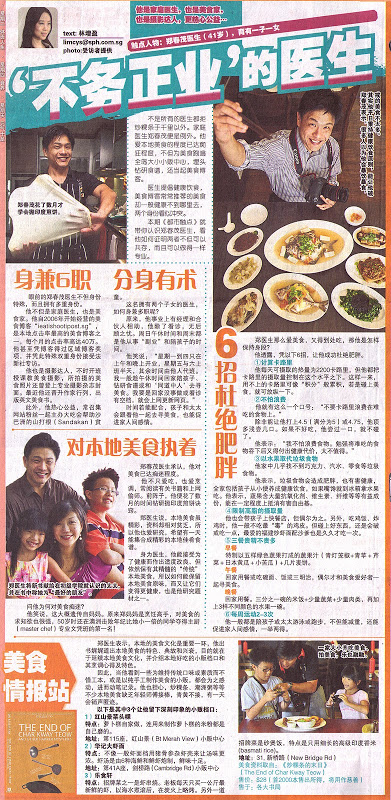 Lian He Wanbao 20 Dec 2010, Pg 18
Many thanks to Yanting for translating the article for us!


An "Unusual" Doctor
He's Dr Leslie Tay (41 years old), father to a son and daughter. He's not only a family doctor, but also a food critic, photography-enthusiast, and most importantly is a very charitable person.
Not all doctors are going to keep Char Kway Teow at bay, one such exceptional example is Dr Leslie Tay. "Madly in love" would be the words to describe how much he loves local food. He not only travels all over the island to try out the various hawker centres, explores and experiments recipes, he's also an avid food blogger.
Most doctors would advocate a healthy diet, but most of the food recommended by food bloggers are not exactly that healthy. It seems that the two identities that Dr Leslie Tay assume clash. This article today aims to let you know Dr Leslie Tay better, and see how he proves that these two identities are not only able to co-exist, but one can also get very professional with both.
The 6 roles that he splits himself into
The Dr Leslie Tay before me now not only has an unique identity, but he also have many different roles in life.
He is a family doctor, as well as a food blogger. The food blog "ieatishootipost.sg" that Dr Tay has been writing since 2006 is one of the local food blogs with the most hits, with an average of about 400, 000 hits per month. He has also won the Asia Pacific Best Food Blog award with this website, and had been interviewed because of his dual identity.
He is an avid photographer, and often conducts workshops to share his food photography skills. Professional photography magazines have also used his photographs of food as the magazine cover. Most recently, he has just assumed the new role of becoming an author of a book recommending good foods!
Other than that, Dr Tay is also a very charitable person. He would often gather fans of his blog to organize food gatherings so as to raise funds for the poor children of Sandakan (Sabah).
So how does this father of one son and daughter assume so many different roles?
Well, he has a manager and a partner to help him in his medical practice. Therefore, other than treating his patients, there are no other worries about the daily operations of his clinic. Weekdays during lunch breaks, and weekends are the times when he assumes his "part-time" roles and also when he spends time with his children.
He smilingly shared, "Monday to Thursday I work in the morning and evening, whereas Friday and Saturday I only work for half a day. There are other doctors to cover my duties at other timing. So I would usually make a trip home and spend time with the kids during the lunch break. If not, I would be experimenting and perfecting some recipes, or checking out good food with some like-minded friends. Whenever I'm free at home or in the clinic, I'll try to go online to work on my website."
If time and schedule permits, Dr Tay's wife and children would also follow him on his food trips, which also serves as a way to bond the family together.
His love and perseverance towards local food
Dr Tay admits that he is madly in love with local food. He not only enjoys eating nice local food, he also loves to cook. And because of this, he would often be reading books or going online to sharpen his cooking skills. In fact, he recently spent a few months learning the secrets of making roti prata!
Dr Tay said, "Although the local food culture is very interesting, information about their background is often lacking." Therefore he enjoys exploring, and hopes that he could use the information to put together an interesting recipe book of local foods.
Because he is a doctor, he can accept minor changes to make local food healthier but yet still maintain its unique flavor. This is also an area whereby he is keen on exploring.
So why does Dr Tay love food so much?
He smilingly answered, "This must be from my mum!" He shared that his mum is a very good cook and also has a strong interest in exploring and understanding good food. In fact, although she is in her 50s, she beat classmates who are half her age to become a master chef in Australia.
6 ways to fight obesity
You must be wondering how Dr Tay maintains his figure despite his love for food and having to go all over the place trying good foods. The following 6 ways are what he used to help him fight excess weight:
1) Calculating calories
His recommended daily intake is 2200 kcal, but he tries to keep his actual intake lesser than this. In this way, he could "accumulate" the leftover calorie allowance for days of indulgence when nice delicacies are laid before him.
2) Not afraid of wastage
His only slogan – "Do not waste your calories on bad food!"
Other than food that he gives 4.5 or 4.75 (out of top score of 5), he would rather eat less of it. And if the food does not taste good, he would not touch it after just tasting one mouthful.
He shared that he is not afraid of wasting food, as he feels that it is really not worth it having to swallow bad food and at the same time spoils his health.
3) Replace junk food with fruits
You can hardly find any junk foods such as chocolates, soft drinks or other snacks in his home. Dr Tay shares that junk food not only causes obesity, it also harms the health, thus his whole family including his kids follows healthy eating habits. And at times when they feel like snacking, they would go to the fridge and get a fruit instead. He also shared that fruits are rich in antioxidants, vitamins and fibre, and therefore are able to fight free radicals to a certain extent.
4) Limit fats consumption
Dr Tay would occasionally bring his children to the fast food restaurants. Other than this, when they eat chicken rice or fried chicken, he would not usually eat the skin which is the most "harmful". However, when he comes across really good food, he would still break the rule and try a little. The rule still holds even for his favorite fried Hokkien prawn mee and satay, and he would only indulge in them once in a while.
5) Emphasis on quality and not quantity
Breakfast – juice specially made from 5 green vegetables or fruits (green capsicum, green apple, celery, Japanese cucumber and baby bitter gourd) and a few pieces of wheat biscuits.
Lunch – either goes home for lunch or have a bowl of noodles, rice or sandwich. Occasionally would go check out new food places with other foodies.
Dinner – goes home for dinner, which consists of one- third bowl of rice, vegetable and meat, as well as 1 bowl of fruits of 3 different colours.
6) Exercise 2-3 times a week
He would usually accompany his children or wife to swim or jog, this not only helps to maintain a healthy weight, but also helps in family bonding.

Food search
Dr Tay feels that local food forms part of the local culture, which is why he wrote a book with details of the unique points and history of the local food, hoping that the local food culture will go on. He also hopes to share with more people where to find good hawker food as well as cooking techniques.
That is also why whenever he comes across hawkers who persisted in all the hard work to maintain the traditional flavors and food quality, he would be very touched. This has also inspired him to pick up the pen and start recording down all these details. Dr Tay is worried that many local foods like fried kway teow and teochew porridge would disappear from the local food scene because there is just no younger generation who is willing to take over the stove.
The following 3 hawker stalls have left a deep impression in Dr Tay:
1) Bukit Merah View Fried Carrot Cake
Unique points: Self-made carrot cake, right down to the rice flour used in making the carrot cake.
Address: Blk 115, Bukit Merah View Hawker Centre
2) Wah Kee Big Prawn Noodles
Unique points: Unlike most prawn noodle stalls that use pork bones and prawn shells to cook the soup base, this stall uses 6 types of seafood and fresh prawns to prepare a even more flavorful soup base.
Address: Blk 41A, Cambridge Road Hawker Centre
3) Le Chasseur
Unique points: One of their signature dishes is barbeque prawn. The boss would only buy 1kg of the freshest prawns daily, then boil them in seawater before barbequing them on a charcoal grill. Another signature dish is their claypot rice, as they would only use high grade long grain basmati rice to prepare this dish.
Address: 31, New Bridge Road
Food details taken from "The End Of Char Kway Teow"
Retail price: $28 (sales from the first 2000 books would be donated to charity)
Sold in all major book stores