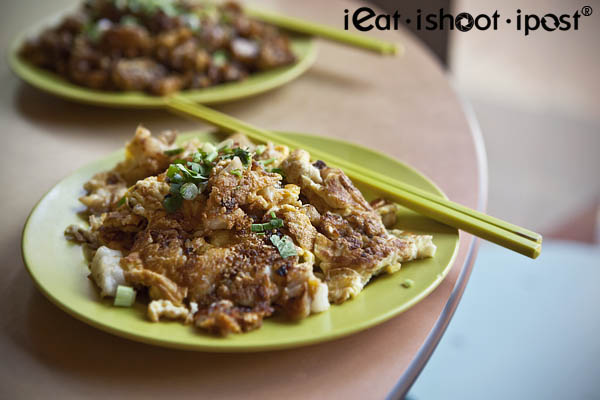 I never thought I would still be able to eat a REAL Chai Tau Kway (Carrot Cake) in our day and age. There are of course more and more hawkers who are trying to differentiate themselves by steaming their own carrot cakes instead of buying them from the suppliers. But most of these hawkers make their carrot cake from rice flour. What I mean by REAL Chai Tau Kway is when they actually mill the rice themselves to make the Chai Tau Kway.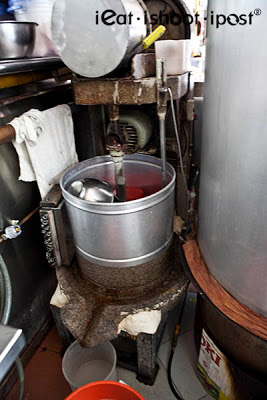 Automated Stone Mill
This 60 year old stall in Bukit Merah View Food Centre is probably the last of its kind in Singapore. In the good old days (I am told, 'cos the good old days was before I was born), stone mills were a commoner sight. They were used for milling all types of grains from soybeans to make soybean milk, to peanuts to make peanut paste and of course broken rice to make carrot cake. Then of course the factories came into the scene and most of the work of milling was subsequently outsourced.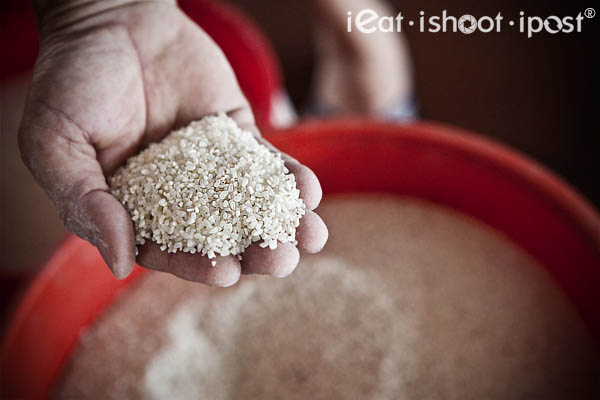 Broken Rice to be milled to make carrot cake

While we were filming for Buzzing Cashier last year for the episode on Carrot Cake, I had the chance to chat with Chef William Soh of Copthorne King's Hotel. Chef William was the principal chef resposible for helping transform the Carrot Cake stall in Pasir Ris. He taught the stall holders how to steam their own carrot cake. It turns out that he was the ideal man for the job because his family were carrot cake sellers. Chef William was telling me all about how they used to mill broken rice to make carrot cake. I never thought that I would ever get the chance to eat this type of carrot cake at the time!
This stall is run by three brothers. One brother takes the morning shift, one takes the evening shift and the youngest one makes the carrot cake. What they do is to mill the broken rice down to a watery solution. Then hot water is added which cooks the starch, turning it into a paste. Carrots and radishes are then added, poured into a round tray and steamed for four hours! That is quite a lot of work and I am amazed that the brothers are still doing it! Best of all one plate of Chai Tau Kway is still only $2.50!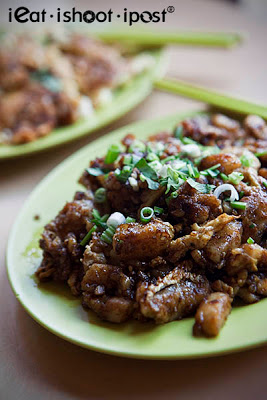 Ok so how does homemade carrot cake taste like? Well, I think the texture is very good. It is soft but not mushy. I must admit that tastewise it is almost the same as some of the other carrot cake stalls since most of the taste comes from the fish sauce, eggs and chai poh anyway.
The stall owners told me that the original Carrot Cake was black not white, which came as quite a surprise to me. Again in the good old days, the typical carrot cake came in big chunks fried simply in sweet black sauce. There was no chye poh or eggs even. Over the last fifty years it slowly evolved to the black and white versions that we have today.
Their style of carrot cake is crispy and chunky as you can see from the photos. Since you make so much effort to make the carrot cake, it would really be a waste to chop it into tiny pieces where you can't appreciate the texture. Both white and black were excellent but if I were to choose one, I would go for their black version. Actually it is hard to pick, so if I would bother to go all the way there, I would probably order both and tarpau the leftover! So for me the Black edges the White 4.6/5 to 4.5/5.

Carrot Cake was traditionally wrapped in these leaves!
I salute the brothers for their passion in keeping our carrot cake tradition going! They even go to the extent of getting these leaves to pack their carrot cake! As I said, the good old days were before my time, so I don't remember seeing these as a kid. But I am sure some of our more matured readers would remember this leaf! I was told that their carrot cake would taste even better if it was packed home and eaten a few hours later, and the best way is to simply microwave it. The youngest brother who makes the carrot cake is proud of the fact that their carrot cake retains its texture even overnight unlike the factory made ones.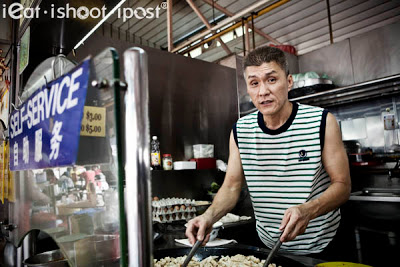 Fourth brother – morning shift

Conclusion
What can I say? If you are a foodie like me, wouldn't you head down to this stall to see what REAL carrot cake tastes like?

Thanks to chaozhouzi for recommending this stall!