We celebrated the launch of "The End of Char Kway Teow" last Saturday with a feast of Beijing Roast Duck and a four course Abalone lunch.
The big surprise of the day was when my 8 year old daughter, Megan came up to deliver the first speech and gave me a copy of the book! I think everyone was quite amazed that she managed to pull off the speech in front of such a large crowd without having to read any notes! I then spoke a little about trials and tribulation of writing a book before inviting Edmund, my publisher to present the first book to Peter Knipp who wrote the foreward to the book.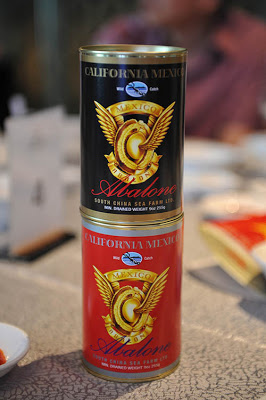 We then all settled down for a wonderful meal of Beijing Roast Duck followed by a lavish four course Abalone menu. At the same time, Abalone expert, Urs Heggily was on hand to tell us about how Abalone is harvested and processed. I think the thing that most people remember that day about Abalone was that the sexual organ of the male abalone was blue (boy) in colour while the female was green (girl).
I have so many people to thank for making the whole book launch event possible.
First of all, I would like to thank Wayne from Goh Joo Hin, the distributor of California Mexico brand Abalone and his team, as well as Edlan from Paradise Pavilion for so generously hosting the event and donating all the proceeds to help build schools for the kids in Sandakan.
I also have to thank Soundman for helping to cooridinate things on our end plus providing the sound system for the day. Thanks also to Greg for being our MC, Cactuskit and ijeff for taking photos and Champagne and her team for looking after the registration table. I really praise God for providing so many friends who have come alongside me to make the book launch such a big success!
The books will be delivered to bookshops across the island on Monday and you should see it on the shelves by the end of the week! I hope you will enjoy the book!
To read my post on the authentic wood fired Beijing Roast Duck at Paradise Pavilion, please click here.