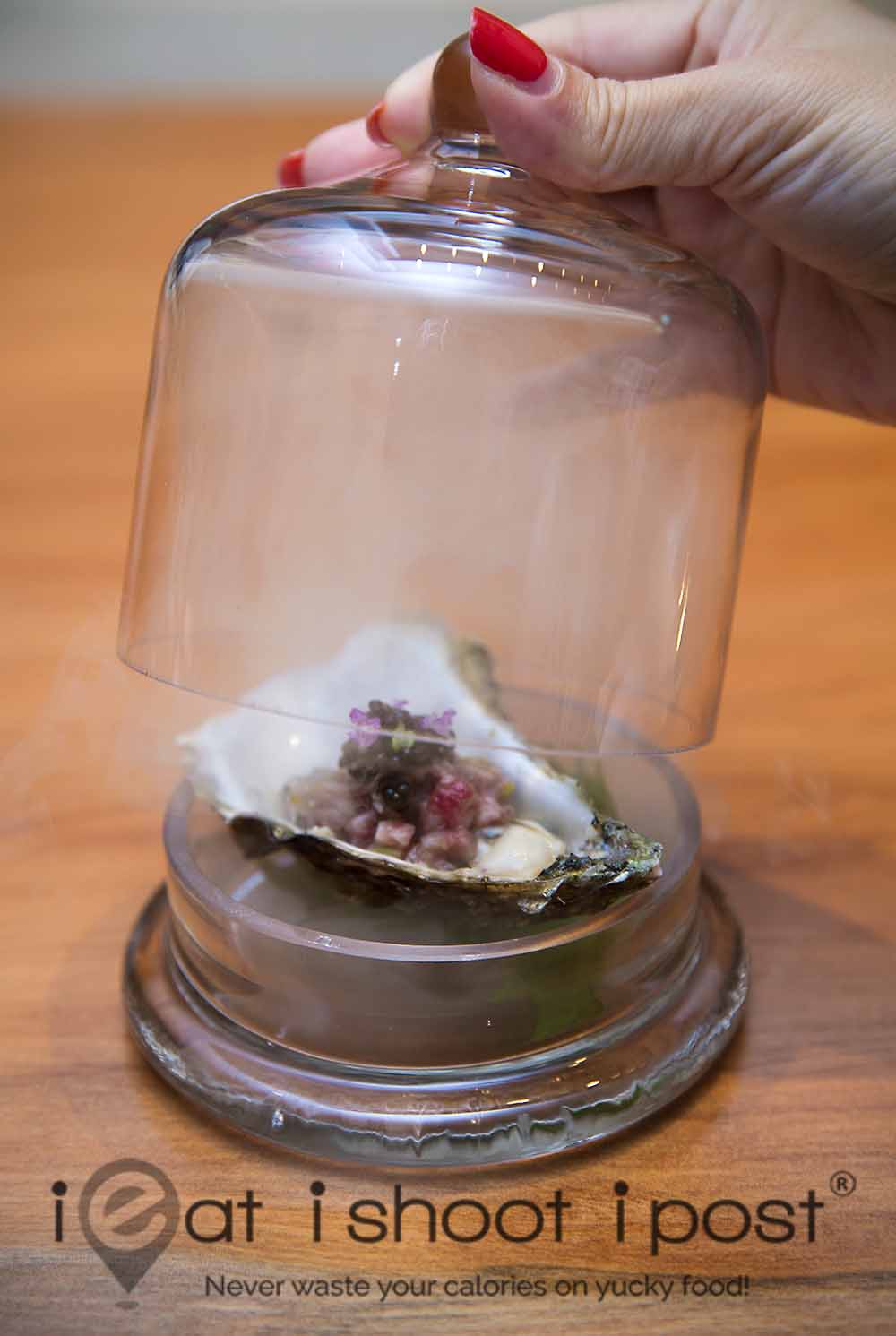 I have been waiting for this Wagyu Kaiseki concept ever since I visited Ozaki-san's Wagyu farm in Miyazaki prefecture back in 2012.  The plan at the time was to follow up with a restaurant featuring Ozaki Wagyu in the same year, but that never really took off.  So I had to wait another 4 years before I could taste Ozaki-san's Wagyu again.
Unlike other Japanese Wagyu brands which are usually produced by farms that sell their beef through a co-operative, Ozaki Wagyu is bred in a small farm and the beef is sold direct to restaurants.  As such, Ozaki-san is not constrained  to use a standardized feeding regime.  Instead, he has his own special formula for maximizing beef flavour which includes seaweed and charcoal which he has developed through years of experimentation!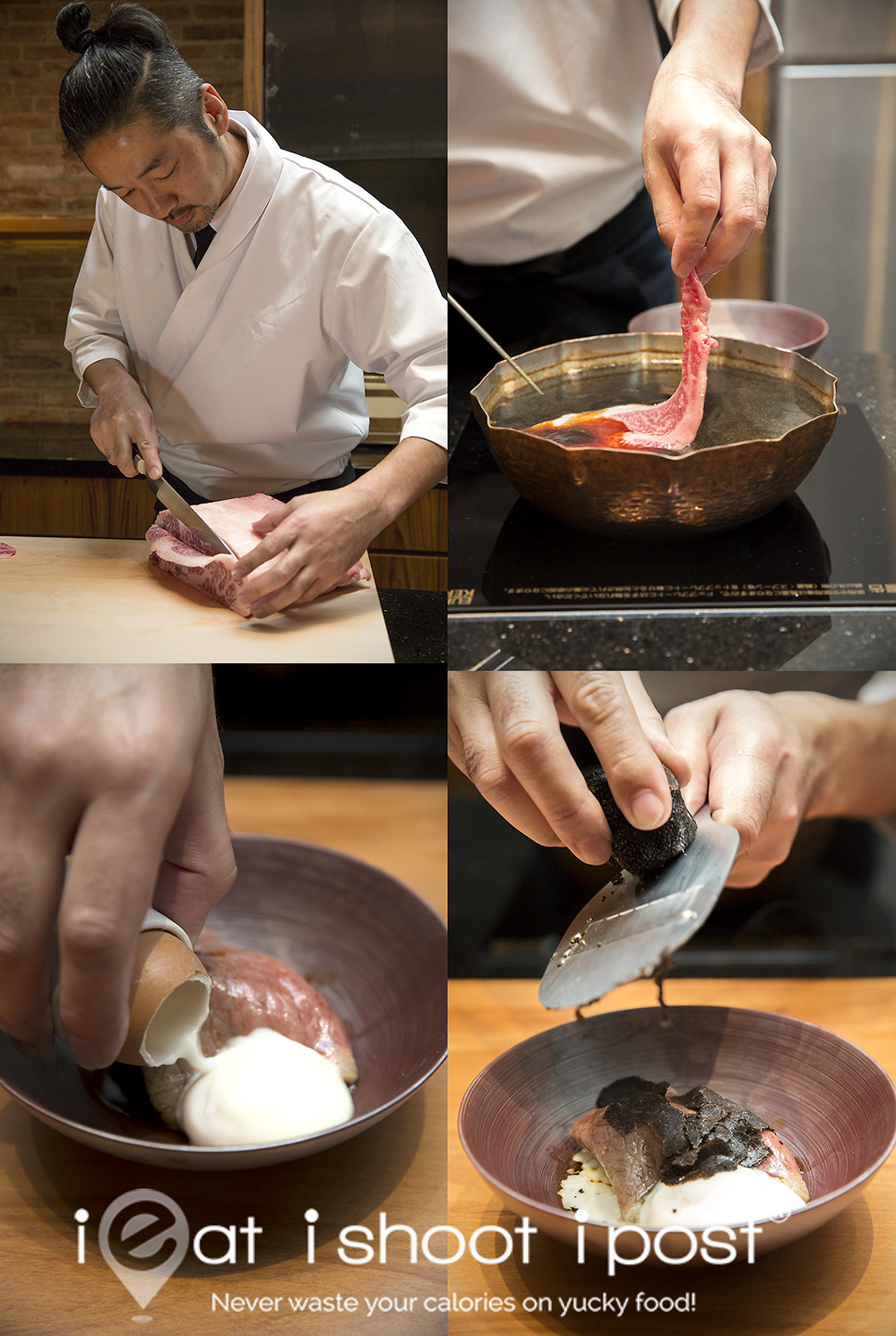 Ushidoki imports a whole head of cattle direct from Ozaki-san's farm and uses the different cuts for each of the courses so that you can have a "tongue to tail" Wagyu experience.  Our meal started with a beef tongue consommé and ended with somen in oxtail broth, and in between, Chef Nobu delighted us with a parade of Wagyu dishes made from different cuts of Ozaki beef.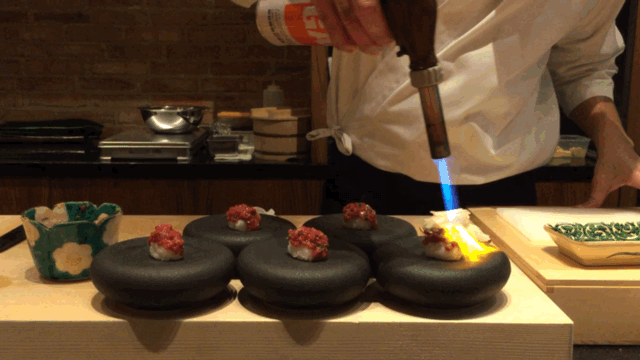 Chef followed the soup with four beef sashimi dishes served in sequence.  It was listed on the menu as one course but felt more like four separate courses!  The first course was an oyster topped with Wagyu ribcap sashimi and caviar served with cherry woodsmoke in a bell glass which was a great curtain raiser for the rest of the meal. The highlight for me however, was the botan ebi and uni wrapped in a thin sliver of Wagyu rump topped with olive oil caviar which was a magnificent mouthful of cold creamy umami!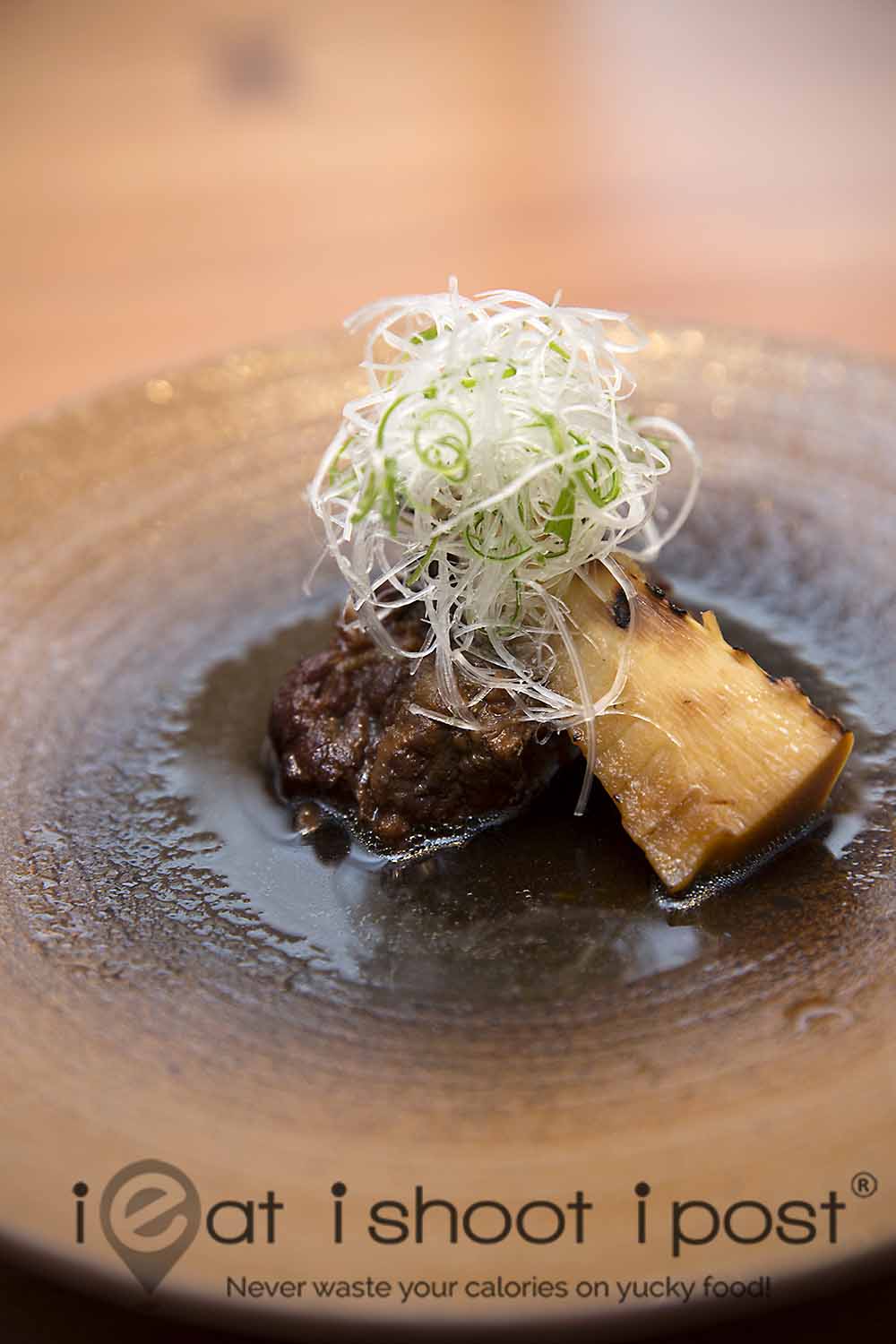 The pièce de résistance was presented early in the meal and consisted of two thinly sliced Ozaki ribeye dipped into a thick sukiyaki sauce made with a shoyu specially imported from Miyazaki prefecture. This recipe is from Ozaki-san himself and is his favourite dish to serve his guests when they visit!  Chef Nobu has kept the sauce going for four months since the opening of the restaurant and it has developed a real depth of flavour and complexity.  After a dip in the warm sauce, the beef is then topped with a 64°C egg and shaved black truffles.  This dish has been inducted into my list of ten things to eat before I depart for the next world!  4.75/5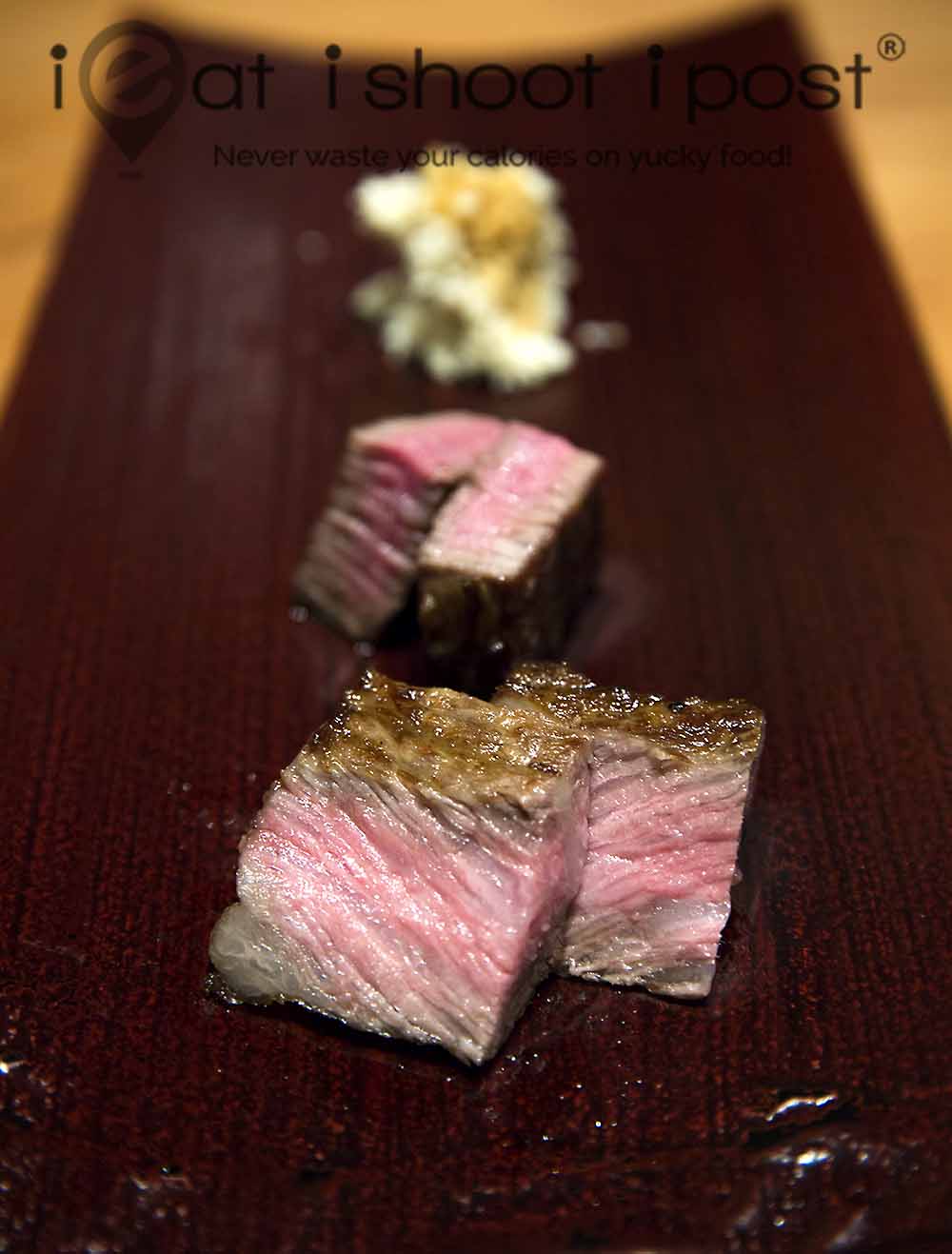 The other main course was the Wagyu sirloin and tenderloin grilled over binchotan which really showcases the rich umami flavour of the Ozaki wagyu!  Ozaki-san has always favoured flavour over fat so his beef is slightly less marbled than the usual wagyu which can sometimes be overwhelmingly rich.  With Ozaki Wagyu, the balance is just nice, so you feel you are eating a very juicy, flavourful steak.  4.5/5
I first met Chef Nobu when he arrived in Singapore as the Kaiseki chef for the now defunct Kumo restaurant.  His father runs a sushi restaurant in Japan which might explain why his shari (sushi rice) is always so good.   He honed his language skills during his time in Singapore and now speaks quite decent Singlish with a Japanese twang.  He is one of the most comfortable Japanese chefs you can have behind the counter.  Personable and laid back, he might just leave the counter for a while to run into the kitchen for something and come back with a big smile!  Feel free to ask him anything and expect an answer with a cheeky grin!
Click to watch the entire Wagyu Kaiseki course in less than 2mins!
Conclusion
This one is for the serious beef lovers!  It really does takes a bit of creativity to be able to serve approximately 250g of beef in so many courses! We really enjoyed the experience overall, but felt that a true tongue-to-tail experience should include some innards like tripe or intestines.  It is too bad that they are not allowed to be imported to Singapore.  As I mentioned in the post, the pièce de résistance is the beef sukiyaki which is now available as part of a set lunch course!  A double serving of the beef sukiyaki and a bowl of koshihikari rice is my ticket to an oasis of ecstasy that transcends all the paltry problems of the day!