This restaurant is closed
This post is dedicated to the people of Japan.
Let us continue to help them rebuild their economy by continuing to enjoy Japanese food. Currently restaurant sales have dipped by 40% across the board and this is affecting the Japanese producers. I have spoken with the seafood suppliers and restauranteurs and am assured that every shipment of fish now has to undergo radiation testing. This does delay the shipment by a few hours and there are some fish that are more difficult to procure, but we can be confident that it is safe for consumption.
So if you are looking for an opportunity to help, here is a suggestion. For the month of April, all dinner proceeds from Kumo will be donated to the Red Cross to help the quake victims. So when you eat you are directly donating to the people in Japan!



Ice Fish (Shirauo) with canola sprout and ponzu jelly with grated white radish and plum paste
As I progress along my path to Kaiseki enlightenment, I come up to a signboard that says, "Omakase!". Sounds like one of these words that just rolls off your tongue with reckless abandonment doesn't it? Well, reckless abandonment might not be too far off the mark because when you go to a Japanese restaurant and utter the words "Omakase!" to the chef, you are in effect telling him "Feed me well Chef and don't worry about the cost!"
But of course, for most of us who still need to pay mortgages for our house and car, those kinds of words don't come easily, unless of course, it is a very special occasion where you are bringing your future in-laws out for meal in order to ask for the daughter's hand in marriage. In which case, you might want to do some homework first and tell the chef that you are in fact ordering the $78 Kaiseki meal plus a bottle of sake for him if he plays along.
But seriously, you can go into the restaurant and simply tell the Chef that you want an Omakase meal and give him your budget. That is entirely acceptable even in Japan. However, when it comes to Omakase, there is a minimum amount that you need to spend and this varies from restaurant to restaurant. For Kumo, the Omakase meals start from $148 so there is a floor price but the ceiling is up to you to determine.
Recapping from my last post on Kaiseki, you will remember that Kaiseki is all about celebrating the produce of the season. And since it is spring, it is the time when fishermen in Kyushu start fishing for the Shirauo (icefish) by shining torches on the surface of the water at night in order to lure the fish to the surface. The fish is deeply associated to the start of spring in Japanese poetry and so to the Japanese, being able to eat Shirauo means its Springtime again! When alive, Shirauo is transparent, hence the name Ice Fish, but it turns opaque once it dies. So it was apt that we started our Springtime Omakase meal with an appetizer of Shirauo to which Ponzu jelly was added. Chef tells us that he served it with ponzu jelly instead of the sauce because he wanted us to be able to pick it up with chopsticks. The fish tastes like the whitebait that my grandma used to fry with eggs. It's texture is interesting but I can't say that it tastes a lot different from the local whitebait just from my first impression. (I need a few more goes) However, the combination of the ponzu jelly gave the whole dish a definitive tang which is a great way to start the meal. 4.25/5
Bonito Soup with grilled Buri and Japanese Turnip
It is said that when you eat sushi, the two items that help you gauge the skills of the Sushi Chef are tamago (egg omelette) and kohada (gizzard shad). However, be warned that if you enter a well reknown sushi restaurant and order tamago first, you must ask in such a way that gives respect to the chef or he might not be so pleased that he needs to prove his skills to you first.
When it comes to Kaiseki/Omakase, the two dishes that give you an indication of the meal ahead are the soup and the sashimi dish. Chef Nobu explained that when it comes to Japanese cuisine, the dashi, ie the stock that the Chef makes everyday from katsuobushi (bonito flakes) and konbu (seaweed) makes its appearance in most of the courses, whether it is in the soup, the braising sauce or even the shoyu (soy sauce). So the expert Chef is someone who has mastered a perfect dashi recipe that is so balanced that it can be used in everything and it would be able to play a supporting role in the dishes without stealing the limelight. The fascinating thing is that dashi is only made from three ingredients, viz, water, seaweed and fish flakes, so the key lies in the technique and the timing which the chef employs to make the dashi. Its taste is most apparent in the soup of course, which is why you use it as a gauge for the rest of the meal.
The soup certainly tastes good, but a clear soup is a clear soup is a clear soup, you know what I mean? Much as I would like to tell you the subtle difference between this soup and the other soups that I have tasted, I honestly can't. It was good and the roasted Buri gave it a nice smoky hint. So let's move on to the sashimi course. 4/5
Ootoro (tuna belly), hirame (flounder) with uni (sea urchin), amberjack (kanpachi) belly
Now it is quite obvious why you can gauge the quality of a meal from the sashimi course. Since most Japanese cuisine is based on seafood and the best way to gauge the freshness and quality of seafood is to eat it raw, then it doesn't take a rocket scientist (actually rocket scientists haven't made much progress with rocket technology since 1969) to figure out why this is so. I had to rearrange Chef's sashimi platter because I wanted to show you the slice of Otoro that I got (two slices really). This was by far the fattiest, most sublime slab of Otoro I have laid my lips on. If I were to score it on the Wagyu marbling scale, it would have been a 12, ie you actually see more fat than meat. When eating Otoro, the other sign that you are getting good stuff is the lack of that chewy fascia between the layers of muscles. The Chefs would often make the extra effort of slicing the Otoro such that you only end up with a slice that melts in your mouth like butter. Ah butter sliding down the throat, one of the best things in life, made better by the fact that all that Omega 3 is going into my coronary arteries and making them supple and resistant to developing plagues and obstructions. How good can it get?
Fattier Otoro, when you come across it, might be a signal that the Tuna has been farmed instead of wild caught, since the farmed Tuna, much like Wagyu and Foie Gras are specially put through a regime (little excercise, lots of TV and fast food) to fatten them up. Aside from the Otoro, we also enjoyed Kanpachi belly, which was fantastic (my new found favourite Sushi tane) which left me with the Uni (Sea Urchin) and hirame (flounder) for last. This will go down as one of the most memorable Sashimi's I have tasted. 4.75/5
Hutch veal cutlet with wasabi leaf
Now, if there were one course that I fail to understand, it is the one where chef gave us veal. Firstly, veal isn't really Japanese cuisine, secondly it doesn't really fit into a classic Kaiseki course and thirdly, it isn't even in season. Chef explained that the dish, which was presented with the veggies facing you, was a celebration of spring veggies and the veal was the accompaniment. If I were eating German cuisine, I'd say that the veal was nicely done, very tender and had a mild flavour reminiscent of the pre-pubecent cow which had been fed only milk such that the flesh doesn't develop that rich deep red colour that comes when cattle start grazing. (Grass contains iron which is why red meats come from animals that graze). It's a personal preference I guess, but it would have been perfect if the veal were replaced with a few slices of Wagyu tataki instead. (next time I shall make sure I request it) 3.5/5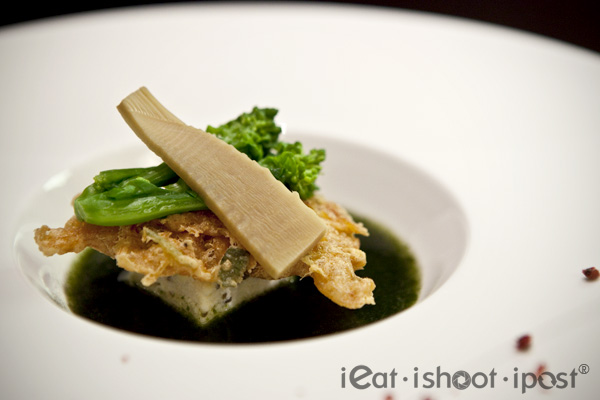 Sakura Ebi with mitsuba and mizore sauce
I am beginning to understand the spirit of Kaiseki a little more when I was presented with the Sakura Ebi. Literally called Cherry Blossom Shrimps, the appearance of these tiny little crustaceans herald the coming of spring just like the Cherry Blossoms. These tiny little packets of umami power are found only in Suruga Bay in the Shizuoka province. I must say that I have developed quite an infatuation for these tiny little creatures and it is what I will look for each spring and autumn. (Just have to imagine Spring and Autumn here in Singapore though!). So far, all the Sakura Ebi I have eaten has been deep fried, ie Kakiage. They are excellent this way as it tastes like a very finely flavoured Keropok (Fried fish crackers). Chef presented it in his dipping sauce made from his dashi stock which complements it perfectly. 4.5/5

Sushi course: Hirame Engawa Aburi (lightly torched flounder)
Kumo is a Kaiseki restaurant, but I have to tell you that if it were a sushi bar, I would be eating sushi here on a regular basis. Chef Nobu's sushi meshi (sushi rice) is one of the best I have ever come across. Chef tells me that his father runs a small Sushi bar in the outskirts of Tokyo, he calls it a "kampong" (rustic village with attap roof wooden houses). As a result he started to help out in the Sushi restaurant from the tender age of 9. The sushi meshi recipe is the family's secret recipe which was developed by his father. With a lot of other sushi meshi that I have come across, the predominant flavour has always been the tartness of the vinegar. However, with Chef Nobu's sushi meshi, you first taste the sweetness of the fish, then as your saliva starts combining with the rice, you will taste the sweet, the sour and end on a very long umami note. It is amazing how the flavours come one after the other.
The sushi platter was pretty amazing. We were presented with firefly squid topped with a miso vinegar sauce "gunkan" style (lit gunship ie sushi with topping which has seaweed wrapped around it like a boat) which was very interesting. There was akagai (arkshell), aji (horse mackeral) with marinated turnip, Kazunoko (herring roe) which looks a bit like a piece of yellow translucent polystyrene foam (has texture like it too) and the one which I shall rave about, the Hirame Engawa Aburi.
Hirame is a flatfish which we commonly call flounder. The best bits of the flatfish for sushi is the meat at the rim of the fish just next to the fins. These are the hard working muscles which move the fins, consequently they are full of glycogen (breaks down to glucose as energy to move the fins) and is sweeter than the rest of the fish. At sushi restaurant, this tane is known as Engawa and is a prized piece of real estate since Hirame are small fish and each fish only has a small bit of it. What Chef did with the Engawa was unique. He left the skin on and make multiple small lacerations and then torched it lightly to tenderize it. When I first tasted Engawa, I felt that it was just a subtlely sweet piece of fish that had a texture like nata de coco. However, this Aburi Engawa was an eye opener. Since most of the fats in the flatfish is located under the skin, this sushi tane not only has the sweetness of the Engawa, but a wonderful savoury flavour coming from the fat as well. Mixed with the rice, you get the complexity of flavours from the fish followed by the complexity of flavours from the rice. It goes from smoky, to savoury to sweet to chewy then to starchy sweet and back to savoury again. Absolutely Heavenly! 4.5/5

Sushi course: Anago (braised conger eel)
We were supposed to end with the sushi course, but I was so taken with Chef's sushi skills that I requested another sushi set. This time I was presented with mirugai (geoduck), hamaguri (clam), tai (Seabream) belly, chopped otoro with spring onion, tairagi kai (pen shell) and the one that took the plate, Anago which is braised conger eel. I have eaten this a few times before, even when I was at Sushi Daiwa in Tsukiji Market but I like the flavour of Chef Nobu's Anago the best. Texturewise, it could be slightly more creamy, but otherwise it was another marvelous mouthful of sushi pleasure. 4.5/5


Sakura Cheesecake and roasted soyabean powder ice cream with brown sugar syrup
There was a pleasant surprise to cap off a wonderful meal. The Sakura Cheesecakes was made with Cherry blossom bits which makes it a seasonal cheesecake I guess. After eating it, I still don't know what Cherry Blossoms are supposed to taste like. However the roasted soyabean icecream was excellent. I think they were supposed to be splitbeans, similar to the type we use to make Ice Cream. It had a wonderful nuttiness to it that got my Rockett Girl and I extremely excited. I guess it is not unexpected since we both love Tau Suan. This is the first time I have tasted "Tau Suan" ice cream, and if I ever find a tub of it anywhere, I will be the first to buy it. 4.25/5
For those of you who don't frequent higher end Japanese restaurants, the prospect of sitting at the bar in front of the chef might be somewhat of an intimidating experience. Afterall, if you are going for "Omakase", and somehow the chef is not happy with you, he might just exact revenge on you with a hefty bill or give you a piece of fugu with just a bit too much tetrodotoxin if he doesn't like you. I am just joking of course. But many a times when you are eating in Japan (or in front of a Japanese chef) the problem is that of language. Chefs that are not adapt at the English language might come across as aloof and unfriendly. However, being able to banter with the guests is a basic skill of a sushi chef and many of them are actually very friendly. Well, if you have always felt too intimidated to sit at the sushi bar, then may I introduce Chef Nobu to you. Being a "kampong" boy, as he calls himself, Chef Nobu is quite laid back and he speaks rather good Singlish. (He learnt all his English in Singapore when he started work here). So you will feel very comfortable at the bar. Did I mention that he makes great sushi as well?
Conclusion
Kaiseki is a wonderful experience and if you haven't tried it, you should. I was most impressed with Chef Nobu's sushi creations. The fish here is excellent and the rice is very memorable. Plus Chef Nobu is easy to talk to, so you can be very relaxed sitting at the bar.
Special for ieatishootipost Readers:
Make a reservation and quote "I read ieatishootipost, and would like to experience KUMO." and receive a complimentary flight of sake (three tasting portions) to go with dinner.
Valid from 1 – 30 April 2011 (Mondays – Saturdays) and for dinner only
*Kaiseki starts from $78+ and Omakase starts from $148+ (no service charge)
PS: For the month of April, all dinner proceeds will be donated to the Red Cross. So you are directly donating to the quake victims just by your eating!
This review was part of a media invite
The dishes shown are part of an Omakase Course