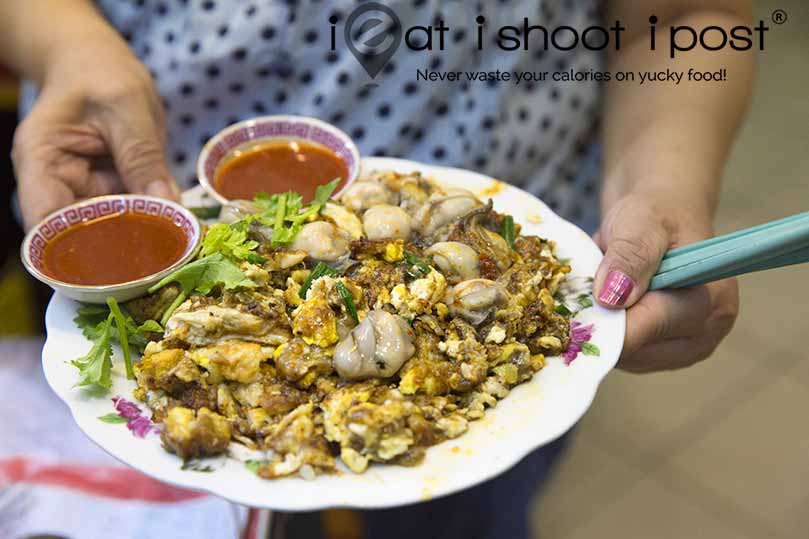 I started writing this blog 10 years ago as a hawker newbie, having spent many years overseas and my childhood eating mostly home-cooked food.  So, I had to rely on friends like Damien whose foodie daddy brought him everywhere to eat when he was growing up. Damien really helped me with all the "low lying fruits" when I was starting out, he was one of those makan gurus with encyclopaedic knowledge of all the famous hawkers stalls in Singapore.  As you can expect, I take his recommendations very seriously and he was once again spot on with this recommendation of Lim's fried oyster omelette.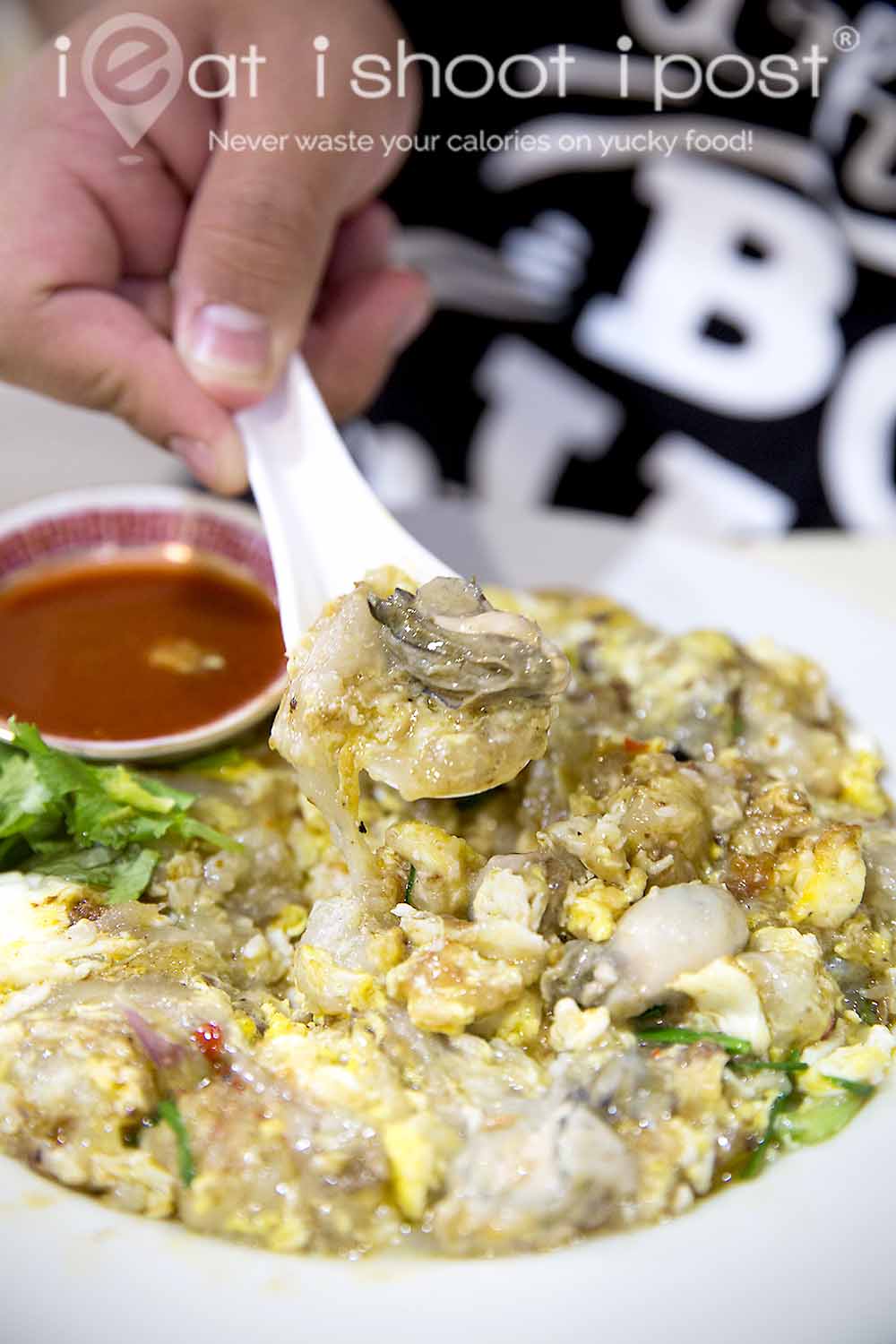 What impressed Damien about Lim's Fried Oyster is their wet gooey version which he exclaims:
"…. feels damn shiok leh,  especially when it slides down the throat!"
Now with that kind of description, who can resist the urge to experience this phlegmmy gooey orh luak?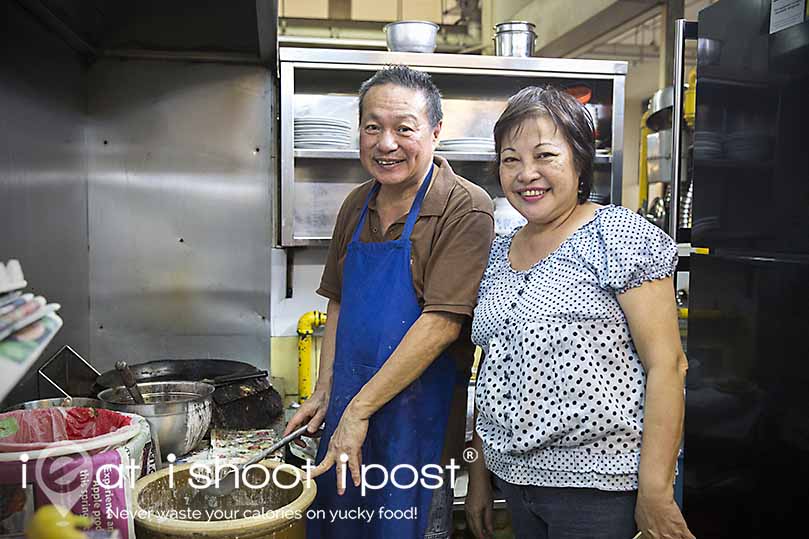 I was expecting to have to wait in the queue for my plate of oyster goodness but Berseh Food Centre turned out to be quite quiet on a Sunday evening!  So I had a chance to chat with the friendly Mr and Mrs Lim who has been selling oyster omelette together since 1977. Mr Lim himself has been helping his dad at the stall since they were still selling off a pushcart along Sam Leong Road in the 60's!  With a legacy like that, I was surprised to hear that they haven't yet been featured on any TV program yet!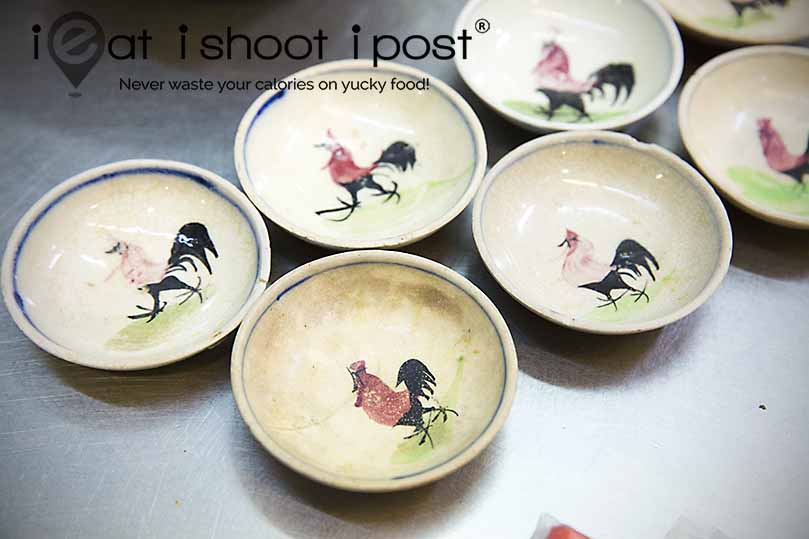 The orh luak had a really old school feel about it.  Crisp on the outside while still sticky on the inside, it ranks up there with the best I have tasted 4.5/5.  Aside from the omelette, what I really love about the stall is that they still use old school plates, some of which date back several decades!  The only problem with these old porcelain plates is that once they have a chip, they cannot be used any more!  So the few plates that they are still using are precious antiques!  Mrs Lim pulled out a few of the old chicken saucers which they have kept for display. (Sorry, you can't use them)  These were the original saucers which they used over 50 years ago!  As you can see, they are hand-painted and the chicken on every plate looks different!
I was told that the wet version came about a few years ago when a patron from China complaint that he couldn't eat the crispy version because of his lack of teeth.  So Mr Lim made a soft version for him where he added a little more water to the starch.  It was a hit and soon word went around that there was a wet oyster omelette which is eaten with a spoon!  Personally, I still prefer the crispy version, but it is well worth a try and definitely something to consider for your grandparents!
Conclusion
Our pioneer hawkers are simply amazing!  These are the Singaporeans who have laboured tirelessly to feed a generation of nation builders and they embody a work ethic that has propelled our country to what it is today.  Although they have lived through the development of a nation from third world to first, they are still very much the gatekeepers of a nation's past.    Most of them are nearing retirement age now and within a decade or two, all of our original street hawkers would have retired.  So, we have precious little time to still enjoy their craft while they are still around!