The Name is now changed to Dynasty Ipoh.  It is helmed by the same chef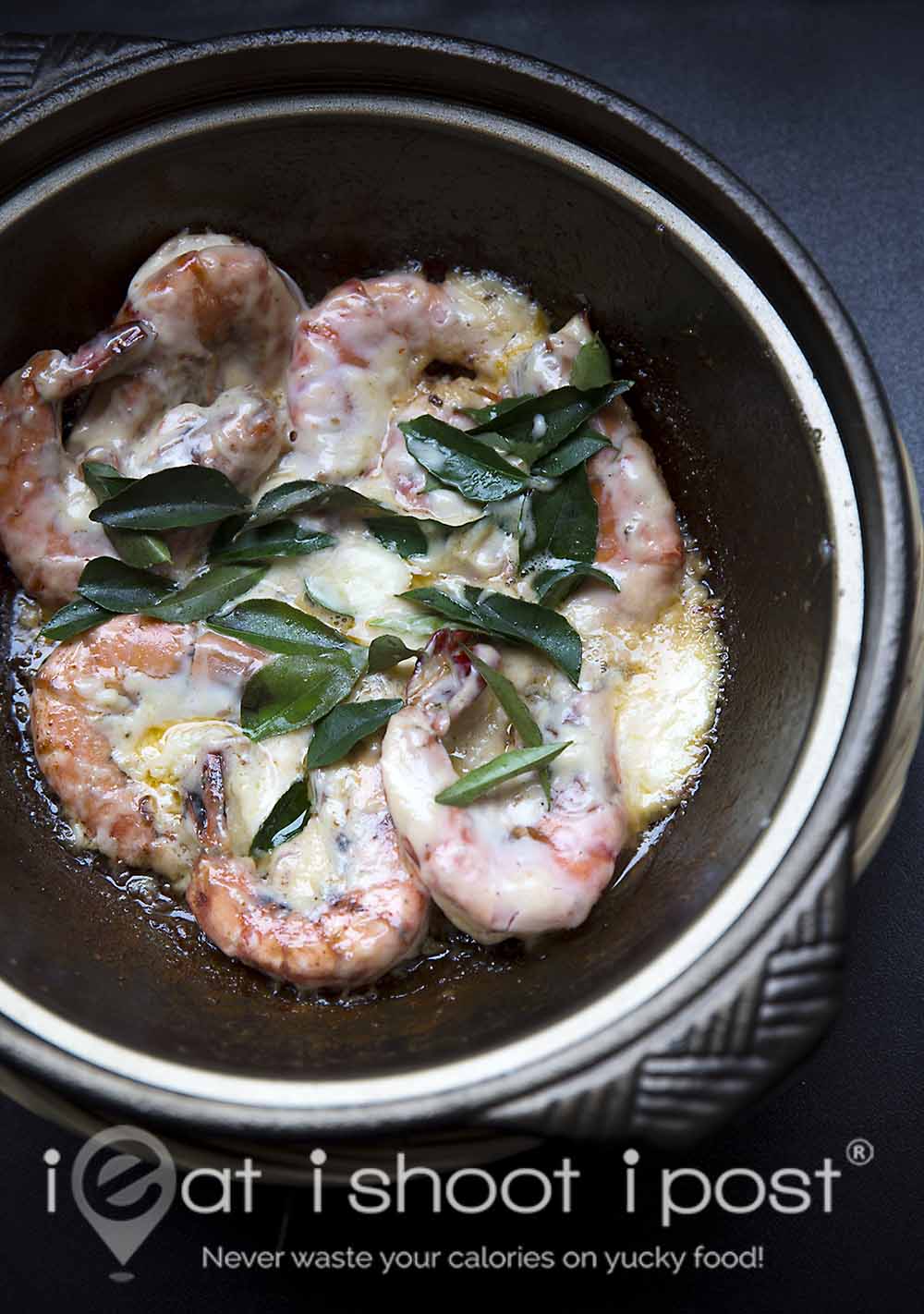 Fried porridge, cheese prawns and crab tang hoon.  These are the three signature dishes of Chef John's new Zi Char stall at Foch Road.
Chef John created quite a stir (pun intended) last year when he introduced his fried porridge to Singaporeans in his little coffeshop stall in Macpherson.  He owns a successful Zi Char stall in Ipoh but has been wanting to break into the Singapore market for a long time. The stall at Macpherson was set up to see just how Singaporeans will react to his brand of Zi Char.  Having had a great response to his fried porridge, he has now confidently expanded to a fully functional Zi Char Stall offering several Malaysian dishes which are not so common to the Singapore Zi Char scene.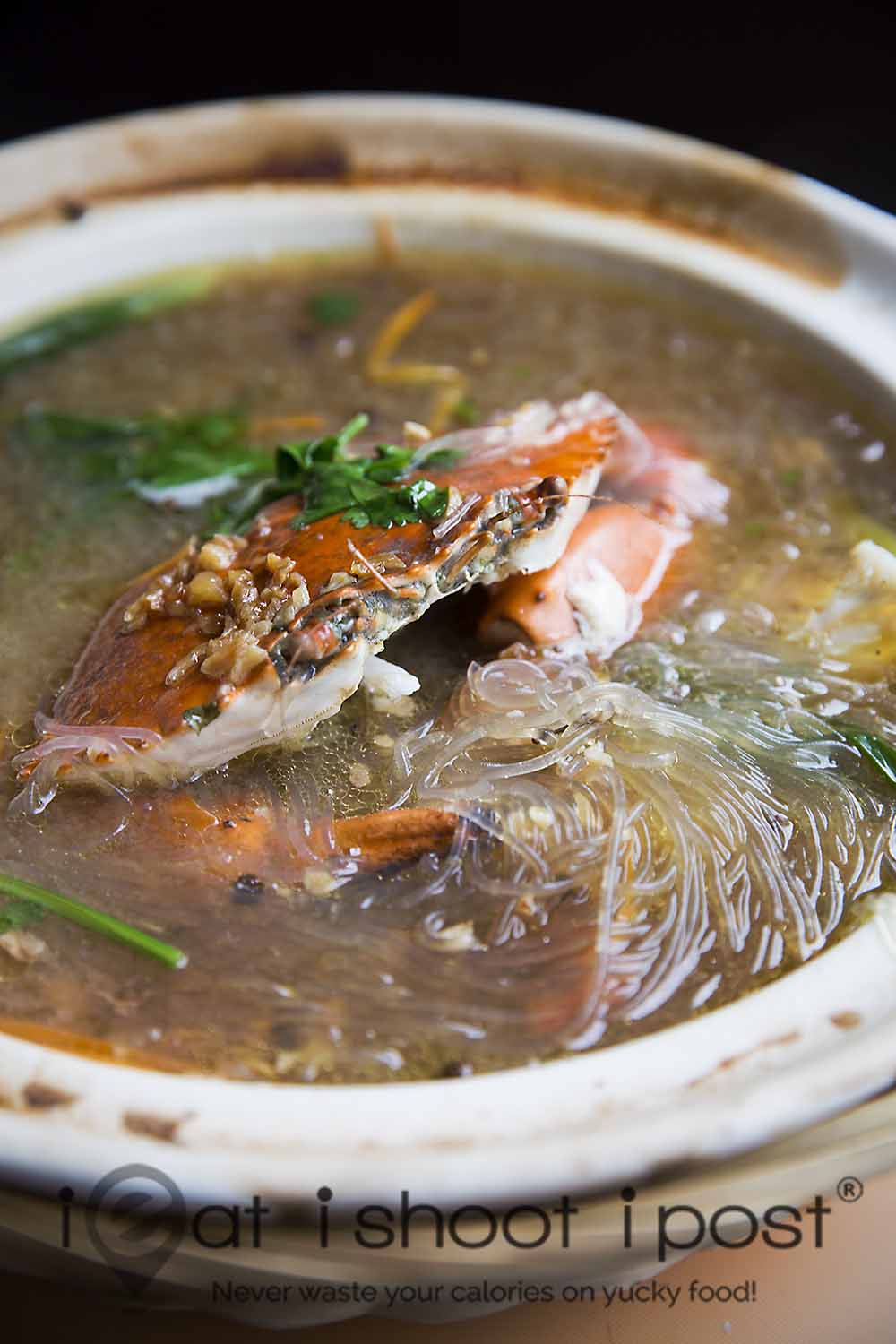 The first dish we tried was his cheese prawns.  This is a dish which is getting quite popular in Malaysia and throngs of Singaporeans travelling to Restoran Thong Sheng in Malacca just to eat it.  Cheese prawns are also popular in Chef John's hometown of Ipoh.  This is his version where he first slow cooks tiger prawns in a claypot before adding his secret blend of mayonnaise spiked with a secret blend of spices, mozzarella cheese and curry leaves.  It looks quite different from the version served by Restoran Thong Sheng but its hard to go wrong with a dish like this!  4.25/5
The crab tang hoon was another signature dish which features a robust seafood soup base with crab and tang hoon.  The crab infused soup was very good although the tang hoon could have been a little more resilient.  4/5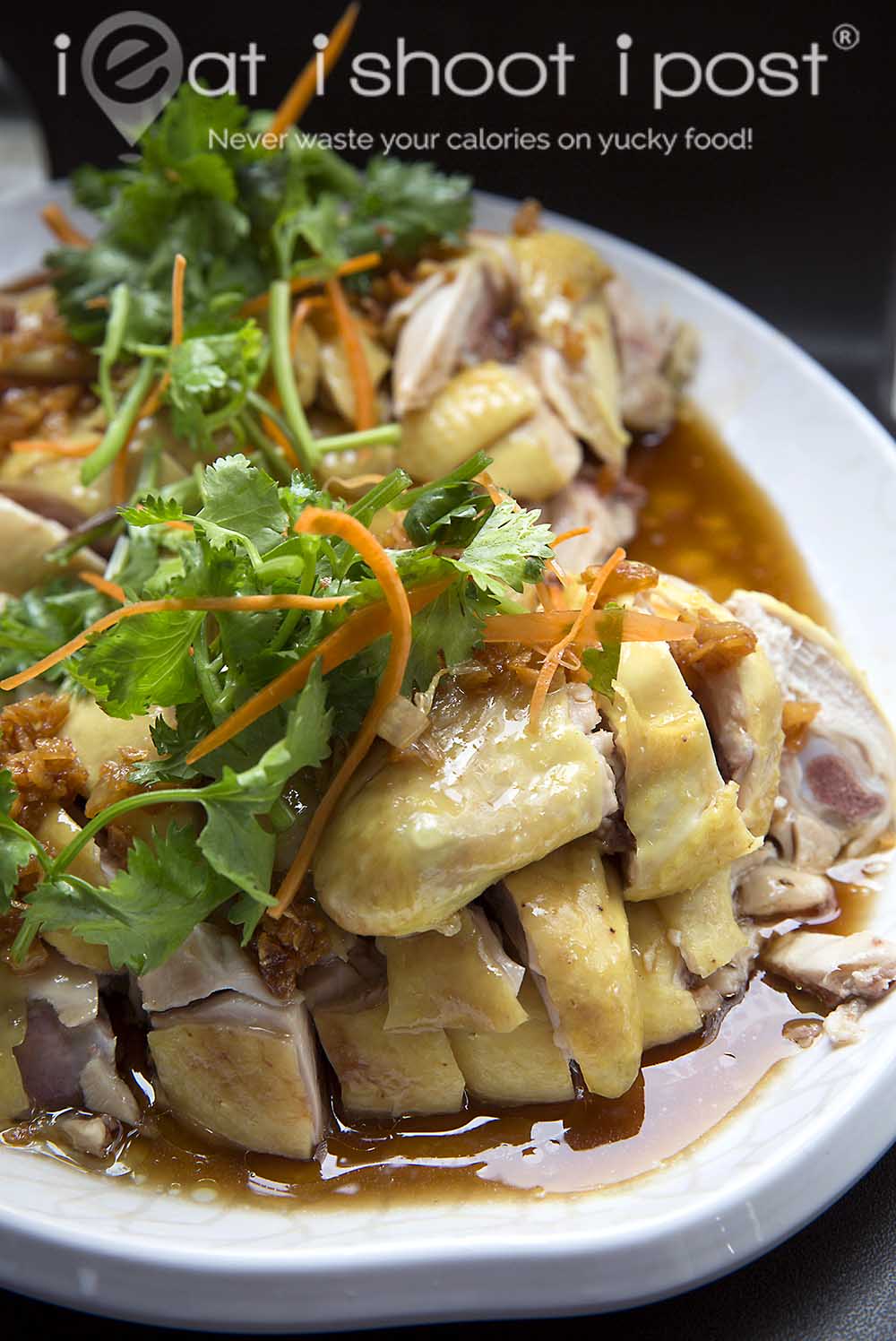 The surprise of the day was the kumpung chicken which is easily the tastiest poached chicken we have tasted in a long time.  Chef secret is to poach the kampung chicken in a rich stock before adding his super tasty soy sauce and topping it with a generous mound of fried garlic.  Unlike our local chicken rice, the well exercised muscles of this kampung chicken has got a bit of bite! The only thing missing is a nice bowl of chicken rice.  Definitely worth ordering! 4.5/5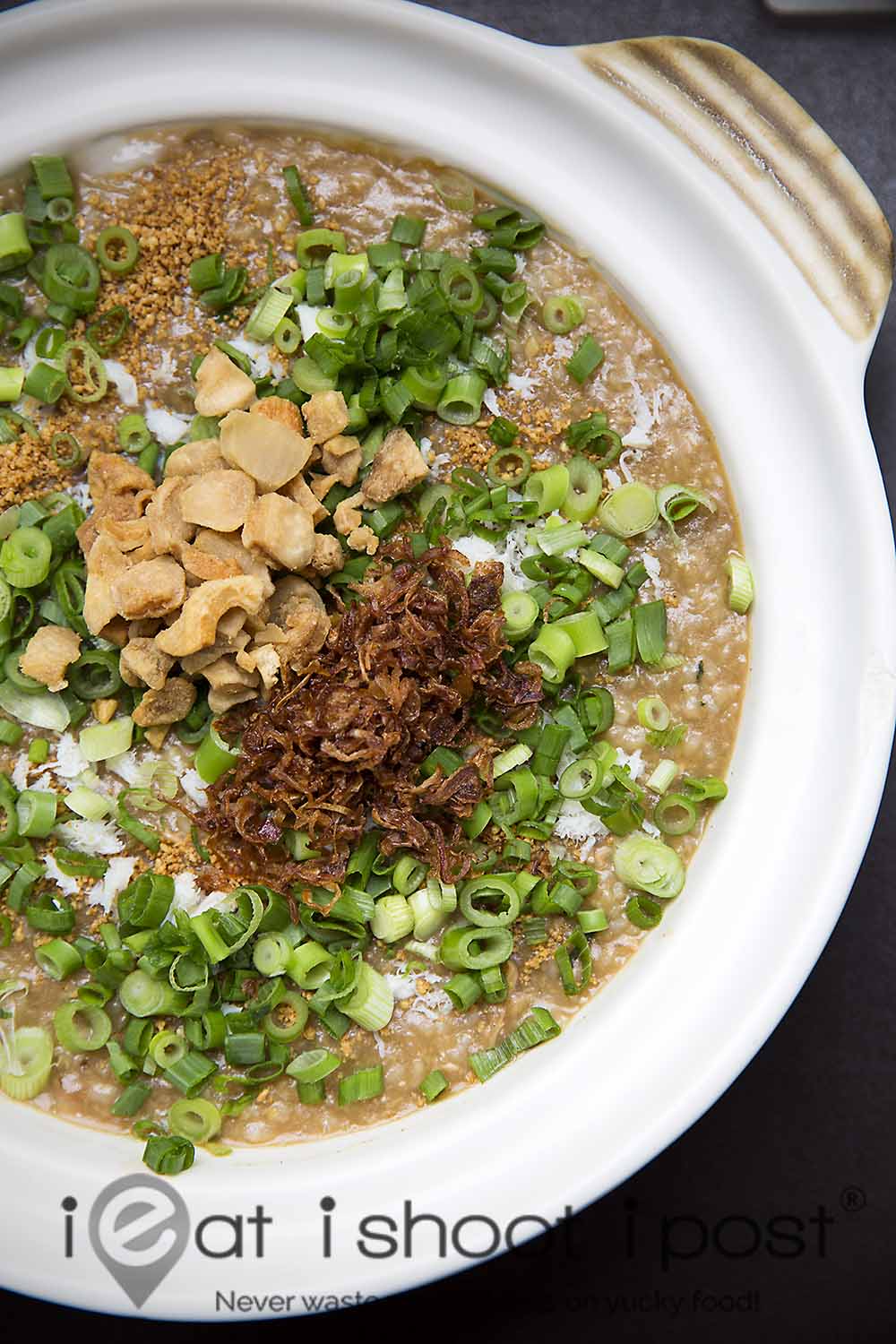 Of course, a visit to Royal J would not be complete without a claypot of their famous fried porridge!  Most of us would probably of trouble imagining how porridge can be fried, so here is the video to prove that the porridge is indeed fried in a wok.
Personally, I like the fried porridge because it is laced with tasty ingredients like shredded cuttlefish, diced yam, fried shallots and a generous handful of crispy pork lard and I do think that the wok does infuse a certain amount of smoke to the ingredients but the tossing of the porridge in the wok is simply a theatrical means of heating up the porridge, in my opinion.  Hey, you know that Chinese Chefs cook soup in a wok too right?  They just don't call it wok fried soup.  But wok fried porridge does stir up (there's that pun again) the imagination, doesn't it?  4.25/5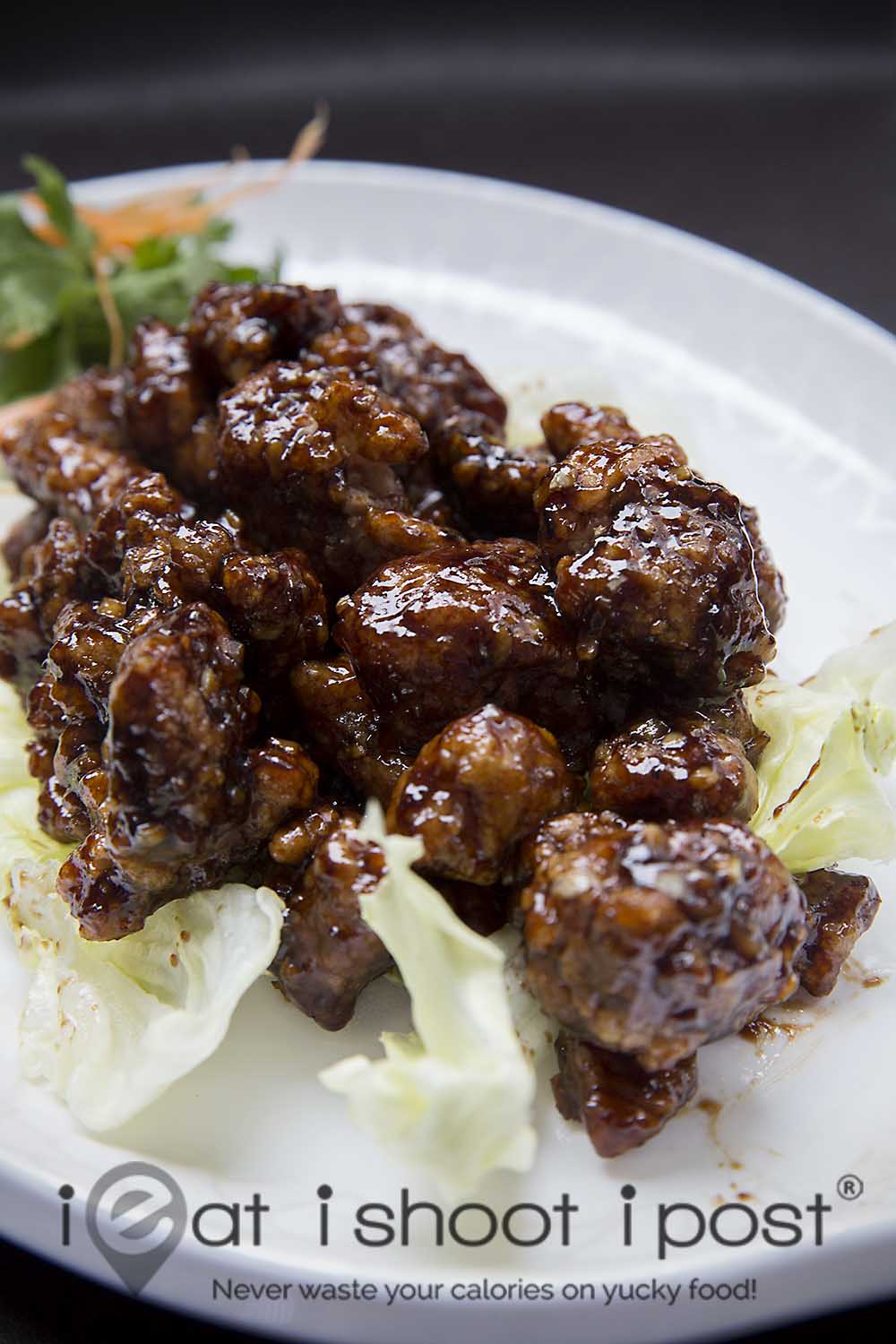 The other surprising dish we had was the tasty fried pork which might look like some sort of coffee or Guinness pork ribs, but the flavour is quite unique and the pork is freshly fried so that it is juicy on the inside yet crisp on the outside.  Very nicely done!  4.25./5
Chef's idea of a Thai style salad is crispy toasted tau pok topped with sliced cucumber and red onions with sweet chilli and mayonnaise.  I like the crispy tau pok but somehow this dish felt a bit disjointed and the mayonnaise was just a little too loud for a Zi Char dish.    3.5/5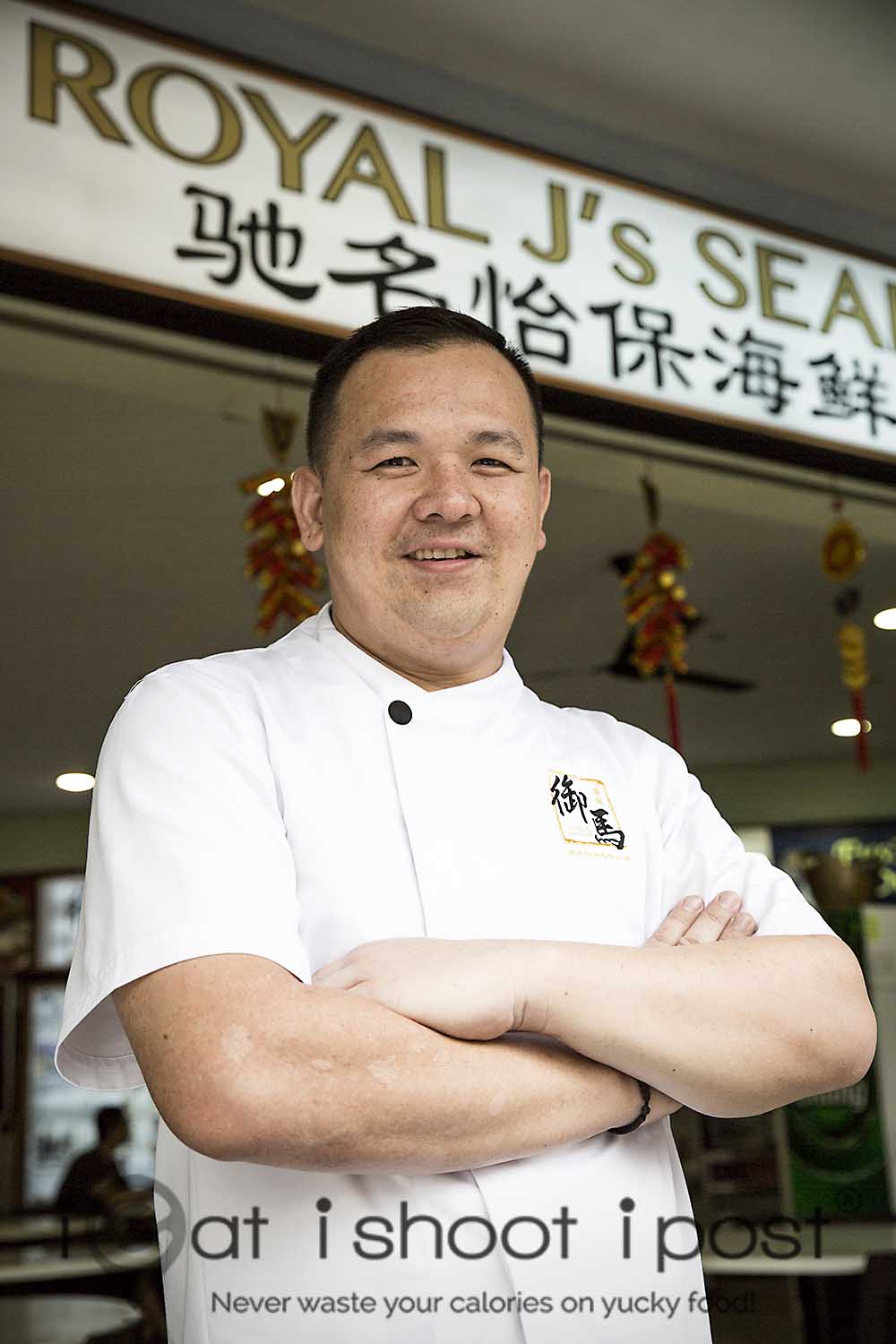 Conclusion
Chef John is quite adventurous and is always game to try new things, so when you go there to have a Zi Char meal, you are bound to taste something that is just a little different from your usual Zi Char place, and I mean that in a good way!
Read my previous story here.
Update: 21 Aug 2017
Chef John has left Royal J's and is now operating his own Zi Char:  Dynasty Ipoh Seafood, BLK 151 Bishan St 11 #01-02 Singapore  570151